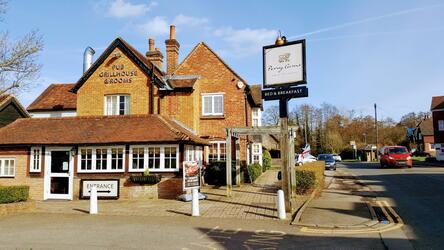 The Salisbury Arms is an attractive pub in the historic heart of picturesque Edinburgh in Scotland. Get cosy with a cup of something hot in their beautifully restored interior, after a hike up nearby Arthur's Seat. Or on fairer days, enjoy fresh, seasonal food like their rustic, artisanal breads in the relaxing outdoor courtyard. Meat is definitely on the menu at the Salisbury Arms, with a premium steak list offering prime cuts sourced from selected farms. Classic sides like scotch eggs and baked camemberts can provide the perfect share plate to enjoy over drinks. For those looking to go the whole hog, try the rotisserie pork belly with scallops, served with a horseradish sauce mash. Vegetarians can enjoy the delicious caramelised onion pizza, or a new plant-based burger that has been met with great reviews by the locals.
Book to enjoy fine dining at Edinburgh's The Salisbury Arms on TheFork
The Fox & Goose, Fressingfield, Suffolk
The Fox & Goose is a family-run country pub and restaurant that lies in the heart of Suffolk, in Fressingfield. Honest hard-work and dedication to a high standard of cooking has earned Paul & Sarah, the duo behind the charming spot, a long list of accolades from Michelin food guide mentions to emphatic local reviews. Their menu brings modern flair to traditional pub dining. Classics like the calves liver with onion jam, served with remoulade salad and saute potatoes, offer a real taste of the English country. Dishes like the pork fillet with peach chutney, served with potatoes mille feuille, are made with the expertise you'd expect from a top fine dining location. Complete your evening in the countryside with a famous cheeseboard, or maybe a fabulous desserts; from strawberries with caramel mousse crumbled with hazelnut, to warm treacle served with vanilla ice cream.
Book your an evening of classic country cuisine at the Fox & Goose on TheFork
To London's West End and The Carpenter's Arms, a cool and casual city eatery with plenty of space to dine al fresco. Boasting a secret roof terrace beer garden and heated outdoor seating, this gastropub is an oasis from the busy streets of London's Soho, where they serve cold lagers and premium craft beers throughout the day and evening. Vegetarian diners are well looked after here, with fresh tomato gazpacho served with a watermelon twist, or delicious white beans served with paprika hummus, tomato and mint. With a luxurious range of contemporary pub bites on the menu - from margella burratina with pesto to delicious crispy pollock arancini with aioli - you'll find the perfect dish to help work up a thirst.
Book your table at The Carpenters Arms, one of the West End's best gastropubs on TheFork
The Three Jolly Wheelers, Woodford Green
Dating back to the early 19th Century, today The Three Jolly Wheelers in Chigwell, Essex, still has all of its rustic charm. With seasonal dishes being served in the courtyard from spring, to hearty pub classics served by the log-fire, this destination just outside of London is highly worth a visit anytime of year. Expect decadent dishes such as the lamb duo; shepherd's pie soaked in red wine, served up with a slice of lamb rump straight from the hot pan. Or, the British classic of home-made pie, packed with steak and wild mushroom or chicken with thyme - that go great alongside a crisp lager or a pint of country ale.
Book lunch or dinner at The Three Jolly Wheelers in the Essex countryside on TheFork
The Hero of Maida, London Little Venice, near West London's Maida Vale, is a picturesque waterway that's home to The Hero of Maida. If a calming walk along London's best canals sounds like your thing, then make sure to mark this charming pub on your map for the perfect refreshing stopover. The menu at The Hero of Maida is geared toward lovers of luxurious meat and fish dishes. Delicious lamb shoulder pie and succulent rib of beef come easily big enough for two. Further down the menu, black leg chicken with alsace bacon and short rib bourguignon with truffle showcase some of the best the land has to offer. While smoked salmon rillettes and poached cod with Jerusalem artichoke and salsa verde bring the flavour of the sea and a taste of what lies beyond it.
Book high-end dining at The Hero of Maida in London's Little Venice on TheFork
The Duck and Rice offers something different on our list. From the London restaurateur Alan Yau, this Chinese Gastropub serves comforting take-away style classics of traditional Chinese cuisine. Small-plates of sizzling crispy chili-beef and salt & pepper squid are perfect to enjoy among the booths and fireplaces of this recently renovated central London spot. The classic Cantonese roast duck is a feast that's perfect to share with another. But the real draw is the dim sum; steamers of delicious dumplings and crunchy fried rolls that seemingly never end, the perfect party dish for larger groups.
Book delicious dim sum at The Duck and Rice on TheFork
Surrey's Guildford is home to The Percy Arms, a warm and welcoming pub serving modern British cuisine with a South African influence. With decor that harks back to an old-world hunting lodge, you can enjoy prime cuts of fillet, rib-eye and rump straight from the hot grill. Specials here rotate around the year, from the game roasts to South African fusions such as the halloumi and avocado on crispy greens with mango and lime. Gastropub favorites like confit of duck and home-battered fish & chips go great with a glass of South Africa's best wines, perfect to indulge in next to the Percy Arms' cosy fireplace.
Book modern British cuisine with a South African twist at The Percy Arms on TheFork
The Old Bull & Bush is a hip gastropub in London's Hampstead Heath that gives a taste of the country in the city, with craft beers on tap and Yorkshire puddings the size of dinner plates. Located just off of the famous heath, one of the city's best outdoor spaces, a trip to The Old Bull & Bush will upgrade your day in the park to something truly memorable. After sampling something refreshing from the cocktail list, stroll into your first course with tasty starters of olives, bread and baked camembert. Follow it with a grilled lamb kofte - a London classic - or the chorizo and chargrilled octopus for a not-so-native flavour. Duck is served in classic port parfait with toast, or in hip bao buns with plum sauce. Vegetarians and vegans can rejoice too, at the passionately put-together array of meat-free specials, like the mushroom stuffed with grains and salsa, or the hummus meze with ciabatta.
Booking high-end food at The Old Bull & Bush is a walk in the park on TheFork
Enjoy eye-watering surf'n'turf sharing platters at The Bountiful Cow, an original 1960s pub boasting beautiful booth seats and some of the best beef dishes in the capital. Unmistakable for its bright red neon sign, this quirky boozer is nestled in London's Soho, where it serves top nosh at great prices to those in-the-know. Starters range from the traditional smoked salmon and rillettes of duck, to the more inventive offerings like the goat toast or Sephardic leek pate - a staple of the local Jewish cuisine. Diners can indulge in a variety of succulent cuts of steak, from tartare to T-Bone, served with classic pub chips, or enjoy one of the famous Bounty burgers, with extra toppings of bacon or blue cheese on the house.
Book The Bountiful Cow to have one of the best steaks in Soho on TheFork
The Barnt Green Inn, Birmingham
Enjoy views of unspoiled green countryside and take in rustic, cosy decor as you relax by the fire at one of the finest gastropubs in the midlands at The Barnt Green Inn. With a menu that ranges from creative seafood delights, to comfort food classics, to fresh, seasonal vegetarian dishes, all are well catered for at this traditional country inn. Duck liver parfait on toast is served rich with zesty orange curd and grapes, while soft crab is rolled with chili and red pepper into crispy balls of arancini, and served with chili mayonnaise and avocado. Freshness is the focus in the vegetarian specials, like paris brown mushrooms packed with fennel, peppers and grains, or ciabatta to dip into hummus topped generously with chickpeas, pine nuts and pomegranate.
Book to dine in Birmingham's beautiful countryside at the Barnt Green Inn on TheFork