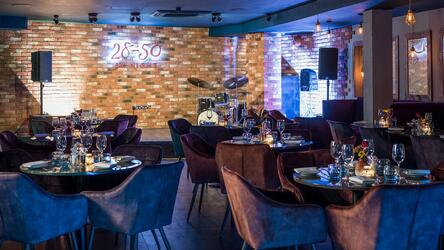 Marylebone is a famous part of the city's centre that is home to shops, offices, luxury hotels and great restaurants alike. If you've got business in the city, or are simply day-tripping to see the sights, you would do well to stop by one of its many well-heeled streets for lunch, brunch or dinner.
Read on for some of the best restaurants in Marylebone that you can book on TheFork today!
This acclaimed restaurant sits on Blandford Street in the heart of Marylebone Village, but fortunately, there is nothing bland about the food they serve. Indian specialist restaurant Trishna is an explosion of flavour, fragrance and spice, that serves gourmet modern and traditional food from the start of supper at 5PM to close at 10.30PM. With a Michelin-star rated menu of delicacies that is sure to delight, it's no surprise to see Trishna be awarded a staggering score of 9.6 by TheFork's community. The five-course tasting menu at £80 is fantastic value for a full experience, with a vegetarian set available. Treat yourself to starters of Nariyal Scallops with coconut chips, vermicelli upma, chilli & coconut chutney, or Nandu Varuval soft-shell crab with green chilli and tomato chutney. Mains of Duck Sheek with chutney, Tandoori Lamb chops or Badami Broccoli with cardamon provide a full and vibrant tasting journey through the region's finest dishes. Fantastic Indian desserts, from the Chocolate Chikki with pistachio and cardamom ice cream to the Rhubarb & Pistachio Kulfi, provide sumptuous treats to see you off.
BOOK Trishna, Blandford Street
This modern Argentine Grill is a must-see for visitors to Marylebone, having scored an impressive 9.7 on TheFork. Meeting all of your cravings for succulent steak and more, be sure to come and sample the fine menu and relaxed, inviting atmosphere of Zoilo, on Duke Street. With a stylish bare-brick interior and classic checkerboard floor, take a seat atop one of the many comfortable stools and eat some of the finest South American cuisine in Central London.
Open from 12 to 2.30PM at lunch and again from 5.30PM until the end of supper at 11PM, Zolio is fit for a trip whichever time of day it is. Beautiful dishes are served around the clock by Chef Diego Jacquet and his dedicated team. Starters of Sea Bream Ceviche, Beef Carpaccio, Warm Green Asparagus and Grilled Galician Octopus provide a bounty of flavours and textures. Move onto mains like the Bife Ancho Rib Eye Steak, or the Lomo fillet with Bacon, Shallots & Tarragon Jus - both made with prime Argentinian beef. Fresh sides like the Purple Sprouting Broccoli with Mustard, Chili & Mint and the Grilled Red Peppers & Salsa Verde provide zesty counterparts. Before you go, try the delicious, rich Dulce De Leche Crème Brûlée Banana Split, or the Chocolate Tart, Pistachios Crumble & Blood Orange for afters.
Fairuz is a must-visit spot if you're looking for a feast of fragrant flavours from the Eastern Mediterranean region. Situated on Blandford Street, with a neat row of al fresco seating available to enjoy on fairer days, this great spot, rated 9.3 on TheFork, is yours to enjoy. Glady accepting Yums, grab yourself a fantastic spot of food for great value at this friendly, family-owned restaurant.
Open from lunch at Midday until late at 11PM, the food at Fairuz doesn't stop coming. From the classic kebab-house starters of Pita, Hummus, Parsley Salad and Musaka, the regional flavours prove a hit. Mains of Stuffed Lamb with rice and herbs, Grilled Vegetable Kebabs and mixed grills of delicious fresh fish go great when paired with sides like Basmati Rice with minced lamb & peas and freshly cut spinach with olive oil, garlic and lemon. All traditionally cooked, authentic dishes showcasing the finest food from Lebanon in London.
On Marylebone High Street is an acclaimed restaurant serving modern Japanese dishes in beautifully decorated surroundings. Taka showcases the finest in seasonal, locally sourced ingredients, that are spun into eye-watering dishes both modern and traditional, with a specialism in the freshest sushi and contemporary plant-based delights.
Having been awarded a highly respectable score of 9.1, it's not hard to see why Taka has ticked the right boxes for its patrons on TheFork. The menu is a refreshing and zesty take on Japanese cuisine that is elevated far above your average high-street sushi box. From the Bluefin Tuna Tartare and Scottish Salmon Tataki, to the Chutoro Tataki and the Yellowtail Sashimi - all served with delicate dips and toppings according to the Japanese style. Plant-based lovers must try the Nasu Dengaku, a delicious miso glazed aubergine, or the Grilled Courgette Yuzu with truffle miso and perigord.
BOOK Taka, Marylebone High Street
Hoppers is a trendy spot serving the best Sri Lankan street-food inspired cuisine, that is sure to please lovers of exotic, fragrant and filling food. With a calming ambience and an airy dining room filled with large plantlife, this casual restaurant is a worthwhile visit for lunch or dinner. Open from Midday until 3pm and then again after 5.30PM, you are welcome to enjoy their fine food, rated 8.5 on TheFork, whether early or late.
The set menu here will give you the full taste of Hoppers. From the Lanka snack to start, to a second course of Mutton Rolls, Hot Butter Squid, Bone Marrow Varuval and Lamb Kothu, served with delicious Roti breads. Accompanying this is a choice of Dhal Kari, Pol Sambol, Seeni Sambol or Raita, that all come served with a delicious puffy Dosa bread. As if that wasn't enough, the main course treats you to a Kari in Fish, Chicken or Swimmer Crab, or the BBQ Jaffna Lamb Chops.
Fishworks, Marylebone High Street
This beloved neighbourhood Seafood Restaurant, Fishworks, has proven a hit among residents of the Marylebone neighbourhood. Serving fresh catches of fish, crustacean and oysters from their on-site fishmonger, expect to taste only the freshest and most expertly sourced dishes.
Start with Rock Oysters from Lindisfarne, Cumbrae and Jersey, or Fruits de Mer, a classic of mussels, clams, brown crab, crevettes and oysters, served on a bed of crushed ice, or even the Whole Devon Crab served cracked on ice with lemon mayonnaise. Lovers of deep ocean catch will love the whole Seabass and Monkfish, or try the South Coast fish on the bone, baked in salt or roasted with herbs and garlic, and fit to share between two. The Zuppa del pescatore is a traditional fisherman's stew of fish and shellfish, saffron, white wine, tomato and thyme served in a rustic copper pan.
BOOK Fishworks, Marylebone High Street
28-50 By Night, Wigmore Street
On Wigmore Street sits the renowned 28-50 By Night, from the mind of Head Chef Julien Baris. With a menu full of delicious Pan-European dishes, the fine food on offer here is sure to lure even the most discerning of diners travelling to London's Marylebone. The dishes here take you on a culinary tour across the continent. Start with appetisers of Smoked Almonds, Nocerella olives, and Chorizo before diving into Calamari and Tiger Prawn sides. Signature meals to look out for on the 28-50 classics section of the menu include Chicken breast with beet & truffle jus, Mushroom Risotto, and Halibut with fresh Bok Choi and Shitake mushrooms.
BOOK 28-50 By Night, Wigmore Street
108 Brasserie, Marylebone Lane
At 108 Brasserie, Head Chef Simon Conboy serves vibrant high-end cuisine in his chic, standalone restaurant on the cobbled street of Marylebone Lane. The perfect perch to dine al fresco and watch the buzz of this Central London borough, 108 Brasserie provides a taste of old-world charm in refreshingly modern style.
With a respectable 9.2 rating among TheFork's patrons, 108 Brasserie is well worth a visit for diners, whether casual or critic. Starters range from the Irish Carlingford Lough Oysters with a champagne mignonette, to classic Steak Tartare with toasted sourdough, to Buffalo Milk Burrata with Nutbourne farm tomatoes, basil dressing & toasted focaccia. Mains tick all the boxes for high-end continental cuisine, from the Linguine with Atlantic Prawns, to the Chicken Milanese with Capers to the deep-fried Haddock and Chips with Mushy Peas & Tartare Sauce.
BOOK 108 Brasserie, Marylebone Lane
Kitchen at The Holmes Hotel, Chiltern Street
This luxury hotel on celebrity hot-spot Chiltern Street might be up your street if you're seeking exclusive surroundings and a masterful menu. Welcoming the "curious minds" among you, be sure to meet the challenge and sample the rare Afternoon Tea at Holmes Hotel, recipient of a top-tier score of 9.6 from TheFork's community.
Being a Hotel, opening times run from breakfast and well until late, if you're lucky enough to get a reservation. Tables here are in-demand, and a glance at the menu will show that it's no mystery. With an immersive theme based on the legend of Sherlock Holmes, try expertly sourced teas served in an antique chest. This goes great with finger sandwiches of Smoked Salmon on white with horseradish, Roast Beef on granary with mustard mayonnaise, and Egg Mayonnaise on brioche. Classic Scones with jam and whipped cream follow, true to tradition, before a selection of sweet, sumptuous desserts including the Hazelnut Praline Choquette.
BOOK Holmes Hotel, Chiltern Street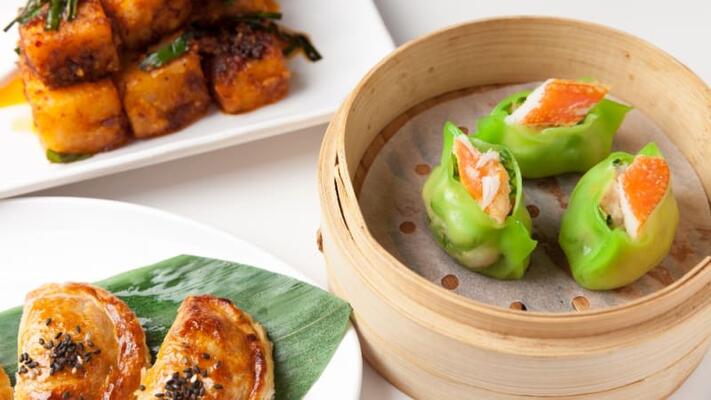 Royal China on Baker Street has all your cravings for a classic Chinese well covered. Specialising in Dim Sum, chinese sharing plates featuring delicate dumplings, this is sure to be a hit for parties small and large who find themselves in the Marylebone area. Considering the restaurant is always busy - a good sign - you'll never find anything short of the best service here.
Classic Dim Sum dishes like Pork Dumplings with Shrimp, Soup Dumpings, Prawn & Chive Dumplings, and Crab Meat Dumpling Soup are on a constant rotation here, arriving on traditional rotating tables that encourage sharing. Adventurous diners should try authentic Chicken Feet, or the Stuffed Bean Curd Rolls. If you're looking for something meaty, bready and familiar, try their delicious Roast Pork Buns. Order a little of everything to experience the full range and get the real Dim Sum experience!