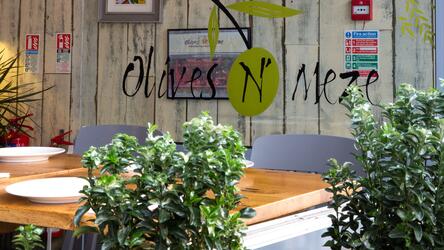 There are many things that might lure a Londoner south of the River. Sights, night-life, and attractions are there in great numbers. But what really makes people stay here is the food, of which there exists a fantastic and diverse selection. From new neighbourhood favourites to historic riverside locations, the City's south is a rich tapestry of cuisine and culture. To celebrate this, TheFork wants to take you on a trip through some of our favourite restaurants in London's South. Whether you're looking for a foodie field-trip far from your home borough, or seeking to sample some southern comforts, there's a plate with your name on it at one of the great restaurants on our list.
The first place on our list, and stop number one on our food journey through London's South, is a well-regarded neighbourhood spot. Calling the leafy South-West borough of Putney its home, Church Road puts a focus on fresh ingredients, flavourful combinations and specialist artisanal recipes. As you take in the ambience and browse the delicious menu, it's easy to see why the Michelin guide has sung Church Road's praises. Starters show off the finest produce, in everything from the field mushroom soup, with sourdough croutons and a thyme cream, to the green salad with shallots and herbs. Main dishes display the decadence of European fine-dining, in everything from the cave-aged cheddar soufflé, with melted leeks and mushrooms, the Parmesan Gnocchi with kale and chanterelles, and the Cornish bream with a mussel, leek heart and seaweed chowder.
Canvas & Cream, Forest Hill
In Forest Hill, near Lewisham in South London, sits this characterful and artistic eatery, Canvas & Cream. With a philosophy of inclusivity and a welcoming atmosphere to match, this community hangout is home to artists and creatives who make use of their studio space, mingling with locals who love the freshly made food. On the menu, you'll find a hearty spot of breakfast, like the sausage, bacon and egg baps, with vegetarian options available, or healthy granola bowls. For bigger bites, move onto mains of Malaysian Chicken with garlic, spices and fresh coriander, or firm Miso Ginger Tofu with fresh ginger. Sides of halloumi, harissa aubergine, rosemary roast potato and a crackling cauliflower recipe drive home the freshness focus.
BOOK Cavas & Cream, Forest Hill
At this popular eatery in Clapham, Head Chef Eddie Elmas runs his kitchen with vibrance and flair. Olives N' Meze serves modern Mediterranean food to its cosmopolitan clientele, with the earthiness and expertise of a traditional Turkish restaurant. True to its name, the meze here is fantastic. Hot and cold classics that come thick and fast, you will have a great time sharing these house favourites with friends and family. Cold Saksuka made from roasted vegetables and herbs, stuffed vine leaf dolmades, feta with marinated olives, and spicy Turkish Ezme, paired wonderfully with deep fried calamari, feta cheese rolls, sucuk sausage and halloumi cheese. Don't forget to taste the Turkish kebab-house classics like Kofte, chicken skewers and lamb Iskender.
A short walk away, down the popular Clapham High Street, is Aquum, an award-winning restaurant and late-night venue that's proven a hit with fun-loving local residents. Serving sophisticated dishes in a lively, vibrant environment, casual diners and discerning culinary connoisseurs alike are sure to find something that takes their fancy here. Starters here are a journey through elevated street food favourites, from Buffalo chicken wings with Louisiana hot sauce, deep fried squid with Aioli and nacho platters to eye-catching arrays of Mediterranean meze. Move onto hearty mains like the American-style cheeseburger, the lamb shank with mashed potato, or the Baby-Back ribs. Vegetarian and vegan diners will love the golden-glazed carrot & mushroom tart with a crunchy rocket salad.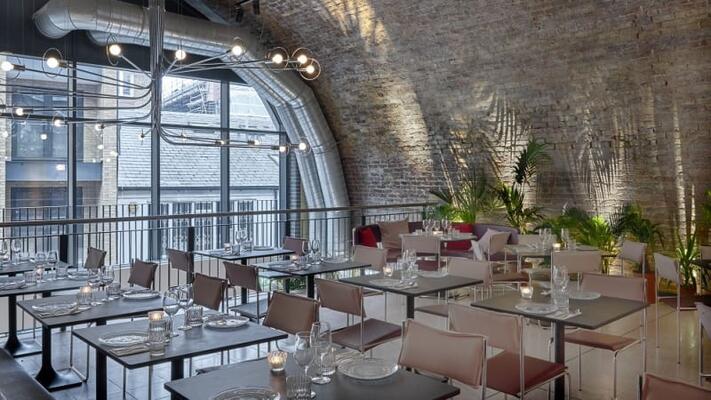 Bala Baya, in Southwark, proudly presents the finest cuisine from Tel Aviv and the Levant region. In a trendy setting, under railway arches in southern Central London, you can explore the finest Middle Eastern cuisine at this modern eatery. In Chef Eran's kitchen, you'll find dish after dish of regional delicacies - a tasting trip through his homeland. Small plates of labneh, hummus and roasted aubergine get you going, before moving to even more sumptuous offerings, like Tunisian tartar, lamb kebab dumplings with a date jus, and sea bass with freshly picked fennel. For vegan and vegetarian diners, try the roast cabbage with shawarma rub, garlic and ginger, or the zesty cauliflower steak crumble with pomegranate and lime yoghurt.
Housed in the famous high-end Hilton Hotel is OXBO, a hip and modern restaurant just south of the Thames, on London's iconic Bankside. With a slick, modern interior with an open kitchen and eye-catching centrepieces, this is a stylish location sure to suit the sophisticated foodie. When you sit down, you'll be treated to nibbles of buttermilk chicken, fish cakes with tartare, and mushroom croquettes with truffle mayonnaise. Next, papaya & avocado ceviche served with plantain crisp, coriander cress, and Jerusalem artichokes that come steeped in even more truffle oil. Impressive seafood mains, from cod fillet with chicory and celeriac, to grilled sea bass, end what is sure to be a memorable evening.
ECO, is a smart Italian Pizzeria showcasing passionate cuisine, from the founders of Pizzeria Franco. Named for the famous late Italian philosopher, author and mathematician Umberto Eco, you'll find plenty of food-for-thought as you peruse this well-crafted menu. ECO does the classics right. Arancini balls make a great choice to start, followed by fresh Bruschetta with avocado and rocket. The hand-made sourdough pizzas here follow a secret recipe of over 30 years in the making. Carne and pesce mains of grilled chicken breast, steak and stone cooked bass provide a dazzling main event.
There's no greater pleasure in life than a glass of fine wine with a perfectly paired cheese. If that's a combination you just can't refuse, then you might want to add this next place, the aptly named Champagne + Fromage, to your list. Situated in the hip Brixton Village, this fizzy concept has proved too tantalising for the locals to pass up on. Gorge yourself on the Raclette de savoie, a heart-warming classic of roasted potatoes topped with melted Raclette, served with charcuterie, or Quiche with cantal, goat's and cured coppa. Vegetarians must try La varois, a mixed salad of fresh figs, nuts with toasted chèvre chaud and a honey dressing.
BOOK Champagne + Fromage, Brixton
Swan at Shakespeare's Globe, Borough
Last on our list, and we're visiting the famous steps of the Shakespeare's Globe, where many a drama has unfolded. The latest show-stopper to grace the stage comes in the form of Swan, a modern fine-dining restaurant, where head chef Brett Golding gives a leading performance. Curtains open on delicious snacks to start, from crispy pork crackling to picked vegetables, and garlic marinated olives to enjoy alongside aperitifs. For the next scene, move onto gazpacho soup with rosemary croutons, or a finely-dressed Dorset crab with avocado puree and melba toast. Elaborate desserts cue the encore - the Meringue, lychee, candied chestnut Mont Blanc vanilla mascarpone cream & a chestnut mousse is sure to steal the spotlight.
BOOK Swan at Shakespeare's Globe, Borough