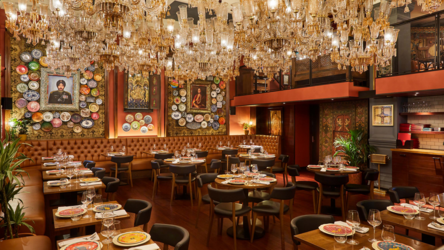 10 Of The Best Restaurants For Vegetarians in London
London is blessed with a thriving scene for vegetarian and vegan cooking, with many specialists finding fresh ingredients and flavourful produce to bring to your table. From delicious, fragrant Indian dishes to Nepalese family recipes, classic French fine-dining to Modern British serving from the farm to your plate. We hope to give you a definitive guide on where you can grab a delicious vegetarian bite when you're in town!
With a resplendent interior featuring chandeliers and artworks, the inviting dining room at Colonel Saab welcomes you into a fragrant world of fine food and fantastic vegetarian dishes. Begin with delicious snacks and starters, from the Banana Panyaram, crispy rice rissoles from south India served with Salted caramel coconut sauce, or the Indian Florentine of spiced spinach topped with a egg fried in chili butter on toast. Ease gradually into a main like the fresh signature salads, like the Watermelon with Feta, Rocket, Tamarind & Jaggery dressing.
TheFork Rating: 9.2 Open: 12.p.m-3p.m, 6pm-10pm YUMS loyalty points accepted
The hallowed streets of Westminster could tell a thousand stories, and the staff at Aloo Tama have likely been privy to many of them. Situated a short walk from Westminster's famous cathedral, this casual, welcoming spot is B.Y.O.B, and so has unsurprisingly, become something of a hit among the local politicians and government staffers. With a menu that focuses on communal, vegetarian cooking, Chef Prasad Mala runs the kitchen with a keen vision and a steady hand. The Vegan Thukpa is the signature noodles-soup with fresh vegetables, that showcases the warmth and heartiness of Nepalese folk cooking.
TheFork Rating: 9.2, Open: 3pm - 10pm
Mathura by Atul Kochhar, Westminster
Take in a slice of vintage London In the historic shell of the Old Westminster Fire Station, where acclaimed restaurateur Atul Kochhar oversees Mathura, where your sensory horizons will be expanded by the marvelous menu. The fusion of traditional Indian folk cooking with modern health food trends means vegan and vegetarian diners are likely to find something very suited to their palette. The Lucknow Ki Chaat is made from crispy potato in a yellow peas stew with spring vegetable fritters, buttermilk foam and tamarind jelly. The Paneer Tikka stuffed with Apricot is an inventive curry made with rich cottage cheese, green mango chutney and quinoa bhel.
TheFork Rating: 9, YUMS loyalty points accepted
The wonderful courtyard restaurant at TH@51 is an oasis from the hubbub of Central London, replete with a gorgeous classical-style fountain that cools the al fresco tables nearby. Here, the menu is expertly curated from the finest delicacies and ingredients, with something to suit vegetarian diners. The Bao Bhaji is a smashed medley that fuses vegetables and potato, spiced tomato, chutney coleslaw, pickled onions and toasty bao bun. The Superfood Salad mixes sprouts, blueberries, roasted pine nuts, pumpkin seeds, pomegranate dressing, providing a hit of zesty freshness.
TheFork Rating: 9.2, Open: 12.30pm - 11pm YUMS loyalty points accepted
The South Kensington location of hip modern restaurant 28-50 is something of a pearl in their collection, with a beautiful white facade and elegant outdoor seating to enjoy during the heatwave. Chef Julien Baris and his team earn consistently good reviews for their sophisticated, modern take on European cuisine. Start with some Wye Valley Asparagus, or a mouth-watering cheese-board to share, and move onto mains of Baked Courgette with stuffed aubergine, pinenut and cherry tomato sauce or Ratatouille with grilled artichoke. Book now on TheFork to enjoy 50% off throughout summer!
TheFork Rating: 9.2, Open: 12pm - 12am YUMS loyalty points accepted
If you're seeking a luxurious lunch reservation, or some glamour at dinner, then look no further than The Lanesborough Grill, run with love and passion by Chef Shay Cooper. While they do fantastic meat dishes on the grill, there are a few vegetarian options here that are well worth checking out. The Summer Vegetable Salad will go perfect with the hot weather, featuring Potato tuile, Ticklemore and a green goddess dressing. Or, try the Girolle Mushroom Risotto with Brightwell ash, puffed grains, broad beans and sauteed morels for vegetarian cuisine at its finest. The Charred Brassicas with Preserved Lemon and Almonds makes for a delicious taste of citrus on the side.
TheFork Rating: 9.3, Open: 7am-10.30am, 12pm-4pm, 6.30pm-10pm
Close to the Queen's neighbourhood of Buckingham Palace sits this artful modern European restaurant with attractive outdoor seating. Bbar, in London's Victoria, serves up a top-tier menu featuring some tasty dishes for vegetarians to try. The Braaibroodjie is Bbar's famous cheese toastie, and their take on classic cheesy chips comes with a delicious truffle mayonnaise. The healthy Superfood Cobb consists of Sweet potato, kale, beetroot, avocado, Toasted seeds, coconut bacon and lemon dressing. If a Dirty Vegan is more your thing, then look forward to pulled barbeque jackfruit with applewood smoked vegan cheese, maple bacon and chipotle mayo.
TheFork Rating: 9.1, Open: 12pm-11pm 
Chef Marwa Alkhaf serves Iranian cuisine with pride at Nutshell in London's Covent Garden. With a menu that highlights bold flavours and family recipes designed for sharing with loved ones, you can experience the passion of her cooking now on TheFork.
Enjoy deliciously fresh vegan dishes like the Kofte Berenji, made from Celeriac & jackfruit with beetroot, pomegranate, black lime and walnut. Enjoy this with a side of Gluten-free Kermani bread handmade from Safflower, dried parsley and cumin seeds, or the Mushroom Kotlet croquettes with barberry & burnt onion yoghurt.
TheFork Rating: 9.3, Open: 5pm-9.30pm
Blanchette in Soho is carving a name for itself as a culinary destination famed for a modern take on the romance of French haute-cuisine. If their expertly sourced seafood isn't what you're in the mood for, look straight to the vegetarian section for some fresh delicacies. The Hispi Cabbage with Roasted Fennel, Citrus and Dill Oil is highly recommended, blending bitter and citrus sensations into one zesty dish that evokes rich, regional flavours. Equally decadent is the Green Beans Salad with Mimolette Cheese, Shallots and a Walnut Dressing.
TheFork Rating: 9.1, Open: 12pm-11pm
The renowned Kerridge's, from popular chef Tom Kerridge has forged a great reputation for high-end takes on the classics of British Cuisine. For an unforgettably fresh lunch dish, try the Tomato and Mozzarella Salad, made with the finest hand-picked Heritage Tomatoes, alongside Pickled Shallots and Roasted Roscoff Onions. For some tasty sides to graze on, try the The Garlic Roasted Hispi Cabbage or the Roasted Beetroot with a Feta and Mint whip.
TheFork Rating: 9, Open: 12pm-2.30pm, 6pm-9pm