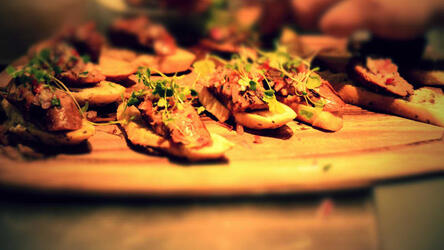 West London counts many a well-kept secret and a hidden gem among its leafy boroughs. From Notting Hill to Fulham, from smart streets in Central to quiet hideouts in the suburbs, the city's West can be a nice respite from the pace of the wider city. In this pretty part of town, you'll find an array of fantastic restaurants and eateries from West London's diverse community of residents. Expect to chance upon French bistros, or learn the language of love in a quaint neighbourhood ristorante. Read on to discover some of our favorite places to eat in the West, now yours to enjoy on TheFork.
Our first restaurant is a smart, terraced restaurant serving fine international cuisine. At Wild Thyme, expect to find inventive combinations of fantastically fresh ingredients, cooked to perfection. With a terrace to dine al fresco, you can sit beside the olive tree as you enjoy the delicious food in their cosy little courtyard. Delicious sharing dishes and small plates start off your tasting journey. Try the smoked aubergine with wholemeal croutons, dill and extra virgin olive oil, scattered with gems of pomegranate seeds and tahini. Or, the Greek Dakos, cherry tomatoes, feta, red onion and samphire tossed together with vinaigrette and crunchy rye rusks. Both are fresh and zesty when enjoyed alongside the suckling pork belly with creamy mash potato, cider-braised red cabbage and cranberries, finished with toasted pecan nuts in maple syrup and balsamic vinegar.
Villa Di Geggiano, Stamford Brook
Next up, to the beautiful leafy garden of the Villa Di Geggiano, a hidden-gem offering a real taste of Italy in West London's Stamford Brook. With a checkerboard floor and classic white tablecloth, expect to experience classic fine dining served with a modern attitude in this eye-catching restaurant. Be treated to a selezione di Pane at your table, a basket of Focaccia and Grissini, before you dine on starters of cured meats and cheeses from Tuscany. The Battuta di Filetto is a fillet of beef Tartar with toasted hazelnuts and Pecorino shavings. For your main course, try the Pappardelle al Cinghiale, a delicious pasta dish with Tuscan Wild Boar. Classic Italian desserts like Tuscan Almond Cookies and Tiramisu complete a picture perfect meal.
BOOK Villa Di Geggiano, Stamford Brook
This specialist steakhouse in South Ealing prides itself on a raw and elemental style of cooking. Serving succulent steaks in Sirloin, Ribeye, Fillet Mignon, and T Bone styles, the team at Flame & Fire cook with flair, passion and expertise. Enjoy the ambience of this modern, post-industrial dining room as it fills with fragrances from the kitchen. Appetisers here will certainly take your fancy, from the mixed olives to grilled halloumi with avocado and black sesame seeds. Taste the best of the field and the sea in dishes like the scallops & crispy chorizo with pea purée and pomegranate seeds. Vegetarians are treated to delicious dishes like Goats' Sheese, fig and caramelised onion tart, with rocket and a mustard & orange dressing. For the full experience, try a Tomahawk or Chateaubriand steak, a challenge, even when shared between two.
BOOK Flame & Fire, South Ealing
This trendy coffee shop, cafe and breakfast spot in the famous neighbourhood of Notting Hill is a must to visit next time you're in the West. Cherry On is a pretty local gem with one of the most impressive arrays of cakes, desserts and pastries in West London, if not the entire city. For a relatively small spot, the menu here packs quite the punch. Select from well-loved international dishes to start, from the Mediterranean baked feta cheese with tomatoes, olives and herbs, to the homemade Guacamole and Hummus. Move onto a main of Italian chicken escalope, or keep it casual with sandwiches like the Goat's Cheese focaccia, or smoked salmon with guac and dill.
Le Vacherin, Chiswick
Next, we have a wonderful French restaurant run with love by a passionate team in West London's Chiswick. Serving traditional Parisian gastronomy, Le Vacherin has put this borough on London's culinary map with its famous take on fantastic French dishes. Following a mantra of authenticity, expect dishes served in the utmost decadence. Ceps & aged parmesan risotto with autumn truffles, or escargots de bourgogne with garlic & parsley offer the flavours of French fine-dining. The Chateaubriand steak for two goes deliciously when paired with their red wines, from the vineyards of Bordeaux and beyond. The dessert menu will make your mouth water, and is certainly not to be missed.
BOOK Le Vacherin, Chiswick
Buenos Aires Argentine Steakhouse, Chiswick
Staying in Chiswick, the next restaurant on our list is another specialist in succulent steaks. Priding themselves on the most prime cuts and hand-picked produce, the Buenos Aires Argentine Steakhouse is bringing the flame-grilled flavours of Argentina to West London. Taste a dash of Argentinian passion in every dish, from the starters of olives, empanadas and different blends of chorizo sausage. Try a Primavera burger, a juicy beef patty with tomato and lettuce, or the Buenos Aires, with bacon, mozzarella and a fried egg. The main event, however, comes from the grill; spiralled Argentinian rib-eye, marinated chicken and roasted belly of pork provide dishes that drip with flavour.
BOOK Buenos Aires Argentine Steakhouse, Chiswick
Back to the streets of popular Notting Hill, now, to Tavernaki, specialising in authentic Greek cuisine. Giving you the traditional taverna experience, you can get a taste of the Greek Isles without leaving West London when you book your table here on TheFork today. Expect the full feast of hot and cold meze to start: from whipped feta and Tzatziki, to Taramasalata of smoked cod roe, onion, lemon and olive oil. Follow this with Octopus with Fava beans and crispy fried Kalamarakia squid. For mains, try the slow cooked lamb shoulder Kleftiko with rosemary, thyme and garlic, or classic Gyros, pita filled with fries, salad and chicken or pork.
This local jewel has become a firm favourite among locals of the neighbourhood of Warwick Avenue. Kateh serves incredible Persian cuisine to those in-the-know, and we highly recommend putting it on your list of places to visit next time you're exploring West London and feel like a unique tasting adventure. Book in advance on TheFork, as there is high demand for a table to taste this amazing menu. Starters of homemade Iranian flatbread, fried aubergines with walnuts and mint yoghurt and filo parcels of spinach, feta cheese and walnut. For mains, the Ghelieh Mahi is a southern Iranian cod stew with tiger prawns, fresh tamarind, tomato and fresh herbs, served with saffron rice. For vegetarians, the Murgh Parid is a stew of green beans, peas, carrots and potatoes.
To the luxurious Goldhurst House in Fulham, home to the beautiful Brasserie Blanc, a classic dining room serving decadent British and Continental dishes. With a comfortable interior with booth seating and spacious tables, dine in classic style on a menu packed with old-world charm. From starters of cheese souffle to Mediterranean fish soup with Gruyère cheese, croûtons and saffron, to the pan-fried smoked Morteau sausage in white wine potato salad with poached free-range egg, curly endive & a Dijon mustard dressing. Get a taste of the ocean in the grilled squid salad in chili & ginger with grilled courgettes and aubergine. Taste gastronomic excellence in the Chicken liver parfait with creamy truffle butter and caramelised red onion marmalade on toasted brioche.
BOOK Brasserie Blanc, Fulham Reach
Chez Maiss, Hammersmith Broadway
The last restaurant on our list of West London's restaurants is certainly not the least. The marvellous Chez Maiss on Hammersmith Broadway is your quintessential local neighbourhood favourite. Giving an authentic taste of French gastronomy in the leafy surroundings of Chiswick, the passionate staff here have won the hearts of the locals. The small plates alone here are enough to send your taste buds to another place. From fried Calamari with torched lemon and aioli, to truffled Arancini rice balls and Volcano shrimp in Korean sauce with lime mayonnaise. The mains are equally extravagant, try their flat-iron steak with mixed leaf, or the Shish Tawook, a Middle-Eastern style marinated chicken served with fries and an Asian inspired side-salad. These dishes are yours to enjoy as you wine and dine al fresco outside their classic awnings. The perfect way to spend a sun-kissed evening in West London.