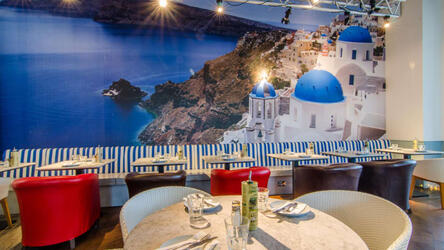 We wanted to put the spotlight on the restaurants loved by our community, and share the popular spots that have proven a hit with TheFork users. We looked far and wide to find you not only the headline grabbers, but the local heroes, and the family favourites too. Introducing 10 of the most booked restaurants on TheFork in 2021.
The Fuzzy Duck, Stratford-upon-Avon
The medieval market town of Stratford-upon-Avon, home to gastropub The Fuzzy Duck, is an idyllic spot to enjoy lunch or dinner with friends and family. Run lovingly by siblings and successful entrepreneurs Adrian and Tania, this once-boarded-up boozer has now been transformed into a high-end gastropub that is putting the area of Armscote on the culinary map. Here you can expect to find the best posh pub-grub with all the trimmings, right on up to the roasted Turkey. Indulgent starters include smoked salmon with caviar and a roast chicken and ham hock press on malt bread with tarragon mayonnaise. Venison loin in a game consome follows, then a ravioli of pumpkin and wild mushrooms. The menu here showcases the finest fresh ingredients in every dish.
BOOK The Fuzzy Duck, Stratford-upon-Avon
Bringing the taste and flavours of Santorini to the sandy shores of Bournemouth, this vibrant restaurant brings The Real Greek vibe to the lucky patrons of this picturesque town. Specialising in flavorful fresh dishes, you can catch a taste of the Mediterranean without leaving the British coast. Here you will find Greek classics aplenty, with wonderful sharing plates of Hummous, Taramasalata and the Tzatziki going great with delicious hand-made flatbreads. Their special Greek halloumi popcorn is puffy and crisp and served drizzled in hot honey. Falafel, dolmades and filo chickpea triangles complete the meze spread. Seafood lovers will be well catered for between the fried Kalamari rings with lemon mayonnaise, and the grilled Octopus with favia bean and oregano.
BOOK The Real Greek, Bournemouth
The Golden Retriever, Bracknell
Under a historic thatched roof sits this warm and welcoming restaurant pub The Golden Retriever, in leafy Bracknell near Wokingham. Formerly a forester's cottage, this storied building has retained all of its rustic charm, and that enough makes it worth a visit. Fortunately for users of TheFork, this local gem also serves some of the region's finest food. Starters here offer a twist on well-loved classics. The Prawn Cocktail, is served with avocado and rustic bread as well as the classic Bloody Mary sauce, and succulent chargrilled Lamb Kofte are served atop a watermelon salad. A duo of Pâté complete what is an eye-watering spread to kick off the meal. Mains don't disappoint; Hunter's Chicken schnitzel is served decadently with triple-cooked chips, and the slow-cooked beef & porcini Bourguignon comes
BOOK The Golden Retriever, Bracknell
This next restaurant is a fan favourite in the historical Scottish city of Edinburgh, that recently reopened. Michael's, or more formally the Michael Neave Kitchen & Whiskey Bar in Eyre Place, is one of the hottest spots for haute cuisine. This smart little restaurant, run by up-and-coming chef and restaurateur Michael Neave, makes for a picture-perfect stop off for food after a walk along cobbled streets or a hike up the famous Arthur's Seat. Expect Scottish cooking traditions to run through this expertly crafted menu. From the Scottish scallops served with haggis and pea purée, caught on the West Coast, to the Salmon gravlax with beetroot focaccia - the salt and sheerness of the landscape can be tasted in every locally sourced ingredient. Desserts here come fluffy, puffy, creamy and rich to taste all palettes, from the dark chocolate and raspberry mi-cuit with clotted cream, to the peach compote with amaretto sponge, toasted almonds and mascarpone.
Next up on our list will be a favourite for lovers of feline friends. The Kitty Cafe in Leeds is the best cat-cafe in the Midlands, where you can peruse a menu of delicious coffee and cakes, and fresh lunches hot and cold. The great food, casual atmosphere and four-legged friends for company have made this spot a certain hit among TheFork customers. Lunchtime is well-covered with delicious paninis and wraps, with vegan and vegetarian combos aplenty, like the Vegan Volcano with jalapenos and black olives, or the Holy Guacamole with guac and fresh peppers. For something more substantial, one of the hand-made pizzas is sure to please. Try the Hawaiian Lion, if you like it with pineapple! With sweet desserts like Oreo cookie cheesecake and classic strawberries & cream to send you on your way, be sure to make a date for this cutest of cafes!
This next restaurant is a charming country pub set in the grassy fields of Ferndown, Dorset. The Curlew offers traditional British charm with an expertly rejuvenated menu of elevated pub-food fare. Dealing in classics from the shoot, the farm and the field, meat-lovers and vegetarian and vegan diners are all welcome in this warm atmosphere at the Curlew, as the long list of positive reviews will attest. Delicious sharing grazers ease you into a feast of a meal, from the baked Camambert topped with cider raisins to a sticky platter of chicken wings, prawn, lamb kofta and chorizo. If sharing isn't your thing, opt for their crispy Calamari rings, or a duo of pate, Madeira and duck liver parfait, all to yourself. For mains, the decadent lamb duo will satisfy even the hungriest of diners, offering a pan-seared lamb rump alongside a delicious shepherd's pie with Cheddar and red wine jus. Hand-made pizzas, delicious stacked burgers and sirloin steaks of varying grades complete a most hearty menu.
Bringing Japanese yokocho or "alleyway" culture to the streets of London's Soho, Ramen-specialist Heddon Yokocho is a favourite among TheFork users for that authentic taste of Tokyo. Celebrated by its regulars for its hip, casual approach to noodle dishes and sake, this metropolitan spot has drawn praise from the likes of famous restaurant critic Jay Rayner. Specialising in ramen; noodle dishes served with soft meat, fresh vegetables, boiled egg and spices in a bone broth, this traditional Japanese street-food was born from dishes introduced to the country by its Chinese migrants, becoming a Chinatown regular in places like Yokohama. Now, not far from London's own Chinatown, you can sample this storied street-food staple, as puffy Hirata buns that hold deliciously rich fillings of barbecue pork and fried chicken karaage.
This next fan-favourite is a modern Italian marvel from the minds of Chefs Concetta Davi and Orazio Piccolo; Al Pomodoro. Serving a selection of sumptuous Italian pasta and pizza dishes as well as delicate, regional Italian recipes, there is something sure to please on this lovingly put together menu that simply bursts with passion. It's no wonder this popular spot draws consistently good reviews from the Cambridge locals. A great way to explore this seasonal cuisine is through the set menu, available in either two, three or four courses, depending on how hungry you are, and with vegetarian versions, too! The dishes you can expect to enjoy range from tasters of arancini balls, polpette meatballs, and delicious cold cuts and antipasti. Move on decadently to the oysters with lemons, prawn cocktail de gambero and calamari fritti, and sample the finest of the ocean's catch. Vegetarians will love the dedicated vegetarian menu, which showcases only the finest fresh picked produce.
Serving great food and real ale in the market town of Tamworth since the early 19th Century, this canal-side restaurant and pub, The Tame Otter, is a historic location that remains an exciting destination to this day. Drawing local crowds and travellers from afar in equal measure, this beautiful building was once a hotel drawing visitors to the picturesque local waterways of Birmingham. Impressive sharing platters to start things off will have your mouth-watering, like the sticky platter of chorizo, prawn and chicken wings, or the box-baked camembert. Classic pub sandwiches give the authentic taste of British high tea, such as the cod fish-finger sandwich with deliciously tangy tartar sauce. Desserts to finish are sure to delight, from the classic vanilla crème brûlée, to the toffee & nut trio.
Rounding off our list of the most booked restaurants on TheFork, and a final local hero to add to your bucket list. The Swan Holme is a renowned restaurant set in a grand old country house near the medieval city of Lincoln, with a menu bursting with hearty classics for cold nights, and light and seasonal spring dishes that are sure to delight. Larger groups of diners will have a great time jostling over the sharing platters, serving succulent chicken wings, chorizo balls and prawn rings. Modern Italian-style pizzas come in a variety of inventive toppings, from the spicy Diablo, with pepperoni, chorizo, Guindilla chilli peppers, mozzarella and a chipotle chilli jam to the roasted vegetable & pesto red pepper pizza with butternut squash, red onion, spinach and mozzarella. Desserts are satisfyingly rich and creamy, such as the classic vanilla crème brûlée, or a lovingly home-made crumble of the day.