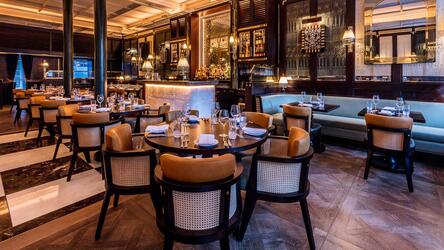 We are always proud when one of our amazing restaurant partners is recognised for an award, and there is no greater honour in the culinary world than the famous Michelin star. An accolade reserved for only the finest restaurants, the Michelin star denotes a higher tier of culinary excellence. One that is all yours and ready to experience when you book on TheFork.
Among the Michelin Guide 2022 new star list, we are taking a closer look at three restaurants that have recently gained Michelin stars, for their passionate and tireless work serving great food. From palatial Mayfair restaurants serving regal Indian cuisine to hip East London eateries showcasing the finest produce of the British Isles, read on for all you need to know about these three highly acclaimed restaurants.
Michelin Guide 2022 – the new stars:
New Three Michelin Star Restaurants:
• L'Enclume, Cartmel, Cumbria (Simon Rogan) New Two Michelin Star Restaurants:
• Chapter One by Mickael Viljanen, Dublin (Mickael Viljanen)
You may know Shoreditch as a hotspot for street food, but tucked away in its splendid Town Hall is a restaurant that takes a far more sophisticated approach to dining than what you'll find around the corner. Specialising in exquisite dishes made lovingly from fantastic, fresh and locally-sourced ingredients, The Clove Club has just been awarded two Michelin stars, and it's easy to see why. You will be well looked after here by the dedicated team who manage day-to-day at The Clove Club, under the stewardship of Head Chef Isaac McHale. Whether you're looking for a romantic date night, or a lively brunch with friends, you are sure to find something to please you here. Expect to have fun sampling a menu that's a playful mixture of high and low cuisine - from field, to street to banqueting table.
The dining room is a place to be seen, with polished wood and an open kitchen in eye-catching duck-egg blue tiles. Chef McHale and his team tirelessly serve food of the highest tier. Starters give a hint at the elevated tasting experience to come. Try the white asparagus royale with duck ham and ginger & Arbois wine sauce, or a spiny Artichoke barigoule with carrot juice, pomelo & sage. Enjoy gastronomic showmanship in zingy starters like the Loquat sorbet with a kernel mousse, popcorn & amaranth.
The mains at The Clove Club up the ante further. For £145, the entire tasting menu is yours, and what a journey it is. From the smoked anchovy jelly with fresh almond & crushed tomato seeds, to Hazelwood grilled lobster with Corsican Pomelo & sage, right down to delicious dessert of strawberries & cream in Antica Formula with Sake Lees & blackcurrant wine. With every dish offering something rare and unique, book on TheFork today to experience the magic of multi-Michelin star cuisine.
New One Michelin Star Restaurants:
• The Barn, Aughton, Lancashire (Nathan Cornwell)
• Bastible, Dublin (Barry Fitzgerald)
• Bridge Arms, Bridge, Canterbury (Daniel Smith)
• Dog and Gun Inn, Skelton, Cumbria (Ben Queen-Fryer)
• Evelyn's Table, Soho, London (Luke Selby)
• Frog by Adam Handling, Covent Garden, London (Adam Handling)
• The Glenturret Lalique, Crieff, Perthshire (Mark Donald) • Glovers Alley, Dublin (Andy McFadden)
• Home, Penarth, Cardiff (James Sommerin)
If you're a lover of Indian cuisine, then you must visit the regal restaurant Jamavar, on Mount Street in Mayfair. A beautifully laden dining room with palatial columns and mirrored walls, this Indian restaurant, run with passion and vim, is the recent recipient of a Michelin star. Putting Indian cuisine firmly on Michelin's fine-dining map, Jamavar serves some of the finest Indian dishes in the capital, which are yours to enjoy now on TheFork.
The menu at Jamavar takes inspiration from all over India, with their speciality being food from the Northern region. Many of the dishes here are directly inspired by the menus of India's Royal Palaces, showcasing traditional fine-dining and secret recipes that are fit for emperors. Head Chef Surender Mohan mastered the cuisine working in the luxury hotels of Delhi, and brings refinement and attention to detail to meet every need during your experience here.
Begin your tasting journey with an array of dazzling small-plates, like popular specialties such as the juicy Malabar prawns and the goat Shami kebab. The Makai Palak Ke Goolar is a delicious side of spinach & rice dumplings with mustard yoghurt, pine nuts, raisins & feta that will be a hit with vegetarians. Main dishes showcase recipes that have wowed diners for generations, like the Old Delhi butter chicken, a corn-fed bird that is char-grilled and pulled, served with fresh tomato and fenugreek. Lovers of a fish dish should try the Alleppey Sea Bass curry with raw mango and Kerala spiced coconut milk.
Lastly, the desserts at Jamavar provide everything you'd hope from a Michelin-starred restaurant. The nougat with chocolate mousse and cinnamon ice cream is mouth-watering. Regional flavours and techniques can be tasted in the rhubarb Chuski Falooda, sprinkled with basil seeds and a rhubarb & saffron rabri kulfi, or the trio of Kulfi, with malabar coffee & hazelnut rose and a sweet lychee white chocolate.
If you're seeking a historic part of London that has the finest shops, hotels and restaurants, then look no further than the St James' district. Here you will find the fantastic Wild Honey St James', a haven for lovers of fine cuisine that has recently been awarded a Michelin star. Here, Anthony Demetre, a masterful chef who trained under some of the biggest names in the business, puts his seal on the capital's fine-dining scene.
You might have eaten at one of Demetre's restaurants before, like the former Arbutus in Soho, and Les Deux Salons in Covent Garden. Now, this location, within the Sofitel London St James hotel, has become a destination in its own right. A deluxe brasserie, you'll feel every ounce of charm as you recline on leather seats in spacious booths, as you await what's to come.
Tuck in to starters of Finocchiona, a traditional salami from Tuscany with fennel seeds and pollen, and Coppa, another traditional smoked salami, with cinnamon, coriander, juniper and nutmeg. You may struggle to choose between the decadent main courses on their menu. Marvels like the classic duck, chicken and foie gras terrine 'en croûte' with winter relish and the hand-chopped beef tartare with smoked mayonnaise on sourdough toast live up to the Michelin standard.
Taste the freshest ocean catch in seafood dishes like the scallops in seaweed butter with guanciale, using the freshest hand-caught Scottish scallops. Or, go for a traditional Bouillabaisse, a fresh seafood soup of crab, mussels and Sea Bass, served Marseille style with crispy home-made French bread. For hearty meat and game dishes, try the grilled Scottish beef with winter root vegetables in a succulent red wine and bayleaf sauce. Don't miss Wild Honey's own ice cream, made in Burford in the Cotswolds, served with, of course, fresh honey.
New Michelin Green Star Restaurants:
• CHAPTERS, Hay-on-Wye, Powys, Wales (Mark McHugo)
• Marle, Heckfield, Hampshire, England (Michael Chapman)
• Moor Hall, Aughton, Lancashire, England (Mark Birchall)
• Oak, Bath, Somerset, England (Pete Ellis)
• Pensons, Tenbury Wells, Worcestershire, England (Chris Simpson)
• Pine, East Wallhouses, Northumberland, England (Cal Byerley)
• Terroir Tapas, Bournemouth, Dorset, England (Jesse Wells)
• Tillingham, Peasmarsh, East Sussex, England (Tom Ryalls)
• Wilsons, Bristol, England (Jan Ostle)