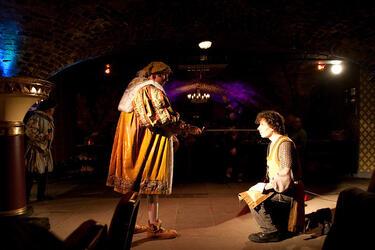 6 of the Best Themed Restaurants in London
London has no shortage of excellent restaurants, but when you want a little entertainment to go with your meal, consider dining at one of the city's extraordinary themed restaurants.  The following venues provide more than just good food – they offer a memorable experience to share with family or friends.Medieval Banquet
Ivory House, St. Katharine's Dock
This family-friendly venue allows history lovers to travel back in time to experience London as it was a thousand years ago.  Situated within minutes of the Tower of London, the Medieval Banquet treats its guests to a feast with King Henry VIII and his court.  Enjoy four courses of medieval-inspired fare, ale, and wine accompanied by minstrels, magicians, troubadours, and more.  The Medieval Banquet is particularly noted for its musicians who perform centuries-old music that provides a welcome backdrop to the medieval pageantry.
Dans Le Noir
Clerkenwell Green, Farringdon
Without a doubt, one of the world's most extraordinary themed restaurants, Dans Le Noir is a sensation for the senses.  Of course – not all the senses will be engaged at this eatery.  Guests dine in pitch-darkness.  Fans of the restaurant assert a heightening of others senses like taste and smell.  Guests are escorted and assisted by blinded guides.  A restaurant, lounge, and bar, Dans Le Noir features international modern cuisine that is rich in texture and bursting with flavour.  A meal at this unique restaurant is a remarkable adventure in taste that is sure to add excitement your night.
The Rainforest Café
Shaftesbury Avenue, Piccadilly
Located in London's West End near Piccadilly Circus, The Rainforest Café brings exotic and endangered environments to the forefront of your dining experience.  Since The Rainforest Café is devoted to environmental causes, it has created a rainforest environment that is popular with children and adults alike.  Guests enjoy menu items like Jungle Safari Soup of the Day, Rasta Pasta, and Indonesian-Style Chicken and Glass Noodle Salad amidst thunder, tropical rain showers, and visually stunning waterfalls.  The Rainforest Café also features their Retail Village, a shopping venue filled with life-size stuffed animals and other wares inspired by nature.
Gilgamesh
Stables Market, Chalk Farm Road
Located in the Camden area of Greater London, Gilgamesh is a restaurant and lounge inspired by the exotic charms of ancient Babylon. The Pan-Asian cuisine is served in a sumptuous setting that features pillars inlaid with lapis and furniture carved with the Near-Eastern epic of Gilgamesh.  Anyone with a taste for the exotic will be enchanted by this uniquely themed restaurant.  The stone-carved kitchen produces such popular dishes as sushi, curries, and small dishes like spicy quail and crispy squid.  Gilgamesh also contains the Tea House, a room with ceiling high glass windows that is ideal for parties and special events.
Sarastro
Drury Lane, Covent Garden
Surely one of the world's most unique themed restaurants, Sarastro takes its design cues from old Victorian curiosity shops.  Touted as London's opera restaurant, Sarastro boasts visually stunning opera boxes in Gothic, Rococo, and even Byzantine styles.  A feast for the eyes, the theatrical décor is complemented by Mediterranean and Turkish cuisine.  Guests' favourites include lamb Anatolian and duck confit.
Stables Market, Chalk Farm Road
With its two floors, restaurant, club, and bar, Shaka Zulu is easiest the city's biggest and best-known South African restaurant.  With its row of warrior statues and opulent interior, Shaka Zulu boasts a visually splendid atmosphere.  Of course, the cuisine is at the heart of this restaurant; game meats like zebra carpaccio complement less exotic, but equally South African in essence meals like pork spare ribs.  Other culinary highlights include smoked chicken and the wild boar and bacon burger.