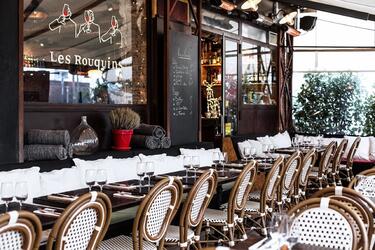 The French are famous for their fine food culture, and many intrepid lovers of the food have made the English capital of London their home, serving delicious takes on this grand and ancient cuisine to hungry Londoners every day. To celebrate this culinary legacy and the ongoing dialogue between British and French cooking, TheFork have summed up 10 of the best French restaurants serving in London today. Viva la France!
Providing great French food, straight from the heart, classic Bistro Le Petit Citron in West London's Hammersmith is every bit the picture perfect postcard of continental cuisine. Family-owned and brimming with old-world charm, expect the classic Bistro aesthetic, chalkboards packed with specials, gingham table cloths and brass-topped bars. Specialising in delicious Provencal cuisine, the dishes here are a transportive experience that offer the best of the region. Start the journey with a range of seasonal Soup Du Jour, or Anchoïade Toast with anchovy, chopped egg and relish. Hors D'Oeuvres range from the Brixham Scallops to the sumptuous Sausage and Smoked Duck Terrine. Vegetarian diners will love the Haricot Bean & Tomato 'Cassoulet with Butternut squash and parsnips, or the Lemon & Thyme Socca, served with the best seasonal wild mushrooms.
BOOK Le Petit Citron, Hammersmith
This award-winning restaurant in Mayfair, Bellamy's of Bruton Place, is the next stop on your tour of London's French food fare. Here, the dedicated team strives to bring the finest parts of the Franco-Belgian Brasserie tradition to London's diners, but short of being a beerhall, Bellamy's is instead a refined space with a keen focus on the region's finest wines. The dishes here set out to inspire; starters of classic Duck Rillettes, crispy Cheese Croquettes, and Prawn bisque set the tone. Opulent seafood plates are served ocean-fresh, like grilled swordfish, served with beurre maître d'hôtel, or the Red Mullet Casserole. Carved to perfection, meat plates like the Venison Medallions à la planche and Steak Tartare with pommes pont neuf channel the region's richest flavours.
BOOK Bellamy's Restaurant, Mayfair
Galvin La Chapelle, Spitalfields
The masterful dining-room at Galvin La Chapelle in London's Spitalfields is a palatial pearl replete with marble columns, high stoned ceilings, arched windows and chandeliers. Take your seat in the tall leather booths as you dine in style at this Michelin-star honoured French restaurant. The menu Gourmand is a 7-course experience that is a perfect fit for the regal surroundings. From appetisers of Beetroot cured sea trout with squid ink aioli, through to after-supper cheese and desserts of Apple Tart Tatin with creme fraiche from Normandy. Decadent main-dishes include the Cumbrian beef sirloin, aged for 38 days, oysters, and barbecue glazed pommes Anna, and the hay-smoked loin of fallow deer, shoulder ravioli, quince & pink radicchio.
BOOK Galvin La Chapelle, Spitalfields
Champagne + Fromage, Covent Garden
On London's Wellington Street, in the famous shopping district of Covent Garden, sits this cool, modern French spot, Champagne + Fromage. Consistently good reviews from satisfied diners have put this pretty place on the map for your sojourn through Central London. With a charming al fresco area to welcome you, with covered outdoor dining, this spot lets you see and be seen. As you may have guessed from the name, the finest French cheeses can be found here, as well as a range of fantastic authentic sparkling wines from the Champagne region. The selection of cheese can be enjoyed on sharing platters that make for a fun and casual bite alongside delicious cured meats and tapenades. Baked Camambert comes served in inventive pairings, such as rosemary honey potatoes, truffle & port and chorizo & sundried tomatoes. Classic Raclette gives a taste of Alpine charm.
BOOK Champagne + Fromage, Covent Garden
This beloved bistro in Tottenham's Crouch End serves up timeless French favourites in an artful setting of velvet drapes, immersive foliage and Renaissance murals. Serving vibrant and earthy authenticity in each delicious dish, Bistro Aix expertly curates their menu using the finest and freshest ingredients. Starters of Saucisson Sec with crunchy gherkins and Bistro Aix's own Country bread, to Scallops with seared Foie Gras, plates here are a treat of regional flavour. Main events of Guinea Fowl with black garlic sauce and chicken Fricasse with snails and wild mushrooms provide authentic French mastery. Don't forget to try the decadent desserts before your French exit; from the Dame blanche with vanilla ice cream, almonds and chocolate or vanilla ice cream with toasted pecans, crispy honeycomb and toffee sauce, to delicate hand-rolled profiteroles.
Le Vacherin, Chiswick
Le Vacherin in Chiswick takes a proud approach to serving only the best fresh seasonal produce throughout their menu. Bringing the traditional French touch to the leafy West London borough of Chiswick, the refined tastes of Parisian gastronomy are yours to enjoy through TheFork at this homely and classic-looking private dining-room. Underneath the mirrored walls and Belle Epoque-era posters, sample delights such as the Escargots de bourgogne with garlic & parsley or the Dorset crab & avocado tian with cucumber carpaccio, confit quail's egg & mango salsa. Mains include the Risotto with parmesan and autumn truffle, or the stuffed Duck neck with vintage port and potato purée.
BOOK Le Vacherin, Chiswick
Le Garrick, Covent Garden
Serving sophisticated French food in the heart of London's popular Covent Garden, Le Garrick is renowned for their culinary excellence, charming service, and their refined and welcoming atmosphere. Situated in London's theatre district, a meal at Le Garrick is one with an enticing beginning, a dramatic middle and a sumptuous climax to finish. Classic regional entrees include French Onion Soup, Moules Marinières, and Scallops Noix de St Jacques. Move onto les plats, the eye-watering main courses that include Moules frites, Duck Confit in honey glaze with mashed potato, and Boeuf Bourguignon, cooked tenderly in red wine with shiny buttered new potatoes. In picture-perfect French settings, Le Garrick will make you feel like the main character before your evening out at the theatre.
BOOK Le Garrick, Covent Garden
London's well-heeled borough of Chelsea is home to this attractive French style restaurant Medlar, serving dishes from the mind of head-chef Joe Mercer Nairne. With a loving focus on seasonal ingredients from Europe and the British Isles, this warm and welcoming restaurant pride themselves on a top-tier menu and the atmosphere and service to match. Starters here are too tempting to pass on, like the sautéed lamb sweetbreads with parsnip purée, baby leeks and croutons, or the Crab raviolo with samphire, brown shrimps, and leek fondue in bisque sauce. Main courses provide the genuine French fine-dining experience, with rich dishes like the roast Guinea Fowl breast with confit potato, violet artichokes and dragoncello, or the slow-braised beef cheek with celeriac purée and crisp red onion and pancetta, with crunchy green beans with horseradish. Showing the British-sourced side of this cultural-crossover menu is the hearty Scottish Venison loin with braised shoulder and chestnut.
This new addition to the traditional district of London's St James, Wild Honey is a light and airy modern dining room that specialises in impressive cuisine that fuses produce of the British Isles with French gastronomical techniques. Providing elegance without being overly formal, the relaxing atmosphere at Wild Honey is perfect for any occasion, from business breakfast to that special intimate dinner. Set in what was formerly a city bank, enjoy a power lunch on Tuscan salami with pollen and fennel seeds and smoked-salami Coppa with sumptuous spices, or gorge on opulent French classics such as duck, chicken and foie gras terrine en croûte. Seafood here is expertly sourced and arrives fresh, like the grilled Seabass with winter greens glazed with Moroccan lemon and honey, or Cod and Monk's Beard tempura in endive, with blood oranges and green peppercorns.
Brasserie Blanc, Threadneedle Street
Last on our list, but certainly not least, the smart Brasserie Blanc serves a delicious menu from the mind of celebrity chef Raymond Blanc. This highly-recommended City eatery offers a vast culinary selection that ranges through some of the finest in French regional cuisine, leaning on lovingly sourced ingredients from the best farmers and growers in the British Isles. It's no wonder diners leave consistently rave reviews after enjoying this upmarket spot, a favourite among the well-heeled local City clientele. Dishes will delight throughout your meal here, from starters of Cheese Souffle to Chicken Liver Parfait, or the fresh-caught Cornish Crab to hot Smoked-Salmon with beetroot and cauliflower florets. If that didn't sound rich enough, the main courses will make your mouth water. From Barbary Confit Duck Leg with slow-cooked carrots and green beans, to roasted Halibut in Champagne sauce for the real taste of France.