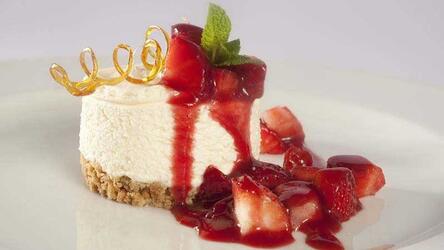 Like no other day of the year, Valentine's Day is meant to be shared with that special person in your life. Reserving a table at a romantic restaurant is a time-honoured tradition of showing this loved one how you feel. In that spirit, we wanted to spotlight some of the special menus you and your partner can share, to set you up for a star-crossed moment this Valentine's weekend.
From continental gems full of character, to monumental London restaurant landmarks, we've got you covered. For our restaurants, Valentine's Day is an opportunity to spoil their customers, and create truly special memories with you.
Our first stop is Whitcombs, near London's Piccadilly Circus, where you can romance your partner in posh surroundings near London's most famous public square. Housed in The Londoner Hotel, you can be sure your date will receive the finest service from their friendly, welcoming and discrete team.
Whitcomb's welcomes you to enjoy their special Valentine's Day menu, at £85. A journey through some of their finest courses, it is certain to please those looking for something a little bit special. Starters like the seared King Prawns with garlic, chilli and olive oil, that comes in a hot skillet, or the baked Gruyère, served with Emmental, Cognac, crispy pancetta and Dijon mustard, that will make the mouth water. Save some room for mains of seared Lobster with rigatoni and gnocchi with Gorgonzola dolce crème.
From the mind of celebrity chef Jason Atherton, Harrods Social is a suave and sophisticated way to indulge your partner this Valentine's Day. Based in the famous department store in Knightsbridge, take in the palatial surroundings as you wine and dine. At a very reasonably priced £49, you can enjoy the famed chef's special Valentine's Menu.
To start, you'll be treated to Devon crab with nashi pear and lemon gel on a coriander salad, or a wild mushroom ravioli with parmesan velouté. Progress onto the next heavenly course; Cornish Hake in a white miso emulsion with pak choi, spicy ponzu and crispy squid, or Cob chicken with braised mushroom, truffle mashed potato and baby leeks in delicious Madeira sauce.
BOOK Harrods Social, Knightsbridge
If you want to put the Michelin star on your Valentine's Day date-night, then you'll want to know about the next restaurant on our list. Elystan Street from chef Philip Howard, is a modern restaurant that is well situated in upmarket Chelsea. With its trendy modern window and comfortable booth seating, this makes for a casual, refined Valentine's experience for those looking to dodge the cliches.
Starters here show a passion for fresh, impactful ingredients. The cool almond soup comes with green olives, white peach, cucumber, garlic and grapes, and the salad of Vesuvio tomatoes with ricotta, olives, basil and extra virgin olive oil is a marvel. These dishes will have vegan and vegetarian diners falling head over heels. For carne lovers, try the loin of lamb with a pesto glazed aubergine, roasted datterini tomatoes, zucchini fritti and rocket.
Céleste at The Lanesborough, Hyde Park
Named for the French for heavenly, you might just find yourself among cherubs and cupids this Valentine's Day at Céleste at The Lanesborough. Placed on the grand Hyde Park Corner, enjoy an ambience sat beneath the light of crystal chandeliers as you indulge in a feast of fancy Valentine's treats in this fantastical restaurant. Although formal, it makes sense here, as the Céleste is a rare taste of old-world charm in an increasingly modern London. Chef Shay Cooper keeps traditions alive in a refreshing way, in a menu filled with expertise, passion and flair. Light pairings to start will delight, like the crispy Lobster in a mango and papaya salad, or the Smoked Organic egg with broad beans, pea purée and radish. A focus on quality core ingredients is on show in the poached Turbot and the pan-fried Dover Sole.
BOOK Céleste at The Lanesborough, Hyde Park
They say Italian is the language of love, so when it comes to Valentine's Day, there can be nothing more perfect than sharing a delicious traditional meal from the heartlands of Italy. London is a proud home to many great Italian ristorantes, but premier among them is Caravaggio, a modern spot in the historic building of a former bank near London's Fenchurch Street. Chef Alban Gura runs their kitchen with heart, injecting every dish he dreams up with romance and pizzaz. Pasta dishes like the Spaghetti alla Sorrentina, the Risotto alla Milanese con Taleggio, to carne classics like the Costoletta di Vitello alla Milanese, or the Noce d'Agnello Arrosto. Enjoy their generous Valentine's offer, of 3 Courses with a refreshing glass of Prosecco for under £50. Those looking for Italian authenticity will be pleasingly reassured by the lack of English on the menu.
Melody at St Paul's, Hammersmith
The Melody Restaurant at St Paul's is like a verdant country retreat from the hustle and bustle of the city, and is perfectly suited for a Valentine's Day getaway. Filled with classic white tablecloth fare and high-backed velvet chairs, this smart restaurant is a taste of the good life for you and your special someone.
You can enjoy their special Valentine's Day menu over a glass of fine Champagne in beautiful surroundings. From the Venison Carpaccio with Truffle Honey, Parmesan and Pine Nuts to the Seared Scallop in a Green Curry Broth with Daikon Radish to start, to mouth-watering mains. Try the Sladesdown Farm Duck with Heritage Carrots, Confit Potato and Red Cabbage, or the Miso Aubergine with Tempura Broccoli and a sweet potato Yakitori, that is the perfect treat for your vegan or vegetarian partner.
BOOK Melody at St Paul's, Hammersmith
This hip and happening wine workshop and kitchen, 28-50, also calls the pleasant borough of Chelsea its home. On the famous King's Road, this is the spot to see and be seen this Valentine's Day. With its smart hardwood dining room, adorned with designer lighting, you can gaze into one another's eyes as you sample an advanced menu of gourmet dining from chef Julien Baris.
From the smoked almonds, nocerella olives and chorizo to start, to the romantic sharing platters of cheeses, charcuterie and meze, this is the perfect casual Valentine's date spot. At incredible value, the Valentine's Day Oyster and Champagne special is yours for £20 a head - the perfect passionate extravagance for the special day.
Collins Room at The Berkeley, Knightsbridge
This beautiful dining room, by acclaimed designer Robert Angell, is a pure white daydream of marble columns and a heavenly chandelier. Collins Room, at The Berkeley, in Knightsbridge, might just see a visit from cupid this Valentine's Day. A favorite among fashionistas and foodies in equal measure, this is the one for those looking for that high-status Valentine's reservation.
The delicate appetisers here are perfect for date-night, and wont send you home feeling too heavy. Try the baked Heritage beetroot & quinoa with avocado, feta cheese and grapefruit, or the sautéed tiger prawns with Girolles, parsley, and shellfish sauce. Romantic desserts of chocolate orange pavé and pear & almond tart complete what will be a picture perfect date.
BOOK Collins Room at The Berkeley, Knightsbridge
Kahani, in West London, is a restaurant named after the hindi word for 'story'. You can write your own love story there this Valentine's Day. In illustrious Belgravia, this modern marvel of Indian cooking is ready to welcome you with their faithful service and relaxing, romantic dining-room atmosphere.
Share loving moments over a menu packed with delicious treats and traditional dishes. For £95, mark the occasion with the Special Valentine's Menu, that comes in meat and vegetarian varieties; a mouth-watering journey through the kitchen's finest dishes. Including an Amuse-bouche with an organic purple broccoli salad with mixed lentil, a Jackfruit hara bara kebab & Patiala Baingan, followed by a Gucchi kofta with smoked melon seed & tomato sauce.
Bloomsbury Street Kitchen, Bloomsbury
Finishing off our Valentine's list is a beloved neighbourhood spot that serves romantic dishes from around the Mediterranean. The Bloomsbury Street Kitchen is a light, airy and modern restaurant, with expertly curated decor and a sophisticated atmosphere. If you want a modern experience this Valentine's Day, then treat your partner to a reservation at this well-acclaimed eatery.
Book the Valentine's Day Special Menu for £75 a head to enjoy four fantastic courses and a glass of refreshing Moet & Chandon Rose. A tasting journey, this experience will take you through dishes like the crab and asparagus salad with Dijon mustard and lemon mayo, and the black pepper-crusted beef carpaccio with shaved truffle and Parmesan. The oven-baked lobster and king prawn comes in a Parmesan crème with a chilli herb crust. For a taste of exotic fusion, try the seared beef Tataki with truffle ponzu, or the Toban-yaki with Japanese mushrooms and truffle.