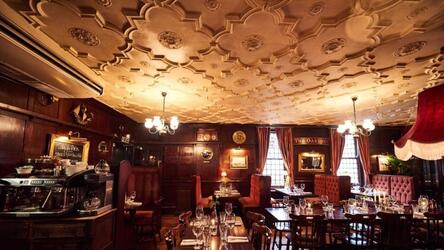 London has always had a big place in its heart for St Patrick's Day. The Irish tradition of celebrating the legend of St Patrick takes place every year on the 17th March, and often lasts for long into the weekend. Many of the city's best drinking spots throw open their doors for revellers from the world over to join in the merriment over pints of Irish Guinness. With such a crowd being drawn, there is hot competition to serve up food for the hungry in-between rounds. London's finest gastropubs outdo one another with delicious dishes of satisfying food to keep these many merry makers well fed. From comfort food classics to high-end hits from the latest culinary trends, here's five Gastropubs to visit in London this St Patrick's Day.
To tee things off on St Patrick's day is The Angel Restaurant & Bar, a posh former-pub serving great gastronomic grub on Fenchurch Street in East London. There is a timeless look to their dining room that evokes its past as a neighbourhood pub. With their impressive array of high-end cocktails, The Angel is somewhere you and your friends and family can celebrate St Patrick's in style.
The menu here is top-tier. As well as the masterful mains, there is a litany of starters, snacks and sharing platters to get you going. Seafood like the Shrimp Popcorn or the grilled King Prawn with Louisiana sauce, or Lobster Fritter, served in the classic Southern style, with lemon & turmeric mayonnaise. Vegan halloumi, carrot and courgette cake with red pepper mayo, or vegetarian delights like the Pumpkin Risotto with sage mascarpone or a classic Caesar Salad with croutons and shaved parmesan.
Move onto mouth-watering USDA standard Sirloin Steak, or surf and turf goodness in the steak with sauteed shrimp, or the 8oz Fillet Steak served with Popcorn Prawn. Enjoy Pork Belly with Welsh Rarebit, and beer-battered Cod & Chips with tartare sauce, or perhaps the house Angel Burger, with caramelised onion and served with fries. Add to this a full dessert menu and some of the best classic and craft beers in the city.
BOOK The Angel, Fenchurch Street
If you're hoping to celebrate somewhere with all the traditional trappings, then look no further than The Ship Tavern in Holborn. With a beautiful maritime themed bar, full of original fixtures and antiques, you can make a toast to your future as you surround yourself with the past. Situated just off of Central London, and in walking distance of fine hotels and the bars of Soho, this is a great place to launch off on your adventure this St Patrick's Day.
In-between rounds of Guinness and draft, you might want to give their fantastic menu a look-in. Plying a line between traditional pub food and high-end modern gastronomic fare, there is a real bounty to be found in the kitchen. Lemon peppered Tempura Calamari with a black sesame seed mayo and Pork Belly with Black pudding start you off, or the seared King Scallops with a chorizo ragu, garden pea purée and lemongrass oil. Vegans will love the Brandy wild mushrooms on toast with herb oil, that can be had with cream as optional. Seafood dishes are obviously a hit, from the Seabass with a basil mashed potato, spinach and poached clementine to the pan fried Cod Fillet with sautéed new potatoes.
The main event for meat eaters has to be the fiery grill, where you can order all manner of prime cuts and patties cooked to your liking. Sirloin and Ribeye steaks in 10oz cuts sizzle alongside prime Fillet and T Bones. The lamb chops, sourced from Barnsley, are succulent served with buttered potatoes, baby courgettes and a herb salad. Wash this down a glass of one of their many fine wines, or a cold beer from the taps.
If you're looking to escape the crowds this St Patrick's Day to an idyllic, country setting, then we suggest making the journey a few minutes up from Finchley, to the picturesque town of Totteridge, in North London. Home to a fine gastropub, The Orange Tree, where they serve a selection of dishes packed with the freshest, ripest locally picked produce.
To make for a merry St Patrick's, try starting with some sharing plates. Garlic pizzette with rocket and parmesan, nocerella olives and artisanal rustic breads, heaped with butter, oil and balsamic. Freshly caught Scallops, Tuna Carpaccio and the Crayfish & Crab pot all offer a delicious taste of the sea. For something casual, try one of their home-made pizzas, with Chorizo, Pepperoni and Jalapenos or Pulled Chicken and Luganega sausage.
If you're looking for something hearty to go with your Paddy's Day drinks, then you should try the Wagyu Burger, made from a pattie of rare Wagyu beef, or the classic home-made British beef burger with smoked cheddar and mustard mayonnaise. For something luxury, try the Lobster roll on Brioche bread, with chunky twice-cooked chips. Those looking for something lighter, or perhaps a nice vegetarian dish, will love the Wholefood Salad; Rice, quinoa, edamame beans, pumpkin seeds, baby kale and grapes with a pineapple & ginger dressing. Going with a lighter dish might be a good choice, as there's a sharing selection of house desserts to enjoy after.
BOOK The Orange Tree, Totteridge
The Freemasons Arms, Hampstead
If your preference is a light, casual bite to eat before you truly kick off the fun on St Patrick's Day, then this former pub might be the perfect fit. The Freemason's Arms is now a thriving gastropub with a diverse and deluxe menu, boasting an impressive rotisserie as well as a pizzeria serving hand-made pizza hot from the oven.
Share the hearty starters of hot & cold meze, baked Camambert with British apple & rosemary chutney and artisan breads for dunking, or the Sticky Pig, a succulent selection of mome-made scotch egg with piccalilli, Cumberland pork & apple sausage rolls, sticky pork-belly bites and barbecue-glazed ribs. If fresh seafood is more your flavour, then try the seared Wild Atlantic Scallops, or the Pil Pil King Prawns with a lemon gremolata and artisan bread.
If you're not done there, then you could opt for one of the inventive burgers or pizzas, like the Dirty Burger, with crispy bacon, lashings of cheese and a beef dripping sauce. Or, try the rotisserie classics, like the Pork Belly & Scallops, on cider & horseradish mustard mash, with a black pudding, green beans, tenderstem broccoli and a rich bordelaise jus. Or, the half-chicken, served with skinny fries, rich chicken gravy and aioli, that can be finished with a flavour of your choice - truffle, BBQ or chipotle chilli.
BOOK The Freemasons Arms, Hampstead
The Old Bull and Bush, North Hampstead
The last place on our list must have been blessed with the luck of the Irish, because their patrons can't seem to get enough of it. In the leafy North Hampstead is The Old Bull & Bush, a gorgeous gastropub with the perfect neighbourhood pub atmosphere to ease into drinks this St Patrick's Day.
In this historic town pub, you can enjoy beautiful garden views as you tuck in to classics, from the baked Camambert to the plump olives with warm artisanal breads. Seafood dishes come fresh and fragrant, from the seared Wild Atlantic Scallops, to Tempura Squid in salt & Szechuan pepper, to the chargrilled Octopus with Chorizo, cooked in Pico de gallo salsa and smoked paprika. Expect a global menu of mains, from the grilled Lamb Kofte with Greek salad, to the crispy duck Bao Bun, with Mooli, carrot, spring onion and plum sauce.
Vegetarian diners will be pleased to choose from a great array of dishes showcasing superb garden produce. The Paris Brown mushrooms are fantastic, filled with grains, red pepper, fennel, tomato and spring onion, with a salsa and avocado dressing. Or, the fried Brie, crusted with Panko breadcrumbs and served with British apple and rosemary chutney is satisfyingly good. Another great light bite is the toasted Ciabatta, topped with tomato tapenade, crispy chickpeas, pine nuts and pomegranate seeds.