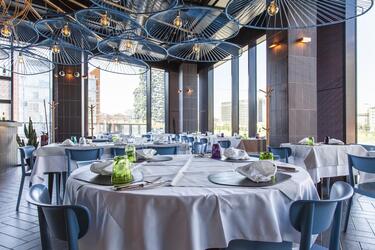 Celebrating Restaurants Indoor Reopening with London blogger Birkbites
To celebrate the return of indoor dining on 17th March, I was invited by TheFork to discover and explore some of the best restaurants across London as they opened their doors after restrictions lifted.
TheFork also gave a cheeky code to allow by followers to receive money off their next restaurant reservation. Here's a roundup of the four restaurants I visited during my partnership with TheFork.
Situated inside the iconic St Pancras train station, this was definitely a night to remember and somewhere I highly recommend you trying if you're nearby. The set-up and decoration were super sophisticated yet cosy, the perfect spot for an evening date night. The food was phenomenal and I had the most tender, flavoursome Rib of Beef on the bone, drizzled in the smoothest peppercorn sauce and served with triple cooked chips. Such a treat paired with a glass of Veuve champagne! 
Book a table at St. Pancras Brasserie & Champagne Bar
Aqua Shard
This was the first time I visited Aqua Shard and it truly exceeded all my expectations and more – dining in the clouds at the iconic Shard should be on everyone's bucket list. It was a stunning experience and something I won't forget anytime soon! The food was delicious and the staff really make you feel special. 
Madera at Treehouse Hotel
This spot is perfect for anyone after a Mexican feast in a beautiful tree house themed rooftop restaurant. Madera London has such a buzzing atmosphere to it and some really great views of the city. My favourite dish was the enchiladas – so indulgent! I would definitely recommend Madera for any occasion – you could dress up for a special occasion, or head there for a more laid-back catch up. There's something for everyone!
Book a table at Madera at Treehouse Hotel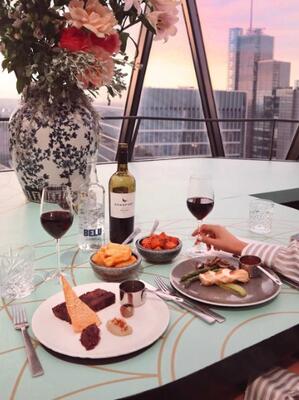 Helix Restaurant at the Gherkin was my last restaurant visit from my partnership with TheFork and to say we went out with a bang was definitely an understatement! I don't mean to sound dramatic, but this is definitely my favourite view from a London restaurant - nothing beats this 360 degree view of the city. It was super luxurious and the food lived up to the expectations too – I definitely recommend the Goosnargh chicken and the triple cooked chips! Such an amazing experience I urge everyone to book.
Book a table at Helix Restaurant at the Gherkin
Don't forget, if you're looking to book your next restaurant visit on TheFork, use the code:  BIRKBITES until July 31 to received £20 (1000 Yums loyalty points) off your next bill. 
Yums are loyalty points that you earn when you book with TheFork. You can convert them into loyalty discounts of £20 or £50 at participating partner restaurants. These discounts cannot be redeemed in conjunction with other promotional offers.
Learn more about the YUMS Loyalty scheme here.
BirkBites, a.k.a Lucy Birkbeck, is a London-based foodie who frequently visits the Capitals hottest restaurants and shares all her new discoveries with her 22K followers. Throughout the month of June, we gave her exclusive access to some of the tastiest and most talked about restaurants in town, which she has shared with us for your own inspiration. Enjoy! You can follow BirkBites and all her amazing restaurant recommendations here: https://www.instagram.com/birkbites/