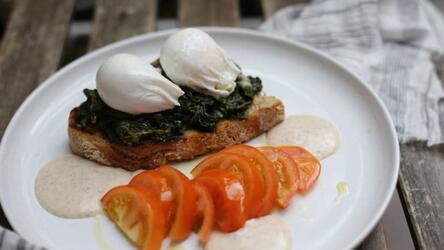 Check Out These Top Breakfast Spots in London
Whether you've got an early start in the city, or are nursing a hangover from the night before, you will be well looked-after at one of these buzzing breakfast hotspots. Read on for our list of top Breakfast spots in London.
On the weekends at OXBO, on Bankside, they run a must-have brunch, where you can enjoy breakfast with bottomless bubbles and unlimited desserts, all for a great price of £55 a head. Choose between Eggs Benedict, Royale and Florentine, or melted pancakes with whipped cream and berry compote, and toasty waffles with cream and maple syrup. This is all to warm you up for a main, like the slow-cooked shoulder of lamb, roasted for 7 hours and served with crushed potatoes in a rosemary jus.
TheFork Rating: 9.5, Open: 6.30a.m-10pm 
After a raucous night out in East London, you may be looking for somewhere bright and zesty for some breakfast margaritas. Arepa & Co might just be the haven you're looking for. Serving up sought-after Venezuelan cuisine to the neighbourhood locals, getting a table here can be hard due to its canal-side location - but it's certainly worth trying. From small-plates to break your fast, like the Buñuelos casava dough balls with whipped feta and sugarcane, or the Tajadas, soft, ripe plantain that's fried crispy with aji amarillo, cheese, spring onion and mixed leaves, to the signature Arepas, with Pabellon beef, Pollo Frito and Pernil pork.
TheFork Rating: 9.5 Open: 6.30a.m-10pm 
With a sweet selection of cakes and pastries and a tempting deli menu, Cherry On in Notting Hill is well worth adding to your list of favorite breakfasts and brunch spots. In the idyllic surroundings of West London and the famous Notting Hill, explore the tasty menu from this Italian and Mediterranean inspired eatery. From starters of Baked Feta with roasted cherry tomatoes, black olives and garlic, to homemade guacamole with fresh limes, to be had with dipping tortilla chips, to mains of Italian Grilled Chicken in a signature cherry sauce, or the Cherry-Maple Glazed Salmon with soy sauce and lemon served with roasted vegetables.
TheFork Rating: 8.8, Open: 7.30am-9pm
Near the British Museum on Store Street is a great spot with a fantastic approach to Greek cuisine. Here at The Life Goddess, the friendly and skilled team use the finest, freshest ingredients to bring traditional taverna cooking to lucky Londoners, all throughout the day. From classic meze starters of Hummus, Tzatziki, Pita and Dolmadakia, through to fine dishes like the Greek Sea Bream Ceviche or the Smoked Aubergine with crumbled Feta cheese, fresh tomato, caramelised onions, Parmesan and walnuts. The Lamb Kleftiko, with peppers, onion, potatoes, tomatoes and Greek Cretan Graviera cheese receives rave reviews.
TheFork Rating: 9.2 Open: 10am-4pm, 5pm-10.30pm 
The Restaurant at The Capital, in the upmarket borough of Knightsbridge, West London is home to one of the best breakfasts in town, starting from early doors at 7am in the morning. Head Chef Chris Prow crafts exquisite British cuisine from prime, expertly sourced ingredients. Begin at breakfast with the continental buffet section, or delicious fresh-baked danishes and pain aux raisin. An a la carte breakfast menu offers delights like the maple glazed ham with Eggs Benedict, or Eggs royal with Scottish smoked salmon - all made from the highest grade eggs from Clarence Court.
TheFork Rating: 8.9, Open: 7.00am-10.00pm 
Visit this attractive modern restaurant The Northall at Corinthia London and you can expect a memorable meal, any time of day. The Breakfast menu is particularly well considered, with options ranging from the light and fresh to the downright decadent. From the Gluten-free Quinoa Porridge with Flax Seeds and Linseed to the Chorizo Baked Eggs with a Tomato Fondue and Herbs served with Sourdough Toast. The Full English comes with a classic Black Pudding, mushrooms and Maple bacon.
TheFork Rating: 9.3, Open: 7–10:30am, 12–3pm, 5:30–11pm, YUMS loyalty points accepted
The menu at Giovanni's, in East Central brings the best of Italian cuisine to its London patrons. Opening from half eleven, this is the ideal spot for a late, luxurious breakfast that spills over long into lunch. Antipasti to start will have you charmed, with home baked garlic Focaccia, Calamari Fritti, Bruschetta with olive oil and fresh Insalata Caprese. A range of delicious pasta dishes will have pasta lovers in thrall, from the Penne al Pesto Verde to the Rigatoni alla N'Duja with shallots in tomato sauce.
TheFork Rating: 9.2, Open: 11.30am-10.00pm 
At Indigo, Chef Dominic Teague brings an innovative and original touch to traditional fine-dining. For breakfast, we have several recommendations that will give you a great start to your morning. The Slow Poached Clarence Court Egg with peas and lemon, or perhaps the succulent Glazed Pork Cheek with Heritage carrot, crackling and a sea purslane.
TheFork Rating: 9.4, Open: 7.00am-10.30pm 
Situated in the well-heeled streets of Chelsea in West London is a hip new hangout. A breakfast at the Chelsea Creperie is a great way to get a head-start on your day, with a menu that's well worth waking up for. Specialising in crepes both sweet and savoury as well as other tasty waffles, pancakes and treats, this little French-style creperie is the perfect stopover on a stroll through London' West. For a healthy breakfast, try the Mediterranean crepe with Feta, spinach, tomatoes, black olives and pesto.
TheFork Rating: 9.4, Open: 7.00am-10.30pm, YUMS loyalty points accepted
Specialising in fresh, continental fare and traditional Italian dishes, L'Angolo Blanco brings the passion of the classic cuisine to its patrons on Edgeware Road. With an opening time of 8am, you can steal a march on the lunchtime rush with one of their great breakfasts. The Italian coffee flows as you tuck into dishes like Bruschetta with basil, cherry tomatoes Parmesan and olive oil, or the Parma ham ciabatta with buffalo mozzarella and juicy beef tomatoes.
TheFork Rating: 9.1, Open: 8.00am-7.00pm