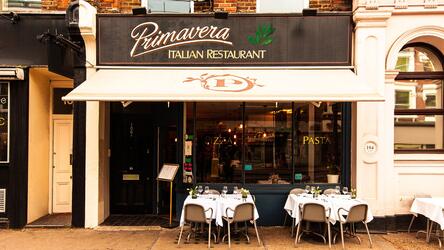 Fulham, in London's South West, is famous for its football club, its leafy streets, and some of the best restaurants south of the River Thames. From the family-run neighbourhood favourites, to its cool newcomers, the borough sports a thriving food scene that offers delicacies the world over. If you're exploring this leafy and verdant patch of London then there's lots to see, and staying well fed is key. To keep you well-fed on your Fulham adventure, here's 5 top-tier restaurants to add to your list.
This first restaurant on the list is a haven for hearty Italian, food that is sure to fill you up for your day in Fulham. Primavera, in pleasant Parson's Green, has all the classics covered, scoring a highly respectable rating of 9.2 from its fans on The Fork. If you're in Fulham and looking to find a feast, then Chef Marco and Chef Nirson, the duo of head chefs at the helm, have you well looked after. Open from early suppertime until close at half ten, most of the menu is geared towards the dinner crowd, but luckily on weekends the team open early to cater for lunch. Lovers of fresh starters will be happy. Olives, goat's cheese and home-made focaccia are sublime alongside Mediterranean morsels like crispy fried Calamaretti with squid ink mayonnaise, and Aglio e Olio Langoustines served with chilli, garlic, parsley and a splash of white wine. The pastas here are, of course, delicious, from the Gnocchi al Gorgonzola with mushrooms and walnuts, to the Pappardelle al Cinghiale, home made wild boar meat ragu with a splash of red wine and Truffle oil. Book now on TheFork to find out the hype for yourself!
BOOK Primavera, Parson's Green
The next restaurant on our list is a specialist in delightful Indian cuisine. At Pure Indian Cooking on Fulham High Street, Head Chef Shilpa Dandekar runs her kitchen with passion and flair, serving fabulous takes on traditional classics alongside modern twists of her own creation. While there are too many delicious dishes to name, rest assured that lovers of succulent meats, earthy vegetables and full, fragrant spice mixtures are bound to find something they love. As their hard-earned rating of 8.8 attests, Pure Indian has been something of a hit among Fulham locals and the wider community on TheFork. A visit here is sure to leave you with a new favourite every time. Smoked potatoes and edamame tikki to start, for example, spicy pulled-lamb hara pyaaz masala with garlic naan straws or Patra chaat; colocasia leaves served with yoghurt, date and tamarind chutney and pomegranate. Main dishes are served hot out of the authentic clay Tandoor oven - like classic Seekh kebab and the Masaledar lamb chops. Vegetarians will love the Achari broccoli florets in pickling spices and almond flakes with spiced smoked yoghurt, or the Tandoori stuffed baby peppers with jasmine tea soaked sultanas and brown cashews.
BOOK Pure Indian Cooking, Fulham High Street
Known as a little corner of Spain in Fulham, the renowned El Metro has earned quite the local following since its opening in 1989. Capturing the passion and vibrancy of the nation, the team at this restaurant brings that spirit to every dish and every strong drink that they serve. Having earned an impressive rating of 9.2 among its patrons on TheFork, you can now book this unforgettable Spanish Tapas experience next time you're in Fulham. Feast on starters of Almejas a la Marinera, Huevos Rotos con Jamon, Mejillones and Berenjenas "El Metro". The vast menu here is centred around its small plates, so be sure to try out plenty of options. From the Calamares Fritos and Gambas Al Ajillo to the Pulpo a La Gallega, Callos a La Madrilena and Croquetas. Or, try fluffy potato Tortilla tart or the Lomo ,Chorizo Iberico y Jamon Serrano, the choice is yours. If you've room for dessert, they do a fantastic New York Cheese Cake, but we'd recommend the authentic Crema Catalana, the perfect Spanish sweet treat to finish.
Back along the Mediterranean now to another acclaimed Italian ristorante, Meridionale, who specialise in delicious food from the regions in the South. Chef Cosimo Gallone works tirelessly to bring the vim and vigour of Southern Italy to every table, aided by his warm and welcoming team. With a solid rating of 9, make the most of their generous promotion, offering 50% off at special times when you book on TheFork. You get a taste of the culinary journey to come as soon as you take your seat, in the Olives de Nocerella, Zeppoline con alghe dough balls and warm focaccia, freshly made. Classic entrées like the Carpaccio di Breasola, Caprese di Buffalo and the Parmiggiane di Melanzane showcase the flair and care to finer detail that is so sought after in Italian food. Fresh pastas from the Pappardelle el Ragout, to the signature Scialatelli Meridionale showcase the best of authentic Italian folk food.
BOOK Meridionale, Parson's Green
The last on our list of Fulham favourites is the hip and futuristic Iro, specialising in stylishly-served Sushi and other Japanese treats. Named after the term for colour, you can expect prime cuts in every shade that brim with vibrancy. Chef Tseten Karchungtsang prides himself on choosing only the freshest fish and other ingredients to create his take on the iconic dish. Staying true to the old ways, chef Tseten keeps it simple with the menu, focussing on the clean, core Sushi classics - and they do these right. The Sushi Selection provides a taste of the best pieces, and the Salmon Box arrives delicious, raw and fresh. Those new to sushi can keep things casual with the Well Done Set, with less of a focus on rawness. The Iro Special Roll is a house signature you won't want to miss, and there's a tasty Chicken Katsu Salad to start, if it takes your fancy. With a strong rating of 9.1, experience a taste of Japan in Fulham today at Iro, yours to book now on TheFork.