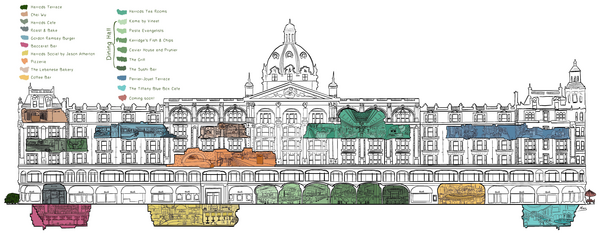 As well as being a world-famous luxury department store, Harrods' Dining Hall is home to some of London's most refined eateries. Take a closer look at their delicious array of fine dining on The Fork.
Sushi specialist Eran Low, a master of some twenty years experience, prepares Japanese delicacies with a Harrods twist at The Sushi Bar. Innovative pairings like the kabayaki of eel with foie gras and prawn tempura with caviar make great use of the luxury ingredients at hand at Harrods Food Hall. The Sushi Bar boasts an unrivaled range of fresh fish and seafood, offering you a taste of the Pacific and beyond. Giant snow crabs and sea urchin are on show alongside rarities like the blue lobster. But for those who like their meat red, the tataki of Wagyu beef is served thin, succulent, and fresh.
Enjoy signature chef-selected nigiri maki roll with a glass of Champagne for £40 on TheFork
If you like your meat hand-chosen and cooked perfectly to order, then you have to try The Grill. Only the best cuts are served, hand-picked from Harrods' own butcher; one of the best selections of meats in the capital. Enjoy a taste of England's finest native-reared beef. Dry-aged in a Himalayan salt chamber for no less than 38 days, the flavour is unrivaled. Or explore further afield on the menu with the Japanese Kobe fillet, or perhaps some Australian Wagyu sirloin. Sides dishes are understandably decadent, with choices of mac & cheese, creamed spinach, or potatoes dauphinoise providing the perfect accouterment to the main courses.
Enjoy a two-course menu with a glass of Champagne at The Grill for £42 on TheFork
Caviar House & Prunier at Harrods
For those seeking out the world's most renowned delicacies, the Caviar House & Prunier is calling. Beluga caviar, English rock oysters, Norwegian Balik smoked salmon and delicious deep-sea crab are bravely sourced from the ocean to your table. Harrods has long been considered a destination for Caviar, so it feels fitting to enjoy the delicacy in their resplendent dining hall. Their "Taste of Excellence" special truly lives up to its name, a dish they pride themselves on serving with unparalleled knowledge and passion.
Treat yourself to a two-course meal with for £42 Champagne at Caviar House & Prunier on TheFork
Vineet Bhatia holds the honour of being the first Indian chef to helm a Michelin-starred restaurant. You can now sample the master at work at his very own concept; KAMA by Vineet. Inspired by the bounty of culinary traditions found in his home country, Vineet brings the real taste of India to Harrods' halls. From the saffron pulao and the coconut-chili sea bass to the pistachio lamb chops and chickpea chaat Samosas, Vineet's creations are a myriad of spices, and flavours you'll want to savour.
Taste the wonders of India over 3 courses with a side & cocktail for £49 at KAMA by Vineet at Harrods on TheFork
A taste of Italy next, from Michele Rodelli and his Pasta Evangelists. After opening a spectacularly popular fresh pasta counter three years ago, the team has now rolled out a full restaurant concept to live at Harrods Dining Hall.
They have been serving eye-watering dishes since. The chef's special lobster tortelloni is served accompanied by a whole lobster, with butter infused with fresh vine tomatoes. For something more dainty, the lasagne cupcakes are served with British-grown asparagus and cream of Parmigiano-Reggiano.
Book to enjoy a pasta dish with an Aperol Spritz for £30 on TheFork
It wouldn't be a trip to London without sampling some of the native dishes, like a classic portion of Fish & Chips at Kerridge's. A classic staple of British cuisine, the hearty aromas of the nation's favorite comfort float among those of the world's finest foodstuffs, under the roof of Harrods Dining Hall. Chef's Tom and Sat pride themselves on hand-choosing the most ethically sourced fish from London's best local fishmongers. The scallops, naturally hand-dived, are divine when paired with the triple-cooked chips, which take a meticulous two-day process to prepare. Lobster here is native caught and served thermidor. Those seeking a more authentic chip-shop experience can opt for the chips with curry sauce and cheese.
Enjoy English Lobster & Chips with a Glass of Kent's Chapel Down Blanc for £53 on TheFork
Harrods Social by Jason Atherton
Michelin-starred chef Jason Atherton is the talented visionary behind Harrods Social, a refreshing restaurant focussed on locally sourced food from specialist suppliers. His signature dishes have gained him quite a reputation. One is spoilt for choice between the Devon crab and Cumbrian beef tartare for starters, and by main courses of south-coast halibut and Cumbrian cob, chicken served with black truffle. Desserts at Harrods Social are particularly indulgent, from Tahitian vanilla crème brûlée with strawberry and Champagne jus, to chocolate tart packed with decadent real cocoa.
Enjoy a cocktail and 2 courses for £32 or 3 courses for £42 at Harrods Social on TheFork
Exclusive to Harrods, the Baccarat Bar is a luxurious and secluded bar where you can enjoy gorgeous French food alongside hand-picked wines, and some of the finest cocktails in the world. With a highly creative drinks list that guides customers' choices by mood, colour, and emotion, the Baccarat Bar is destination du jour for lovers of rich food and refined spirits. Between drinks, keep yourself fed with plump Nocellara olives, beef cheek beignet, and the decadent truffle fries. Or, feed your fancy with the selection of French cheeses or a Foie Gras beef burger. For an undoubtedly royal experience, sample the famous Louis XIII Cognac served from an £80,000 methusalem.
Enjoy a small plate and a signature cocktail for £25 on TheFork
Gordon Ramsay Burger at Harrods
World-famous celebrity chef Gordon Ramsay is well-known for his love of the perfect burger, and it is perfection he seeks with Gordon Ramsay Burger at Harrods Dining Hall. With a sister restaurant in Las Vegas, expect classic American hamburgers paired with the finest fresh ingredients, all crafted to perfection in accordance with chef's Ramsay's vision. Diners can relive the classics, like Ramsay's Hell's Kitchen Burger, a blended pattie of chuck, brisket and rib cap layered with fresh mozzarella, roasted jalapenos and avocado. Fries are served piping hot and with layers of truffle and parmesan.
Book now to enjoy Gordon Ramsay's Hell's Kitchen Burger with fries and a milkshake for £34 on TheFork
There's no greater way to top off a trip to London than with traditional high tea, and where better to spend an afternoon than The Harrods Tea Rooms. Take in the elegant Art Deco surroundings as you enjoy tea and scones alongside classics like fish-finger sandwiches. The patisserie has a selection of treats that, much like the English weather, changes throughout the seasons. Tea runs in Harrods DNA: founder Charles Henry Harrod himself was a tea merchant back in the 1830s, and therefore it's been the store's mission to source and present the finest brews in the world ever since. From the Superior Sencha to the Arishan Tai Oolong, down to classic English Earl Grey, high tea should always be taken at The Harrods Tea Rooms.
Book afternoon tea at The Harrods Tea Room on TheFork
Perrier-Jouët Terrace at Harrods
Another destination that's exclusive to Harrods, the Perrier-Jouet Terrace is a Champagne lover's dream. With triumphant views over Knightsbridge and a verdant outdoor seating area, this Art Deco lounge has ice-buckets of timeless, old-world charm. Perrier-Jouët's are well-known for popularising the Brut style of brewing, and their world-famous champagne has been drunk by royalty and celebrities around the world since its founding in 1812. Now you can enjoy this historic champagne, like the signature Belle Epoque, at Harrods Dining Hall. Pair your bubbly with rock oysters or fresh seafood platters to complete your banquet.
Enjoy a glass of Perrier-Jouët Champagne, two starters and a sharing plate at two people for £62 on TheFork
The Tiffany Blue Box Café at Harrods
The Tiffany Blue Box Café is a light-hearted new space at Harrods Dining Hall from the beloved jewellery brand. Feel like Audrey Hepburn in Breakfast At Tiffany's as you enjoy coffee and croissants among the deluxe decor, accented with Tiffany jewels and hand-painted china motifs. Giving all of the classic luxuries of afternoon tea - think lemon curd, rich jams, and chocolate crémeux - in a fun, refreshing space, this glamorous modern tea room is a must-visit. Tea and coffee can be enjoyed from cute Tiffany-blue cups, but for those seeking something stronger, there are delightful cocktails. Look out for a surprise in your glass, with precious metals and Tiffany stones appearing elegantly in the delicious drinks.
Enjoy Breakfast at Tiffany's for £42, or afternoon tea for £69 at The Tiffany Blue Box Café on TheFork
Taste the best of France at the beautiful Café Juliette, Harrods own delightful French bistro. With its wine list full of prestigious bottles sourced from famous vineyards, from crisp Dom Perignon to rosy-hued cuvées, this is a sophisticated stop-off for lovers of French food and drink. The patisserie has an impressive selection of sweet and savory delicacies. Some recipes even date back to the 17th Century, such as the pithivier, a dome of flaky puff-pastry stocked with beef fillet and truffle, or potato and camembert. For a lighter taste, try something sweet, such as the salted caramel eclairs, or the mille-feuille, a French kiss of light puff-pastry and vanilla.
Enjoy a Pithivier, salad and crème brûlée or crepe, or a Lobster roll with a glass of La Folie for £30 on TheFork