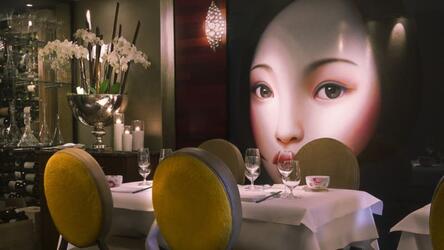 London's thriving restaurant scene attracts some of the best restaurateurs, chefs and dining dynasties in the world. With such high-end offerings becoming a pleasingly common fixture on the London food circuit, it's no surprise to see the rich, the famous or simply the unbearably cool frequenting the top names in the business. Being one of the premier destinations for food discovery, TheFork deemed it our duty to bring you a list of some of the Hippest restaurants currently trading in the capital.
Known by some as London's prettiest skyscraper restaurant, this rooftop haven 14 Hills is an achingly hip destination popular among London's powerful and popular. Situated on the 14th floor of the Fen Court building, a table here will give you perfect views over the city as you enjoy their high-end menu. From starters of Tuna Crudo with harissa dressing and lime yoghurt coriander, to mains of Native lobster thermidor, French fries and a herb salad, each dish here is camera-ready and definitely worth sharing.
TheFork Rating: 8.6, Open: 12p.m - 12a.m
The menu at Hoppers in Soho will give you the finest taste of the fragrant cuisine of Sri Lanka. From the family of restaurateurs behind the famous Gymkhana, new concept Hoppers offers a refreshing, modern take on traditional Sri Lankan street-food. Try an authentic Lanka snack to start, and move onto second courses of Mutton Rolls, Hot Butter Squid, Bone Marrow Varuval and Lamb Kothu, that all come served with delicious Roti breads. Seafood lovers should try the Fish Kari or the Swimmer Crab Kari for a rich curry showcasing flavorful ocean catch.
TheFork Rating: 9.2, Open: 5.30p.m - 12.30a.m 
This hip haunt brings the fragrant flavours and casual style of Tehran to diners in London, with their hot take on 'hole-in'the-wall' kabab houses. Here at Berenjak, Persian cuisine is gaining something of a foothold among London's discerning foodies and restaurant regulars. Fresh starters tee things off, like Kashk e Bademjoon, a Coal cooked aubergine, whey, walnuts and dried mint, or Panir Sabz, a type of Persian feta with radish, nuts and fresh herbs. The Jujeh Kabab is made from boneless chicken breast marinated in saffron, lemon, yoghurt and tomato. Book today on TheFork to experience why Berenjak has earned such high ratings!
TheFork Rating: 9.8, Open: 5.30p.m - 11.00a.m
Contemporary Scandinavian cuisine in the heart of London has proven crucially popular with the hip crowd, thanks to the expert stewardship of Chef Jonas Karlsson. Aquavit is a modern and attractive restaurant location that serves inventive, satisfying dishes that showcase a refined take on fine-dining. With a menu offering a Smörgåsbord of delicacies, try everything from the Smoked Fish Mousse Dip with Pickled Cucumber and Knäckebröd to the Faroe Island Gravlax made with Mustard, Dill Sauce and a Salmon cured in the traditional method. If you love a classic, go for the Swedish Meatballs with Lingonberry, pickled cucumber and potato mash.
TheFork Rating: 9.8, Open: 12pm - 3p.m, 5pm - 9pm
The well-heeled neighbourhood of Mayfair, in West London, is no stranger to a celebrity clientele, and restaurant Isabel is but one of their latest hangout spots. Serving a romantic and refined take on Modern European cuisine, every dish here will have you feeling like a guest of honour. Appetisers of Padron Peppers, Quail's Eggs and Rock Oysters with Shallots set the tone for an excellent meal, followed by delicious, fresh mains like Tuna Tartare with Ponzu Dressing, Crushed avocado, wasabi and lime caviar. With a late, 2a.m closing time, you might find yourself dancing the night away with some famous faces.
TheFork Rating: 9.8, Open: 12p.m - 3p.m, 5p.m - 2a.m
From the esteemed team behind The Clove Club comes another hip restaurant concept that is sure to become a hit among lovers of high quality food and those seeking somewhere to see and be seen. Luca, in West Central London's area of Farringdon, specialises in small-plates and sharing dishes that make for great conversation starters. Serving only the best ingredients, taste the excellence in everything from the roasted Orkney scallops with Jerusalem artichoke and n'duja, to the Squid ink bucatini pasta with chickpeas and roasted squid.
TheFork Rating: 9.5, Open: 12p.m - 2p.m, 6p.m - 9.30p.m
Situated in the upmarket Radisson Bleu Hotel in Bloomsbury sits a fantastic new restaurant that is attracting an esteemed and discerning clientele with it's fantastic fusion of Japanese and Mediterranean flavours. At Bloomsbury Street Kitchen, take a seat by the lines of well-kept plants and flowers are you explore some truly memorable dishes. Start with Zucchini and Eggplant Chips with home-made tzatziki, or Crispy Soft-shell Crab Harumaki Rolls with spicy ponzu. The Chilean Sea Bass with Parmesan-glazed green beans and Scotch bonnet labneh sauce will please lovers of great seafood, but for a real photo-worthy moment, go for the Bincho Grill Chilli-and-lemon-roasted baby chicken, served on hot coals in a Japanese-style box.
TheFork Rating: 9.2, Open: 5p.m - 10p.m
South London's Battersea has, in recent times, become something of an enclave for well-to-do residents of London, and Nutbourne Bar & Restaurant has done a great job of appealing to this clientele. With a European inspired menu that emphasises sharing and community, there is something here to impress your friends, however high their standards. Starters will set the bar high, like the Whipped Cod's Roe with Pickled Walnuts and Caraway Crispbread, or the Nutbourne Chorizo with Labneh, Kale on Crispbread. For vegetarians, try the Roast Hazelnut and Cranberry Terrine with a purely Vegan Gravy, for a rich and hearty dish to remember.
TheFork Rating: 8.2, Open: 5p.m - 11p.m
This award-winning Chinese restaurant in Mayfair is hugely popular with the elite international crowd when they're over in London for the season. At Kai, you too can experience the refinement of top-end cuisine inspired by the megacities of China, and for less when you book a reservation through TheFork. With a glitzy interior and tropical fish tank in the dining room, this is part high-end restaurant, part Bond Villain's lair, with a suitably well-cast set of extras and supporting characters. Each dish here is playfully named, which we'll leave for you to discover, but our recommendation would be the delicious Bao sandwiches, with fillings of Crispy Duck, Prawns and chopped vegetables with Summer truffle shavings to choose from.
TheFork Rating: 9.4 Open: 12–4pm, 6:30pm–12am