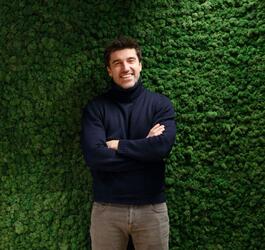 If you can, you should go to restaurants, but not like before. More!
Photo: Almir Ambeskovic - CEO presso TheFork, a TripAdvisor company
Empty streets, dimmed shop windows, closed restaurants. The global pandemic challenged communities not just on a sanitary level, but also hit the social structures that served to unite people. We no longer could join our friends for a drink on a favorite terrace, celebrate a birthday in a sophisticated dining room, or enjoy a pizza straight from the oven with our kids. We stayed at home, which, despite individual hardships and slowdown in economic activity, allowed for our savings to grow.
In Europe, the household savings rate reached records in 2020 at an average of 20% per quarter vs. 13% in 2019, exceeding the threshold of 1 000 billion euros saved in 2020 (Source : Eurostat and Central European bank) . The restaurant and accommodation industry has been one of the most affected by this crisis with revenue losses of more than 100 billion euros in Europe and nearly 20% of jobs destroyed, or 1 in 5 jobs worldwide (Source International Labour organization).
Nevertheless the story of the Restaurant sector is also a story of resilience. As we saw the markets reopen, the appetite for dining out is back to pre-pandemic levels and even exceeding it in some countries.
Restaurants are a people business, which means that their success is directly linked to the number of diners they receive. Diners are us – we have accumulated lots of appetite and some savings, so we are excited for people to be reconnecting with our friends and family over a meal in our favorite places.
If you can, you should go to restaurants, but not like before. More! We have to generate an incremental spend, same as before won't be enough! If only 10% of the savings in Europe, more than 100 billion, will be spent incrementally would be a great way to support the industry! Remember the old experiences but also discover new ones. Go to places you haven't been, invite people you haven't seen in months, join events you haven't been part of. Every meal will be a lifeline to the sector we all love, will help its revival and the rebound of our local communities. They were there for us to help build some of the most memorable moments in our lives. Now it is our time to continue to support them during these reopening weeks and beyond, and the best way to do so is by giving them more possibilities to delight us with amazing experiences and to make us happy. We owe them that much.
Let's go back to Restaurants, more than ever!
I know I will!