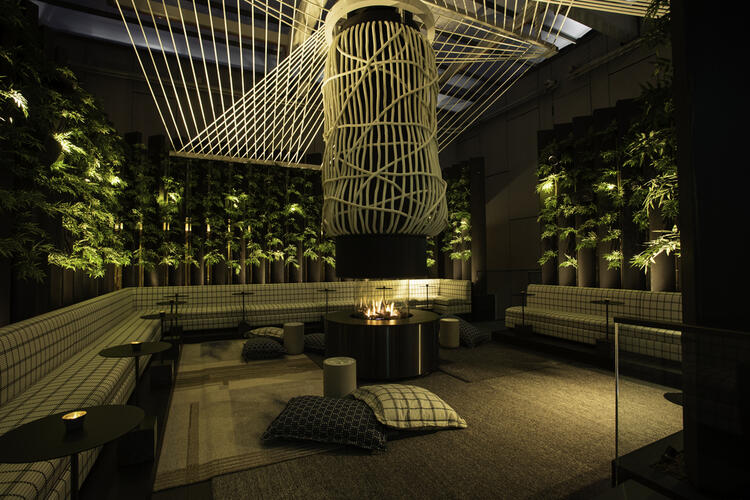 To mark the Japanese exhibition at the Queen's Gallery this summer, on the 23rd May the famous The Londoner Hotel will play host to an event for the ages. A celebration of Japanese culinary excellence and a story of centuries of cultural exchange. In collaboration with world-renowned producer of English wines, Nyetimber, the experience will take place on the rooftop of The Londoner, at cool modern restaurant concept 8. With an expertly-curated menu, A Journey From East To West has all the necessary ingredients for an unforgettable evening of culture and cuisine, yours to book now on TheFork at a pleasing price of £150 per person.
From the fantastical food, to 8's refined decor and interiors, you will be treated to the finest Japanese food, drink and comforts. Prepare for an education through timeless dishes and intriguing fusions, with five courses of delicacies that showcase eye-watering Sushi and small-plates. After enjoying complementary cocktails on arrival, be served in style at the elegant long dining table, that is communal yet appropriately formal for the occasion. Or opt for some relaxation and take one of the luxurious Tatami style rugs and cushions, and recline as you enjoy conversations by the indoor fire-pit.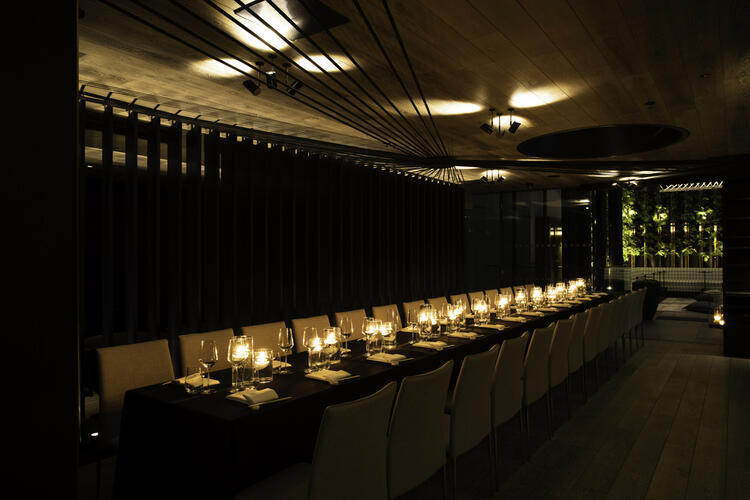 On the menu, there is something to discover for everyone, whether you are a newcomer or a seasoned lover of Japanese cuisine. The opening course is one to woo you in; choose between perfectly sliced Salmon tartare with shiso soy, a selection of Sashimi from Sea Bass to Turbot, or even a Cut Roll of seared fillet, asparagus and sesame ginger soy. Follow this with Beef tataki with black truffle ponzu, and take this with an expertly paired glass of the finest Nyetimber Cuvée and Blanc. For the third course, expect to be wowed with a fusion of flavour, as Chilean Sea Bass is zested with shiso salsa, and complemented by a fine Nyetimber Rose. Course four will bring you back to dry land with succulent seared fillet of beef, with a Gorgonzola dolce creme and paired with a choice New Zealand wine. Vegetarians can rest assured that a marvelous alternative menu is available featuring masterful meat-free variants on the same courses. Avocado tartare comes first, with the same tangy shiso soy dressing.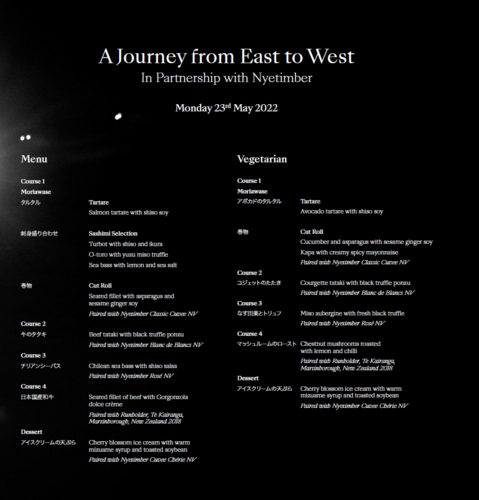 The tataki is faithfully recreated with courgette, and a gorgeous Miso-seared aubergine with black truffle follows, before a final main course of chestnut mushrooms roasted with generous amounts of lemon and chili. The dessert course is a triumphant finish that pays homage to an icon of Japan. Cherry Blossom ice cream served with toasted soybean and mizuame syrup and accompanied by a chilled glass of Cuvée Chéri. In Japan, the cherry blossom, or sakura, is loaded with meaning. The short but intoxicating burst of each blossom season reminds us to always be present, to take in our surroundings and to enjoy each moment as it happens. We'll drink to that!