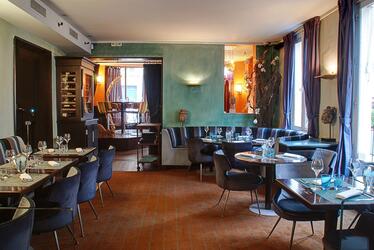 London Restaurants With Accessibility For The Disabled
This article is written by our guest author Fiona Jarvis.
As someone who has lived and worked in London for over 20 years and been disabled for 15 of them, I am often consulted on where is a good place to eat/drink with regards to accessibility. However, I think of where I would like to go first, and access second. With this in mind, I have a number of favourite places.
Corrigan's Mayfair
I love Corrigan's in Mayfair, as it has fantastic British food with a twist, as well as unobtrusive service with regards to my wheelchair. The decor is 'Art Decoish'- a bit like a gentleman's club without being stuffy- and I love the feather lampshades. The bar area is also disabled friendly, as there are tables to sit at rather than the usual bar stools. The disabled toilet is exemplary, with plenty of room to manoeuvre. The only drawback is the entrance, which is a steep set of steps. A portable ramp is provided which can feel a little unsafe, but then I am a 'bit of a wimp'.
Lobby Bar, One Aldwych
A favourite bar offering food is the Lobby Bar at No 1 Aldwych, on the edge of Covent Garden. As well as a very helpful doorman, the bar is extremely spacious, so there's plenty of room for wheelchairs and the floor is smooth for stick users. The decor and feel of the place is fashionable and welcoming. There is a real mix of people, from business types, to young and trendy things. Also, the flower arrangements are always spectacular.
As if that's not enough, the cocktails at No 1 Aldwych are great, and the bar snacks are delicious and inventive – I can recommend any champagne cocktail, and my niece loves the apple martinis! The mini beef wellington and the goujons of pollock with chips are all very tasty. I also have the crudités, to make up for all the gluttony. A new addition to the menu is an afternoon tea selection; something which I've yet to try but looks lovely!
The final thing that makes this place special is the disabled toilet. Although it's one floor down in the lift, the ease of access means I don't need a helper to get there. Everything is right – the bars are in the right place, it has lovely soap and towels, and it's always clean. The mirror can also be viewed in a wheelchair, and is very 'forgiving'!
The Petersham consists of  two restaurants, a courtyard, shop, delicatessen, wine cellar and florist within a Grade II-listed building on King Street, Floral Court.  If you're entering from Floral street it's down a flat ramp into the courtyard. I needed help from the staff to get me out to my waiting taxi as it was too steep and long for me to negotiate alone.
La Goccia is a bar and restaurant that spreads out into a courtyard. It showcases "'Petersham Nurseries' interpretation of the Italian aperitivo and small plates known as 'cicchetti'". This is where we ate and it's definitely a calm oasis within the busy streets of Covent Garden. The food was great especially the wild mushroom Lasagnette and the staff were not phased by two wheelchairs at one table. Sophie visited the toilet and took pictures which apparently don't do it justice as it was 'lovely'! It wasn't expensive and is definitely the budget version of Petersham Nursery.
La Goccia Informal Restaurant in Floral Court
La Goccia Interior Smooth Flat Floor & Moveable Chairs
La Goccia Sharing Plates
The Lovely Accessible Toilet Well Equipped With Beautiful Fresh Flowers From the Florist Shop
Petersham Restaurant a More Formal & Quiet Space. Luxurious & Elegant
Room to Move & Smooth Flooring. Well Lit With Chandeliers
The more formal Petersham restaurant is an 'elegant à la carte restaurant………Respecting the Slow Food philosophy of Good, Clean and Fair'. It was impressive with its many chandeliers and obviously very well lit. Access was also good and we'll try the food next time.
Pollen Street Social
Finally, my latest favoured venue is Pollen St. Social. I always enjoyed Jason Atherton's food at Maze, and the change of venue doesn't disappoint. The first time I went, I panicked as there were three stairs to get in, but I shouldn't have worried: access is through the kitchen, all on one level. Now, in my time I've been through lots of kitchens and back offices to gain access, but I have to say this was the cleanest and most polite. Even Jason was there and said good evening – a great moment for me.
Service is with the minimum of fuss and drinks are offered promptly – always a good thing! The scallops with horseradish shavings on the side are a tasty starter, and the Cote de Boeuf to share is amazing, although a doggie bag may be required! The wine list is expertly put together, and I can recommend the Chardonnay Clonale.
I will definitely be back, not only for the food, but also the bar, as it's just off Regent Street and handy for post-shopping drinks. I should also add that the disabled toilet seemed good; however I didn't have time to try it as I was enjoying myself too much.
These are just a few of my favourite venues; there are many more as I have 20 years' worth to write about! They will all be on my website, and a Mobile App is coming soon, so look out for it on www.bluebadgestyle.com.