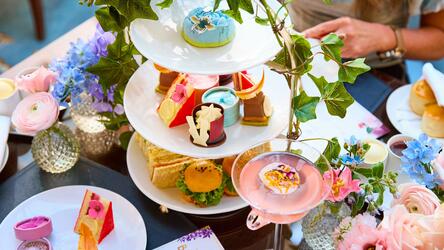 Easter is around the corner, so food lovers will be rejoicing at all the classic culinary traditions to enjoy. From succulent Sunday Lunches to regal Afternoon Teas, you have your pick of courses to share and enjoy with your friends and family. Let our list below be your guide on where to celebrate Easter Sunday, from the tried-and-tested traditions, to modern marvels and innovative inventions from some of the best kitchens in London.
Afternoon Tea at Park Room, Hyde Park
To put a spring in your step this Easter, treat yourself to traditional afternoon tea at the elegant Park Room, near London's Hyde Park. A stones throw from upmarket Mayfair and in arm's reach of the royal park, the together outfit at Park Room Hotel have been awarded a rating of 9.1 for their refined approach to Afternoon Tea and British fine-dining.
Open from 11AM in the morning, perfect for brunch-lovers, until turning out time at 10PM - unless of course you're staying in one of the welcoming rooms upstairs - you can have a day of leisure as you enjoy all the classics you'd expect at afternoon tea. Delicate finger sandwiches of cucumber, garden mint and butter, North Atlantic cold-water prawn and classic Marie Rose sauce, Foreman's smoked Scottish salmon and cream cheese, of course. Delicious warm buttermilk scones, served with a choice of British preserves in strawberry, rose petal, rhubarb & ginger, gooseberry, raspberry and blackcurrant. The special Champagne Afternoon Tea is yours to book now on TheFork for £65.
BOOK Afternoon Tea at The Park Room 
Afternoon Tea at Corinthia London, Embankment
The next place on our list has been awarded a staggering 9.8 for their timeless approach to traditional high tea. The Corinthia London occupies a prime spot near London Embankment, where it serves fine-dining in all of its old-world resplendence, near some of the city's best sights. Open from lunchtime until the early evening, you have to move fast to book your spot at one the best Afternoon Teas in town.
While you take your seat in this stylish hotel lounge, you'll marvel at the chic finishings, such as the designer chandelier above. In keeping with the luxurious surroundings, you will be treated to a special Afternoon Tea with caviar and champagne to accompany the classic courses. Sandwiches from Smoked Salmon with Horseradish Crème Fraîche to the Clarence Court Egg Mayonnaise, Truffle, Dijon Mustard on fresh brioche. Followed by a delicate array of rich, seasonal desserts, from Tartlet of Almond Crémeux with Yuzu Whipped Ganache to Coconut Rocher with Mango & Pineapple on Coconut Sponge. You'll be pleased to know The Corinthia will accept your YUMS, so you can make the most of a fantastic deal when you book through TheFork.
BOOK Afternoon Tea at The Corinithia
Céleste at The Lanesborough, Hyde Park Corner
To the celestial dining room of a classic London hotel landmark, Céleste at The Lanesborough is a fantastic choice for Sunday lunch this Easter. Scoring in at 9.2 by TheFork community, consistent good reviews attest to the fine experience you'll have when you book at this heavenly high-end hotel.
Enjoy the ambience of the grand piano and the spectacular chandeliers from which the restaurant takes its name as you dine on the special Easter Sunday Lunch - 3 courses are yours for £75 on TheFork. Choose from starters of Grilled Octopus and Dorset Crab, or delicious vegetarian Baked Potato Velouté. Mains of rich Risotto, Grilled Dover Sole, Wild Seabass and Roast Rib of Hereford Beef follow. Expect classic British desserts of Lemon Curd and Rhubarb Trifle, or Warm Chocolate Mousse or the creamy Malted Ice Cream Sandwich. There's certainly something to take your fancy at this fine-dining experience.
BOOK Céleste at The Lanesborough, Hyde Park Corner
Galvin Bar & Grill, Russell Square
Lovers of beautiful traditional London hotels will rejoice this Easter Sunday, as our next special lunch menu is being served at the elegant Galvin Bar & Grill, housed in the opulent Kimpton Fitzroy Hotel, situated in pride of place on Russell Square. With a refined menu to match the surroundings, it's no wonder that TheFork users have rated this restaurant a highly respectable 9.8.
Don't worry if you're not a morning person. Opening at separate times for early Breakfast, Lunch, and dinner, don't worry if you're not a morning person - you can enjoy the Galvin at your favorite time of day. For £55, treat yourself to three courses, starting with Colchester Rock Oysters, shallot vinegar, cucumber tobacco or Confit duck salad, watermelon, curly endive, ginger with crispy rice, and more. Mains offer classics of British fine-dining, from the Roast Sirloin of beef with Yorkshire puddings to the Fillet of Cornish sole with Jersey Royals and grilled asparagus. Classic desserts, or a selection of British cheeses, are a fine way to see out a perfect Sunday Lunch.
Afternoon Tea at Podium Restaurant Hilton, Park Lane
Our next Afternoon Tea experience is an eye-catching array of delicacies put on by the Podium Restaurant at the iconic Hilton Hotel on Park Lane. With a colourful display of cakes and confectionary to sample alongside the savoury classics, this whimsical high-tea comes with more than a few Easter surprises!
You'll have to book your Champagne Afternoon Tea here 24 hours in advance, so their staff can prepare the treat that's in store. Pommery Champagne is offered alongside the traditional favourites of Sandwiches, home-baked Scones and warm, dessert Pastries. Look out for the classic Smoked salmon, horseradish & grated apple sandwiches on Brioche, and the tasty Salted Caramel spread, that will complement the traditional Clotted Cream atop your scone perfectly.
BOOK Afternoon Tea at Podium Restaurant 
Mirror Room at The Rosewood London, Holborn
This Easter Sunday, fascinate yourself with the Art Afternoon Tea from the mind of chef Mark Perkins, in homage to the world-bending artworks of Japanese artist Yayoi Kusama. This illusory experience is all happening in the wonderful Mirror Room at The Rosewood Hotel in London's Holborn, in a special dining room known as the Mirror Room.
Begin with a selection of Japanese Sandwiches - from the Crispy Rice Cracker with Yuzu Avocado and Keta Caviar, to Smoked Salmon with Wasabi Cream, you'll enjoy classics with an inventive twist. Move onto delicious Scones, freshly baked every day in their pastry kitchen, and served with Cornish clotted cream, lemon curd and homemade strawberry & elderflower jam. The real show-stopper, though, is the Kusama-inspired cakes for dessert. Desserts like the Flowers That Bloom At Midnight have to be seen to be believed, so don't hesitate to book today on TheFork.
BOOK Mirror Room at The Rosewood London, Holborn
This modern spot in South London's Clapham is doing a slap-up Sunday Lunch this Easter, and at £27 a head, it's the perfect casual bite to enjoy with friends during a relaxing Spring weekend. For a high-value price, you can expect to find surprisingly fine food on offer at No3 Clapham. Kick things off with classic starters of Prawn Cocktail on Baby Gem lettuce, or tasty Ham hock and parsley terrine with red onion marmalade on Sourdough. Their signature roasts are an attraction, from the Beef with Horseradish Sauce, to Roast Chicken with Bread Sauce, to Roast Leg of Lamb in Anchovy Butter with rosemary and Garlic. Delicate desserts provide the perfect cherry on the top. We'd recommend the Lime posset with rhubarb and cardamom jelly, Chantilly cream, toasted hazelnuts and mint.
Afternoon Tea at The Lanesborough, Hyde Park
Corner Back to Hyde Park Corner for the last on our list, where The Lanesborough has another trick up its sleeve. Afternoon Tea at The Lanesborough is your chance to experience all the opulence of Regency London in this storied hotel. This Easter, you can push the fantasy even further with their Bridgerton Champagne Afternoon Tea, yours to book now on TheFork! Live a life of leisure at The Lanesborough as you gorge on course after course of high-tea classics. Coronation chicken sandwiches, or Smoked Salmon with horseradish and watercress. Hot Scones with rich Clotted Cream and strawberry jam. The real theatrics though, begin at dessert, with the regency-themed sweet Pastries that serve all the pomp and ceremony of a ball in Bridgerton.