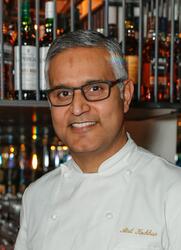 Atul Kochhar is a pioneering Indian-born chef and restaurateur whose passionate cooking has helped elevate Indian cuisine to global critical acclaim earning him two Michelin stars. Mixing traditional expertise with exquisite modern style, Atul has become one of the most in-demand Indian chefs on the circuit.
Currently Head Chef at Kanishka in Mayfair, Atul oversees a team who are passionate about their unique style of cooking. Drawing heavily from the traditional cuisine of India's Northern 'Sister States', where fresh ingredients are paired expertly to create light, nuanced dishes that have all the fragrance of the spice market. With a focus less on heavy meat and oil dishes, Kochhar's beautiful creations are more about flavour and the subtlety that comes from the region's diverse range of vegetables - with plenty on the menu to satisfy vegetarian and vegan diners.
Read our interview with Atul below to hear in his own words what he brings to the table at Kanishka.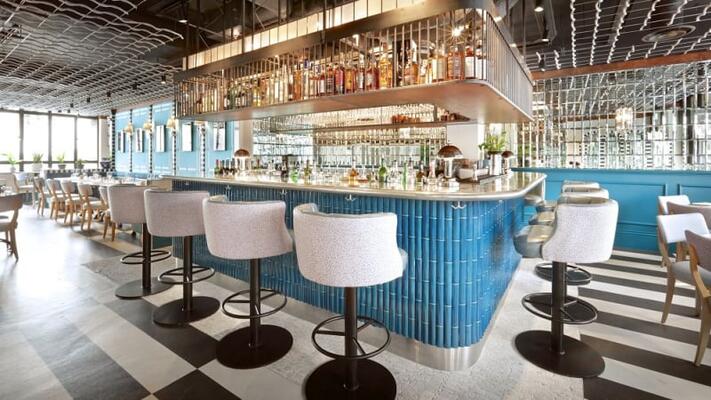 Kanishka Restaurant, 17 – 19 Maddox Street, London W1S 2QH
1. Tell us a bit about Kanishka and the inspiration behind it?
In the heart of Mayfair, Kanishka focuses on the unexplored cuisine from the so-called 'Sister States' of India. North-eastern India is not only scenic; the Sister States have their own legacy of rich culture and traditions, which change as you travel from one state to the other. Our cuisine at Kanishka is that of elevated simplicity – relying on fantastic quality ingredients.
2. How would you describe your culinary journey to become the chef you are today, and what sparked your interest in becoming a chef?
Have you always been into food and cooking? I was born in Jamshedpur in India, and it's my home that has always inspired me to explore the plethora of India's regional dishes. From the food and cocktails on the menus to the décor and design of our restaurants, I take pride in creating new and immersive culinary journeys. Every talented chef is on a voyage of discovery and our restaurants take diners through India's most vibrant colours and culture.
3. How would you describe your style of cooking?
My cuisine is a special fusion of Indian food heritage but also my great love of British and local ingredients. I take influences from all around India.
4. What would you say is the unique charm of Kanishka which regulars love so much?
We promise our guests bright and beautiful experiences each time they visit us. Kanishka's food hails from places that are quite underrated, especially in terms of culinary skills.
5. What aspects of the menu would you say have the "Atul" touch?
All of it! It's fascinating to dive into cooking styles and exquisite tastes because there are no end of surprises in the array of fresh flavours and ingredients from this stunning part of India.
6. What are your favourite dishes on the menu?
Tellicherry Chicken Korma is Kanishka's signature dish – this is a Kerala-inspired roasted chicken with coconut and pepper. I have cooked this tasty dish on James Martin's Saturday Morning TV show.
7. Atul, you are the first chef to be awarded a Michelin Star for Indian cuisine, what does this achievement mean to you and the team?
There are no words to describe how it feels to have achieved two Michelin stars but there are also incredibly important rewards that this culinary industry delivers on a daily basis. Like so much in life, as we give to the world, so the world gives back.
8. Who has been the most influential chef on your own cooking?
I have admired so many special people during these 25 years, and who knows what tomorrow will bring and who I will have the pleasure to work with in the future? But if I had to mention the most influential person it would be my dad.
9. Which restaurants do you enjoy dining in? Any favourite restaurants in London?
I think Pollen Street Social is my favourite and has been for a while.
10. What do you do to unwind when you are out of the kitchen?
When I'm out of the kitchen, I must be with my family and when I am on my own I adore watching Cricket and sports in general.
11. What advice would you give to an aspiring chef?
Keep the faith, we will get through these unprecedented times. This is only a bend – not the end.
12. Most memorable meal of your life?
It has to be without a shadow of a doubt, Eleven Madison Park, New York.
13. If you could cook for anyone, who would it be?
HRH The Queen
14. What have been the most popular dishes at Kanishka that your regulars most enjoy?
We serve the nation's favourite chicken curry as well as new and lesser-known dishes – all of which puts a smile on people's faces.
15. What's next for Kanishka?
We're all set, and the invitation is almost out for guests to book their festive reservations at Kanishka. Opening soon at Heathrow's Terminal 5 is Kanishka Kitchen. We're bringing Michelin Star quality food, made for today's busy lifestyle on the go, at affordable prices. There is plenty of gourmet excitement to come with the opening on Mathura which is at the Old Fire Station in Westminster!