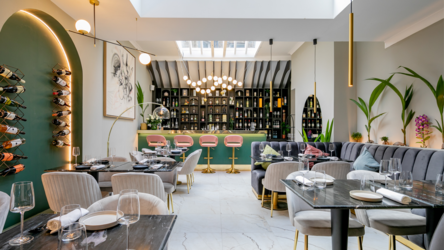 New restaurant openings in London
TheFork is always proud to announce when it partners with new restaurants, so we're excited to shine a spotlight on some of them in this article. Looking at some brand new restaurant openings in London, from romantic restaurants nestled in nice neighbourhoods, to high-end concept restaurants serving worldly cuisine in the city's centre. Read on for a selection of the best new restaurants opening in London that you can book on TheFork today.
Bordelaise, Balham
South London newcomer Bordelaise in Balham has local residents rejoicing, with their fantastic and accessible menu, now available with 50% off through TheFork. Inspired by French and Modern European fine-dining, this casual but special neighbourhood spot makes a visit to this leafy part of London well worth it.
From entrees of Nocerella Olives, Saussicon, Escargots on Toast or a selection of French Cheeses, to tasty sandwiches of Steak and Caramelised Onion, there is always something mouth-watering to start with. The main event might have to be le grille, where the Bordelaise chefs fire up delicious Flat Iron, Onglet steaks. On Sundays, there are roasts French style, served with Dauphinoise potatoes and Bordelaise signature Jus.
Opening hours: 12pm – 10pm
Amethyst by Carlo Scotto, Mayfair
This special new restaurant concept from chef Carlo Scotto is likely to have the London food scene in thrall with their refined and innovative take on fine-dining. Inspired by the chef's travels throughout the world, Amethyst showcases truly impressive food with a global and utopian vision.
As you select your starter, you will know Amethyst is something special. Oyster with wasabi caviar, tomato-fermented sake and coriander oil, briouat of almond and nettle glazed in a rich Baharat honey made with Moroccan spices, or croquettes of liquorice, parmesan and tarragon. All provide a unique moment on this tasting journey. Be sure to try the Black Cod with caramelised miso and Naganegi dashi. The Amethyst Geode, their signature dessert is a gemstone of praline, white chocolate and feuilletine that you must not miss.
Opening hours: 12–2pm, 6–9pm
BOOK Amethyst by Carlo Scotto, Mayfair
Sophia, Fulham
This romantic, modern Greek style restaurant Sophia will transport you to the Mediterranean with its fresh ingredients and authentic cooking. Chef Antrea Gkini cooks with heart and soul in this airy, cosmopolitan space in the pretty South London area of Fulham.
The menu here has all the classic hits of a Greek taverna. Classic Souvlaki wraps and gyros with chicken, lamb, halloumi and falafel. If you seek something hearty, try one of the authentic main dishes, like Sea Bass dressed with lemon, Rosemary-infused lamb chops, and hand rolled lamb Kofte. A fun list of modern dishes, like halloumi fries and crispy croquettes, provide the perfect conversation pieces to share on the side.
Opening hours: 11am – 10pm
28-50, Oxford Circus
28-50 have created another attractive location with this smart new restaurant in Oxford Circus, from Chef Julien Baris and his team. Serving their take on fine Modern European dining, you can now experience the best in continental cuisine in the heart of Central London.
Every dish here showcases acutely blended flavours from each expertly sourced ingredient. This can be tasted in the Burrata with Broad beans, celery, caramelised grapefruit & basil dressing, and the Steak Tartare with Capers, shallot, gherkin & sourdough. Crispy Artichoke Tempura with Aioli, and Truffle Arancini with Truffle Mayo are just two of the fun, satisfying side dishes to explore. Or, opt for something shared with a charcuterie board or selection of cheeses.
TheFork Rating: 9, Yums loyalty points accepted, Opening hours: 11am – 10pm
The Black Sheep, Wimbledon
Combining classic British food with modern European fine-dining flair, this new restaurant in South London's famous borough of Wimbledon has been commanding some decent reviews already since opening with its beautifully presented dishes. If you find yourself in Wimbledon this summer, be sure to check out The Black Sheep, and try their fine menu for less on TheFork.
For starters, try the Sourdough & Burnt Butter emulsion, or the decadently deep-fried filo-wrapped Asparagus & Broccoli with melted Montgomery Cheddar. Healthy main dishes will delight, like the Duck Breast with Carrots, Wild Garlic and Crumbs, and others will have vegetarian diners well looked after, like the Pearl Barley with Heritage Carrots, Yoghurt and Zaatar. Don't miss tasty sides like the Hispi Cabbage, Leeks and Black Garlic Butter.
TheFork Rating: 7.3, Opening hours: 12pm – 10.30pm
BOOK The Black Sheep, Wimbledon
Italiku, Marylebone
Italiku Is a brand new luxury dining concept from Chef Ivan Simeoli in London's Marylebone, where he marries his native Italian flair with an expertise in Japanese minimalism. Designed as a tribute from one culture to another, each of his ideas and dishes offers unique flavours with a distinct twist inspired by the cuisine of Japan. Book on TheFork and you can now enjoy 20% off from the a la carte menu!
Delicate snacks start off this tasting experience. From Buffalo Ricotta with Courgette Flowers to Tuna Bao with Buratta and san marzano tomatoes, the fusion is on show throughout, like the Octopus with Borlotti beans and crispy dulse seaweed. Fine seafood and oysters can be enjoyed seasonally, like the inventive Scallops in San marzano dashi with amalfi kosho. Much of the focus on fresh ocean catch and interesting flavour combinations from the two distinct cuisines, seen in the Turbot with Nduja crust, had with baby artichocke and cabbage.
Opening hours: 12pm-3pm, 6pm-10.00pm