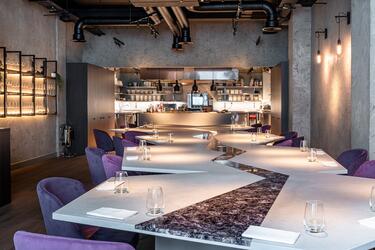 Review: Amethyst will take you on a bespoke journey through some of the best food in the world.
Amethyst, a unique place of elegance and excellence, lives up to its name as a precious gem. Opened only a matter of weeks ago, this new Mayfair destination is set to carve a name for itself with an exceptional menu and tastefully futuristic atmosphere.
Within a brutalist interior hewn from concrete sits Amethyst's long-table, made from stone and lined with real crystal. It creates a layout that is intimate and communal, but that allows you personal space to enjoy a truly special experience. The open kitchen on show is impressively well organised, showcasing a skilful team hard at work putting special touches on every mesmerising dish.
Chef Owner Carlo Scotto hails from Naples, but his menu will tell you that he is quite the man of the world. An artful experience that is refined and considered to the last, you are taken on a bespoke journey tracing his trips and pilgrimages in search of the world's finest food. This is guided by a studied culinary mastery that seems to surpass the chef's years.
We began with a glass of crisp Bouzy champagne, served by Amethyst's friendly Sommelier. While preoccupied with the fine fizz, a trio of unbelievably beautiful starters were placed at our table. The first - oyster with wasabi caviar, tomato-fermented sake and coriander oil - was a satisfying and fresh taste of the ocean. Next, a delightful briouat of almond and nettle glazed in a rich Baharat honey, made from Moroccan spices. This was to be chased with a puffy liquorice croquette made from parmesan cheese and tarragon mayonnaise.
The following course was a pleasant surprise suited to the summer's evening. A scallop blended with a majestic mixture of caviar, galangal and a rare matsutake mushroom, a refreshing dish that evoked the flavours of the tropics. The salmon marinated in rose water and served with foie gras, yuzu and Piedmont hazelnuts was exceedingly delicate and well put together, too. Another favourite was the green korma with sweet potato and sheep's milk yoghurt, served with a puffed naan, mahogany smoked butter and finished with a palette cleansing elixir of apple extract - inspired by Chef Carlos' travels in India. From closer to Carlo's native Italy was another delicacy in the farfalle. Italian for butterfly, the pasta was cooked with bone marrow and borlotti beans, and served with a delicious sherry caramel for a rich and earthy flavour.
As our plates disappeared and reappeared like a perfectly executed magic trick, we marvelled at the transportative, illusory quality of Chef Carlo's food. Each new course continues a spellbinding journey. Gyoza served in sake gave a delicious taste of the forest, plentiful in Umami flavours like Nasu Nibitashi and Myoga tea. Taking us along on his quest for the finest Japanese ingredients, we sampled Black Cod seared in burnt hay with Naganegi dashi. With a dark caramelised miso glaze, the dish appeared like a shining gemstone, served in a gleaming black fired clay bowl - a feast for the eyes as well as the mouth. The beef filet was cooked in ras el hanout spices, and hit the tongue with a tenderness that gave way to succulent flavours within, served with a glistening beetroot ketchup and medjool dates glazed in orange and sesame seeds.
A refreshing palate cleanser was offered in the form of a rum daiquiri gariguette. Fresh, autumnal and icey on the tongue, it paved the way for a very special course to follow. Their signature amethyst Geode looks every bit the precious stone. Shiny and round, to crack into the deep layers of this dessert was like discovering a new planet. With light floral hints of yuzu, this was quite the conversation piece, and had groups of diners praising the dish in unison.
Downstairs, you will be delighted to find an extensive wine cellar. With expertly sourced reds, whites and vintages up to the ceiling, from some of the best vineyards in the business. Here, there will be something to impress even the most ardent of connoisseurs.
Carlo Scotto and his team at Amethyst have achieved an extraordinary vision that is cohesive and singular, blending a whole universe of elements into one, special story. You will feel a strong sense of this when you see the big, beautiful glowing slab of Amethyst that casts a relaxing, subterranean ambience throughout the depths of their otherworldly restaurant.
"Amethyst is my birthstone," Carlo reveals.