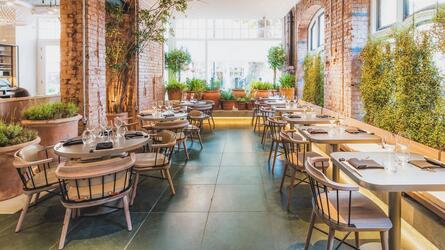 Unforgettable fusion food at the Bloomsbury Street Kitchen
"I just discovered something... It was way more than I expected" says Eduardo, proudly presenting another dish. Our expert waiter could have plucked the words right from my mouth. We marvel at the steady stream of delicacies that he brings from the kitchen, each one about to leave a truly unique memory in our minds.
The staff's passion here is contagious. Recently reopened on February 14th, love can be felt long after Valentine's day in this beautiful modern restaurant. The atmosphere brims with energy, as patrons excitedly bring family, friends and lovers in on a shared secret: that there is a new restaurant inside the Radisson Blu Edwardian, Bloomsbury Street Hotel, and it goes by the name Bloomsbury Street Kitchen.
The kitchen at Bloomsbury is divided into two sections. Two head chefs play to their strengths and specialisms, showcasing an innovative and surprising fusion of flavour. A marriage of Mediterranean and Japanese, the menu is divided into two columns accordingly. Taking inspiration from Mediterranean gardens and Japanese minimalism alike, you can feel the duality in everything on the menu, and in the rows of real Olive trees to the Sago palm trees that line the dining room.
If you like to dine in style, then the team at Bloomsbury Street Kitchen have a table with your name on it. The decor and the ambience they've cultivated is much like one of their cocktails; refreshing and refined. Out are wooden bench seats, strip-lighting and other post-industrial trappings. In are their clean, white-tiled walls, tastefully curved wood, space-age chandelier lighting and the kind of comfortable booth seating that you'd expect of a luxury hotel.
For your starter, the very first taste sets a high tone for what's to follow. Zucchini fries give a satisfying crunch of cripsiness with each bite, and deliver a tangy hit of Kimchi-seasoned dip. The Fried Aubergine was recommended to us especially by the restaurant's team, and it was obvious why. The attractive dish, served on banana leaf, was cooked to such perfection that to say it melted on the tongue would be no exaggeration.
An unexpected favorite was the Salmon Tartare, a twist on the Japanese classic that was served with flair in a sparkling bowl of ice. A zesty hit of ocean flavour with a hot aftertaste of chili, it came served on rustic Sardinian wafer bread. This, we learned, was made in-house using the traditional method that Eduardo, who is native to the region, was happy to share with us.
What will strike you is the sheer level of showmanship that goes into the food served here. Every dish is a reinvention, managing to be somehow familiar and an entirely new experience all at once. It feels like everything on the menu has been lovingly crafted to give you a unique memory. Take, for example, the Bincho grill, a baby chicken roasted in hot chili and fresh lemon. It arrives atop an authentic Japanese box, containing hot coals that cook it to unbelievable tenderness right in front of your eyes. Craving a hearty dish to follow, we tried their Sea Bass, which was braised to perfect tenderness in a smooth cream sauce infused with hot chilli and Saffron. Each fine ingredient coalesces to create a truly unbeatable flavour on the tongue.
With such a bounty before us, it was only right to wash it down with something special, so the maitre de chose us a fantastic dry Prosecco to complement our meal. After a delicious dessert served in delicate Japanese bento boxes, a smooth, syrupy plum sake served as a fitting nightcap. Our meal at Bloomsbury Street Kitchen is an experience that will stay in my mind for a long time to come. With my next visit already planned, it doesn't have to remain a memory.
Beat the crowds and experience the masterful fusion menu at Bloomsbury Street Kitchen for yourself when you book on TheFork today.