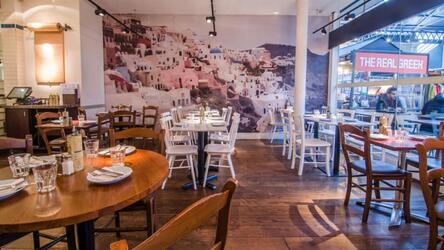 Review: Discover The Real Greek food this summer
"The only true wisdom is knowing you know nothing"
As I read this Socrates quote on the wall, I realise that I know decidedly little about Greek cuisine. I am lucky enough to have been there on travels, and have fond memories of warm Pita bread, succulent seafood, and kebabs served with a smile. All enjoyed immensely, I should add, but Greek food as high-end cuisine is something that I have long been wanting a proper introduction too.
It's safe to say that The Real Greek, in Marylebone, did not let me down. A charming neighbourhood spot with an open frontage that leads out onto al fresco tables, we were lucky enough to be seated by the window by the friendly team. The atmosphere was already buzzing on a hot summer's evening, with groups big and small enjoying the ambience. There's a sense of authenticity here, but one that's accessible, as hopeful patrons walk inquisitively in from the smart streets nearby. The walk-ins trying their luck were seated graciously by the waiting staff - if there was any room for them.
Thirsty from our own walk over, we were offered delicious hand squeezed lemonade that was every bit as refreshing as you would expect. This was followed by a sweet Peach Bellini made with Italian Prosseco and nectar imported from the continent. Our first starter was warm, homemade greek flatbread. Soft, puffy and hot, this was the perfect vessel for sumptuous dips in the form of Santorini Fava beans and chili feta Htipiti. Alongside this there was filo Tiropitakia, deep fried to the perfect crunchiness, with an oozing spinach filling. The classic Greek Salad was a bountiful and beautifully presented side, with rich, flavourful olives that tasted like they had been freshly picked from the groves of Zakynthos or Crete.
In the following course, we had to try the signature Tonia's Prawns, which were tender and sumptuous served in a rich pourgouri sauce of tomato, bulgur wheat and onions. Next, the barbecued chicken wings were chargrilled to the perfect tenderness, served in a rich smoked chilli relish that coated their tender white meat temptingly. Lastly, perfectly seasoned lamb meatballs were served in tomato sauce and yoghurt, which were intensely satisfying when paired with the flatbread.
The feeling you get at The Real Greek is a familial one, with the warm waiting staff and an ethos that encourages sharing. At its heart, the real story here is of good, honest food, and great recipes passed down over generations. Keeping things appropriately authentic, we finished our meal with a delicious coffee served in the Greek style. Coffee is a deeply social tradition in Greece, and we felt it only right to share in that. By the time we had taken our last sip, we felt like we too were part of the family.