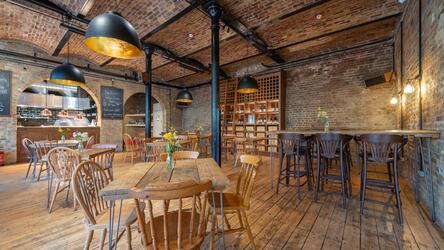 On a sunny Friday evening, one full of hope and potential, I was lucky to be invited to The Farrier. The new restaurant in Camden's The Stables that is set to become a mainstay on the circuit for discerning lovers of good food and wine. I had heard some talk about The Farrier as a destination for natural wines, but wasn't too sure what to expect. It is safe to say I was not disappointed. The energy on The Farrier's alfresco terrace perfectly suited the summer evening; an atmosphere of optimism and new beginnings, in the heart of one of London's most famous boroughs.
Camden has famously produced some of the city's most beloved singers, models and rockstars. While the spirit of hedonism remains strong among the borough's regulars, the vibe has matured along with its residents. Today, it's a new generation of stars who grab the headlines. From the young and up-and-coming chefs behind the grill, to the choice of natural wines selected by The Farrier's well-studied sommeliers.
The Farrier's interior has a rustic, aged charm that feels picturesque and timeless. A tastefully exposed kitchen commands service next to a classic 20th-century style bar that stays well-stocked. Ambience is provided amply by hanging brass lamps that bring the character out of the walls of this beautifully restored stables, a piece of living history that The Farrier has been carved out of.
Upon arriving, we were shown to a spacious table that was smartly dressed with foraged flowers. Our friendly host, Ewan, greeted us graciously with menus and some personal recommendations to inspire. The first order of service, though, was a glass of the natural wine. Our sommelier Will was charismatic and enthusiastic to share his expertise on their unique wine list. He recommended us a refreshing Roc' Ambulle Rose that had undergone a delicate single fermentation, resulting in a delicious wine that is extra dry to the taste and clean of any sulphites - perfect for avoiding headaches or hangovers.
We sipped on our refreshing bottle of bubbles as we browsed a short but impactful menu. Our starters set the bar high. The duck salad was a tangy mixture of bitter, sweet and game. Tender meat accompanied by bitter leaves and pomelo segments provided a memorable moment of flavour. Next to this, the hearty Halloumi Fries were crispy, yet light, and packed with taste that is given a lift with The Farrier's home-made sweet chilli sauce. Providing a lighter counterpart, the Avocado and Beetroot Carpaccio with Melba Toast was a respite that looked picture-perfect as it arrived, with freshness that could be tasted on the tongue.
The vegetarian main we were recommended was an inventive dish of Sweet Potato with Zucchini Noodles that was teased together into a silky salad with a rich peanut aftertaste. On the meatier side, I thought I'd be foolish not to try the steak, after Ewan assured me it was excellent. Insisting on a medium rare, as any good steakhouse would, my cut was cooked in the Sous Vide method, that resulted in an extraordinarily tender finish, made even more succulent by a gravy of rich juices to pour over the top. Truly a feast, for the eyes as well as the tongue.
The great food at The Farrier, the tantalisingly trendy Natural Wines and the service-with-a-smile left us feeling warm and well-looked after. Camden hasn't always been known as a restaurant destination, but if The Farrier have their way, that may be set to change. We took our leave onto the sunny canal of Camden Lock and made a vow to return soon.