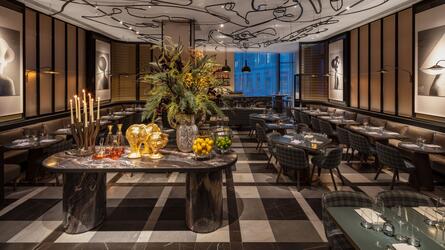 On a sunny spring evening this April, I was fortunate enough to get a reservation at Whitcomb's, a sought-after restaurant housed at luxury hotel The Londoner. A smart, secretive modern dining room, it is famed for serving classic cuisine and French fine-dining, in stylish surroundings in which to see and be seen. With an atmosphere that is equal parts relaxed and refined, diners and drinkers share this space in a way that feels balanced, with no group outdoing another. This perfect harmony makes for an inviting space to spend an evening with friends, associates or a loved one.
Being one of London's swankier hotels, the staff are lovely, and as suave and slick as one would expect. After a welcoming greeting in the resplendent main foyer, we were shown through an elegant lounge to the tasteful, sunken seating beyond. We were offered a lovely booth, where they were highly attentive to our needs all evening. The indulgent cushioning, fine art on the walls and mood-enhancing lighting made for an enchanting atmosphere in which to have our meal. Once we had taken our seats, we were met with a delicious starter that appeared on the table almost by magic. Warm, homemade bread, impossibly crusty, served with a whip of rich chicken pate topped with a brittle wafer of dried chicken skin - a tasty entree that set a high chord for the dishes to follow. Anticipating our thirst at having arrived on foot, we were promptly offered drinks from an enticing cocktail list, and responded by sampling some refreshing mixes including signature takes on classics like the Negroni. We sipped from chilled glasses as we perused their impressive menu that features some famously fine fare. With some eye-watering dishes on show, we relished the challenge and readied our palettes to try delicacies that would make the evening something special.
The Tart au Fromage was a feast for the eyes; a perfect, rounded tart that dared to be delved into. With a crumbling flakey base, impossibly melted cheeses and a rich, caramelised aftertaste, this tasty starter showcases the French culinary mastery that runs through Whitcomb's menu. Our other starter the Calamars frits, was a zesty plateful of squid that tasted freshly caught. Equal parts tender and light as they were crunchy and satisfying, and served with squeezed lemon and Sea salt that evoked Mediterranean flavours.
One of the highlights of our dinner was the Filet mignon, a fine dish and a personal favourite of my dining partner. A larger of their dishes, and intended for sharing, we took a chance on it in order to continue our tradition. To our luck, there was a moment of true showmanship when the Sole arrived. Our waiter fileted the beautiful fish right before our eyes, elegantly carving the dish lengthways and separating the bone from the perfect, white flesh. With a flick of the blade, the dish was placed back down on the plate, where it cooked to perfection in a sizzling sauce of citrus garlic butter.
Our other main dish, the Filet mignon, put on a show of its own as it arrived in a chanterelle and aged Parmesan creme and sprinkled with wild forest mushrooms. The perfect, tender meat was enjoyed with sumptuous sides - including a rich, Mousse de pomme de terre (whipped mashed potato) that tasted heavenly drizzled in creamy butter and garlic, and fresh Haricot verts that provided a satisfying, nutritious crunch of green. With little room left to spare after these main events, we pondered over delicate desserts. The Tarte au citron looked very appealing, as did the famous French Mille-feuille, a Caramelised puff pastry with vanilla bean Chantilly, mango passionfruit and pain d'epice.
One thing we noticed as our meal progressed was our lighting, a warm interior glow that slowly changed to reflect that passage of time, and adjusting the ambience accordingly. We looked at our watches to our surprise that closing time, 10PM was upon us. This perfect atmosphere, the fine food we had enjoyed and the conversation we shared over it had made our evening feel truly timeless.