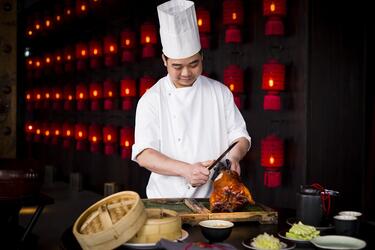 A selection of the best dishes in London restaurants
London is not exactly short on great food. Every nationality is catered for, every niche is covered, and practically every dish imaginable is served. Tucking into the endless dishes on offer to separate the wheat from the chaff is no small task, but someone's got to do it. So from the creative to the ludicrously indulgent, through to downright works of art, we've sought out some of the capital's must-try dishes. Unbuckle the belt, because London's iconic dishes will leave you hankering for more.
1. Hutong – Roast Peking Duck BOOK HUTONG
Roast Peking Duck at Hutong at the Shard
On the 33rd floor of The Shard, the view alone is reason enough to visit Hutong. But not ones to rest on their laurels, they pull out all the stops with their food too. The roast Peking duck is a performance piece, a lesson in Chinese cuisine, and a sublime meal all rolled into one. Skilfully carved at the table, the duck is joined by hoi sin, cucumber and spring onion in delicate pancakes. In accordance with Chinese tradition, any remaining meat is fried with onions and served atop iceberg lettuce, meaning you get to taste that duck all over again.
2. Dinner by Heston Blumenthal – Meat Fruit BOOK DINNER BY HESTON BLUMENTHAL
Meat Fruit at Dinner by Heston
It takes a special kind of chef to decide to create a chicken liver parfait that looks exactly like a plum. Mr Blumenthal is definitely that kind of chef. Stemming from the original orange meat fruit, this new addition is one to impress.  Encased in a red wine and winter-spiced gel, the creamy parfait is so good it would turn heads even if it wasn't a dead ringer for a piece of fruit.
3. The Clove Club – Buttermilk-Fried Chicken & Pine Salt BOOK THE CLOVE CLUB
Fried Chicken at The Clove Club
Image source: The Clove Club Facebook page
Not only does the Michelin-starred Clove Club make you feel like you're foraging through the forest for your nuggets, but this unique dish, that you can't help but photograph, is also absolutely divine. The signature buttermilk-fried chicken pieces are crispy but tender and dusted in pine salt, giving it a woody hint. A must-have, that will, without a doubt, leave you pining for more.
4. Yeni – Manti with Dried Aubergine
Dried Aubergine Manti at Yeni Soho
For the perfect vegetarian treat, visit the Istanbul-inspired Yeni in Soho and indulge in these dried aubergine-stuffed manti or Turkish dumplings swimming in double-fermented goat's yoghurt with sumac molasses and pomegranate flavour bursts. Dishes at Yeni are made from British produce, with their menu highlighting Turkish delicacies and traditions while adding a London flair.
5. Cinnamon Bazaar – Lamb Rogan Josh Shepherd's Pie BOOK CINNAMON BAZAAR
Lamb Rogan Josh Shepherd's Pie at Cinnamon Bazaar
Image source: Her Favourite Food & Travel Blog
At Michelin-awarded Cinnamon Bazaar, savour a Cinnamon-style twist on a British favourite, the shepherd's pie, and matched with the much-loved Rogan josh curry. Served in a vibrant marketplace-styled space, this cross-cultural mash-up, pun intended, is pure comfort food and enjoyed alongside other authentic Bib Gourmand dishes that also bring together Indian heritage with iconic London flavours.
6. Homeslice – Spiced Lamb with Savoy Cabbage and Sumac Yoghurt 
Spiced Lamb with Savoy Cabbage and Sumac Yoghurt at Homeslice
Who can say no to a 20-inch pizza? Whether you are up for sharing or want pizza for breakfast, pick one of Homeslice's delectable New York-style pizzas, available across the City, including Fitzrovia, Shoreditch and White City. The almost-too-big-to-hold slices have crispy-thin bases and are generously covered in unique toppings, like the spicy lamb with savoy cabbage and sumac yoghurt.
7. som saa – Deep-Fried Sea Bass BOOK SOM SAA
Whole Deep-Fried Sea Bass at som saa
A must-try when visiting som saa in Spitalfields, this Thai-style deep-fried delicacy is served with a nahm dtok salad, which is draped atop the fish. The crispy, whole sea bass may look like it's staring at you (we promise, it's not), but it's well worth the order, especially for the authentic Thai plating experience.
8. Mac and Wild – Veni-Moo Burger 
Veni-Moo Burger at Mac and Wild
Worlds collide for the meat fans out there with the Veni-Moo burger at Mac and Wild. Voted London's best burger, the double-stacked decadence brings soft and succulent venison to 1 patty and their best beef to the other, which is then topped with melty cheese, pickles, caramelised onions and Béarnaise.
9. Shoryu – Shoryu Ganso Tonkotsu Ramen Noodles BOOK SHORYU SOHO
Shoryu Ganso Tonkotsu Ramen Noodles at Shoryu
This umami ramen is certainly hearty, with its meaty pork broth cooked for 12 hours and topped with fatty char siu barbecue pork belly. Enjoy the firm noodles with an oozy ramen egg, spring onion, red ginger, kikurage mushrooms and nori seaweed, and wash it down with some of Shoryu's traditional sake. Now this is a dish we cannot help but slurp.
10. Savoy Grill – Gordon Ramsay Restaurants – Beef Wellington  BOOK SAVOY GRILL
Beef Wellington at Savoy Grill – Gordon Ramsay Restaurants
A beef Wellington so good that they have a bookable experience for it. This delightfully British dish is crafted with Gordon Ramsay's flair and precision using the finest beef fillet and served up by the slice. This is an iconic dish you do not want to miss.
11. BAO – Confit Pork Bao  BOOK BAO FITZROVIA
Confit Pork Bao at BAO
Image source: BAO Facebook page
This quirky haunt offers diners some of the best bao buns in London, but they are also conveniently photogenic. Snap up a delicious saucy confit pork bao, layered with crispy shallots in a fluffy bun. The cod black, which is only available at BAO Fitzrovia, is another great option with its trio of sauces and unique black batter.
12. Cakes and Bubbles – The "Cheese Cake"  BOOK CAKES AND BUBBLES
The "Cheese Cake" at Cakes and Bubbles
Cakes and Bubbles loves their unusual dishes, from their branded chocolate corks to their frozen coconut and chocolate flowers, the dessert-only restaurant knows how to impress. Fashioned to look like a wheel of cheese, this innovative cheese cake is made of creamy Baron Bigod cheese with a white chocolate and hazelnut skin and is served with Sablé Breton.
13. SMOKESTAK – Beef Brisket Bun  
Beef Brisket Bun at SMOKESTAK
Bib Gourmand-awarded Smokestak offers barbecue meats, all perfectly wood-smoked and full of flavour in a stylish setting. Besides ordering the sumptuous whole beef brisket to pull apart at the table, get a taste of the smokey beef brisket in a sweet bun, which is topped with pickled red chilli.
14. Gloria Trattoria – La Gran Carbonara for 2 
La Gran Carbonara for 2 at Gloria Trattoria
Image Source: bigmamma.uk Instagram page
This rich and creamy pasta is available to order at both of the ultra-trendy Big Mamma spots, Gloria Trattoria and Circolo Popolare.  The sublime dish is shared between 2, and is served by the wait staff, straight out of a wheel of pecorino, while also packed with authentic ingredients sourced from Italy.
15. Hawksmoor – Sunday Roast  BOOK HAWKSMOOR BOROUGH
Sunday Roast – Slow-Roast Rump at Hawksmoor
Not only is Hawksmoor famous for its superb steaks, but they make a mean Sunday roast too. Loaded with slow-roasted rump and all the expected trimmings, indulge in the Sunday tradition with a side of bottomless bone marrow gravy (yes, really).
16. Dominique Ansel Bakery – The Cronut® Pastry of the Month  
The Cronut® Pastry of the Month – Coconut and Tonka Bean at Dominique Ansel Bakery
A unique invention by Chef Dominique Ansel, this pastry is stuffed (literally) with the good stuff. Described as a croissant-doughnut hybrid, each Cronut is topped and filled with various creams or jams to match the flavour of the month. Now there's a great monthly excuse for a treat to pair with your tea.
17. Café Forty One at La Suite West – Plant-based Full English Breakfast 
Vegan Full English Breakfast at Café Forty One at La Suite West
What is more iconic than a full English breakfast in London? This time, Café Forty One have swapped the bacon and eggs for portobello mushroom and tofu scramble. Served with filter coffee or English breakfast, get the meat-free brekkie experience with basil baked beans, hash brown and sourdough toast, and while you are there, why not try the vegan afternoon tea?
18. Elystan Street – Double-Baked Cheese Soufflé 
Double-Baked Cheese Soufflé at Elystan Street
Image Source: Elystan Street Instagram page
Michelin-starred Elystan Street is a must-visit for gourmet British fine dining. Spoilt for choice on the menu, this decadent and generously portioned twice-baked soufflé is a no-brainer for the lactose fiends. The cheesy soufflé, consisting of mountains of Montgomery cheddar, button mushrooms, leeks and truffle, is traditionally baked before being covered in cream and cheese for its second round in the oven.
19. The Gate Islington – Wild Mushroom Risotto Cake 
Wild Mushroom Risotto Cake with Truffle Dressing at The Gate Islington
For the veggies out there, The Gate Islington is a sleek plant-based paradise. The vegan wild mushroom risotto cake features a lemon truffle dressing and is named as one of their most popular dishes. After a brief stint off the menu, this picturesque plate has been added back on, due to popular demand.
20. DUM Biryani House – Biryani 
Biryani at DUM Biryani House
Celebrated as one of the best places in London for biryani is DUM Biryani. Choose a lamb shank, vegetable or chicken biryani, which are layered with rice and covered with dough before being steamed.  The spicy dish comes with okra yoghurt, pickle, a peanut and sesame aubergine curry, and papadum.
21. Sabor – Pulpo a Feira BOOK SABOR
Pulpo a Feira at Sabor
This family values and Michelin star-winning restaurant, Sabor, means 'flavour' in Spanish.  Flavour is what they bring, especially to the pulpo a feira dish: boiled in large copper pans, this sumptuous Galician octopus speciality is seasoned with paprika.
22. Yauatcha – Macarons BOOK YAUATCHA
Macarons at Yauatcha
A simple but delightful dessert from Yauatcha that comes in a variety of flavours. Fill a box of 6 or 12 with a number of unique combinations that are stuffed with buttercream, from matcha yuzu to strawberry wasabi and pineapple chilli colada. During the summer, be sure to look out for their ice cream macarons which are served outside the restaurant.
23. Bentley's Oyster Bar and Grill – Fish and Chips 
Fish and Chips at Bentley's Oyster Bar and Grill
You simply cannot make a list of the top dishes in London without considering a British icon, the humble fish and chips. Using the highest quality ingredients, Bentley's Oyster Bar and Grill serves diners one of the best crispy classics in the city, plated with mushy peas, tartar sauce and fluffy thick-cut chips.
Now that you know London's 23 best dishes, the question is: how many have you tried? Tick the dishes you have tasted on our iconic dish checklist and share your impressive number with us.