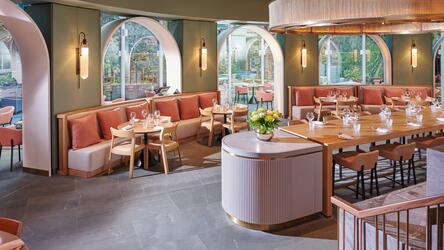 They raised us, cared for us, put up with us, and they always know best. But when it comes to booking fantastic and fancy food this weekend, it's time to take the pressure off Mum. This weekend, TheFork are celebrating Mothers.
With our list below, you can be sure you're treating your special lady to one of the best bookings in the city, all available now on TheFork.
Treat Mum like royalty this Mother's Day with a trip to TH@51, at Buckingham Gate near St James'. This splendid spot serves luxurious modern European cuisine in an atmosphere that hints at old-world glamour, with comfortable booths and beautiful neoclassical decor. With a menu to please the most global of palettes, this makes for a marvellous Mother's Day pick.
We hope you have the spirit for adventure, because the menu here is every bit the tasting journey. Start in Mumbai with the Desi Scotch Egg, lamb mince with a curried mayo and mango chutney, and detour through Tokyo with Togarashi Tuna served with ginger and dragon fruit carpaccio, by way of Italy - and creamy Burrata served with crispy kale, mint and tamarind chutney. Vegetarian diners will love the Morrocan-style Poke bowls, and Khow Suey Udon noodles in a coconut broth.
Staying in the royal neighbourhood of St James' luxury hotel that's earned a reputation for its highly-acclaimed food. The Michelin-starred Seven Park Place, from renowned head chef William Drabble, serves some of the finest French inspired cuisine, using the best hand-picked British produce.
The best way to experience the food here is the Menu Gourmand; the perfect way to treat Mum. Start with seared Scallops, hand-dived, and served with Blood Orange and fennel, before moving on to butter-roasted Chicken Wings, with potato Gnocchi and wild mushrooms, and griddled Monkfish with Salsify, Champagne and Samphire. End on delightful desserts like the passion fruit and mango sorbet with coconut, and fine apple tart with a prune and Armagnac ice cream.
BOOK Seven Park Place, St James'
If Mum wants to enjoy prime views over the city on Mother's Day, then there's a table with her name on it at Aqua Shard. Situated high up on the 31st floor, this impressive location is home to a gifted restaurant team serving refreshing cocktails and eye-watering dishes that match the top-tier views.
Begin this culinary experience with confident starters of Cobble Lane chorizo with Goats' curd, rhubarb gel and piccalilli, fresh Burrata cheese and Beef Tartare in a Bloody Mary gel on toasted sourdough with an egg yolk emulsion. The main dishes here represent high-end European cuisine showcasing the finest British ingredients; from the Cornish Sea Bass with pearl barley & mussel risotto, to the Beef Fillet with caramelised onion and crispy potatoes in a mushroom gravy.
BOOK Aqua Shard, London Bridge
To celebrate Mother's Day, the fantastic Farzi Cafe is offering a special Sunday Brunch. Offering three eye-catching courses, a sparkling, refreshing cocktail and Petit Fours for dessert, this is yours and Mum's to enjoy; available now for £45 per person on TheFork.
The food here is a fun and fanciful approach to South Asian cuisine. From the Avocado & Waffle Tokri, a basket of waffles with an avocado chat and raw mango carpaccio, to the vegetarian Kache Kele Ka Ragda Pattice, a delicious raw banana cutlet with a green pea foam and sweet yoghurt. Generous mains arrive fragrant and hot, like the Koli Varuval, a cumin & dry coriander chicken with curry leaf & cashew, and the beautiful Sea-Bream Patori, a stuffed butterfly sea-bream in a banana leaf wrap and spiced in chilli and coriander.
If you see yourself dining out in Mayfair with Mum this Mother's Day, then the May Fair Kitchen should be top of your list. Serving beautiful and delicate dishes sharing dishes with a Spanish slant, this atmospheric dining room is a smart way to spend Mothering Sunday. Come and sample the continental gastronomic excellence on show when you book on TheFork.
Share a couple of divine small plates to start off your meal. Tomato and Mozzarella Arancini balls are crisp and tangy, and the classic margherita comes in the classic Italian-style. Entrées follow, like the 28-day-aged Rib-eye steak with warm Gorgonzola butter and spiced tenderstem broccoli, and chicken fettuccine Alfredo with crispy pancetta, and the authentic wild mushroom Risotto with truffle oil and hard Italian cheese - where every bite conjures a memory.
BOOK May Fair Kitchen, Mayfair
If a succulent steak in the seat of power sounds like something your mum would enjoy, then take her to Plateau, in the financial district of Canary Wharf. Chef Sean Kimpson runs his inventive kitchen here with flair and passion. For Mother's Day, he's treating you to three courses with a delicious glass of Mirabeau Cotes de Provence Rose, all for £45 on TheFork.
Snappy starters provide a hint at the expertise on show here. Seaweed cured salmon with yogurt, dill & avocado and Portland crab and king prawn raviolo in a baby posse & lemon verbena bisque give a taste of the freshest catch. Classic pressed smoked ham and guinea fowl with soused baby vegetables & tarragon is a tasty, gamy affair. Show-stopping mains follow on, from the glazed Veal sweetbread with Vichy carrots, winter truffle and Vin jaune sauce, to the 300g Black Angus Rib-eye steak with pommes frites and peppercorn sauce.
To a firm favourite of travellers to the Capital now, and Whitcomb's of Leicester Square, a modern Mediterranean restaurant, specialising in inventive pan-European dishes, who are offering a generous Mother's Day menu to enjoy with your madre this Sunday. Providing a whimsical approach to your lunch or dinner, dine with a Leicester Square tradition as their resident sketch artist draws your caricature.
Feast on French inspired dishes like the delightful Crevettes à L'Huile de Piment, seared king prawns with garlic, chilli and olive oil, served in a hot skillet. Escargots in white wine with garlic and n'duja lemon butter, with warm artisanal baguette. The Signature Plat de Terrasse is always impressive, and made fresh and in season according to the chef's expertise. Sumptuous sides of haricot verts and Chou Frisé accompany perfect: like a fresh foil to rich and decant mains.
BOOK Whitcomb's, Leicester Square
Tucked away surreptitiously in the Waldorf Hilton, near London's Temple, is a great Homage to fine-dining and the luxury restaurants of eras past. Take your Mum to see the brightest lights the theatre district has to offer when you book this sophisticated spot on TheFork today.
With a generous Mother's Day deal to treat yourselves to, enjoy a three-course lunch from the mind of chef Karl Richardson, a drink on arrival, a live music performance and even a special gift to take home with you, all for £49 on TheFork.
The Monmouth name is famed in London among foodies in-the-know, and their central location near Soho has become something of their mecca. If Mum knows her carpaccio from her ceviche, then she'll love navigating this fine feast of a menu, constructed with passion by the team at Monmouth Kitchen.
Specialising in serving Italian-style small-plates with a focus on a fusion of fiery Peruvian flavours, you can try delights such as the king prawn Robata, the padron peppers slow roasted with sea salt, or a trio of classic Bruschetta. For vegetarian Mums, try the Roasted Grilled Aubergine with spiced tenderstem, cherry tomatoes, roasted cumin and garlic.
Leicester Square Kitchen, Leicester Square
Lastly, and for lovers of the hubbub of Central London's brightest attractions, this next spot in Leicester Square will have everything you're after. Leicester Square Kitchen provides a cool and calm moment of refinement from the busy streets of one of London's premier tourist attractions. With a passion for inventive Mexican cuisine, the team here will have you and your Mama well looked after with their South American style to city cuisine. Tuck into small plates of crispy peppered Calamari with a tequila lime sauce, or the Mexican Matchstick chicken with habanero. Crunch into authentic classics like the grilled Corn on The Cob, with chilli, lime, cayenne pepper and Mexican cream cheese.