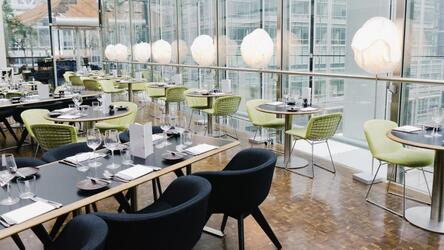 London's East-End is famous for many things. From its traders to its television shows, folk traditions to family-run restaurants, East London has been an important cultural region of the city. With restaurants high and low, serving an array of cuisine from regions the world over, this multicultural melting pot provides everything a foodie traveller could hope to find.
To give you a comprehensive guide to food in the East, we listed some of the most notable restaurants in the district. With a real range on offer, you are sure to find your new favourite. Read on for TheFork's selection of some of the best restaurants in East London.
La Tagliata City, Spitalfields
Spitalfields is a famous and historic market in East London, that today is home to a great range of fine eateries. One of the best among them has got to be La Tagliata City, a trendy pasta and pizza specialist that is regarded as one of the best ristorantes in the capital. Take your place at a beautifully laid table, seated under fine art and leather-bound books, in what is a charming, rustic interior.
Starters and snacks welcome you during your wait, hand-picked olives alongside homemade focaccia with rosemary and sea salt. Dishes here will delight. Try the La Zuppa di Pesce, a majestic stew blending prawns, swordfish, octopus and mussels, slowly cooked in their spicy tomato sauce and white wine. Or the sumptuous Linguine alla Carbonara; pasta with egg, pecorino cheese, crispy pork guanciale and black pepper.
BOOK La Tagliata City, Spitalfields
Bokan 37 Restaurant, Canary Wharf
This impressive restaurant and rooftop bar near Canary Wharf, Bokan 37, is a must-see for lovers of hip, modern hangouts. With views over the financial district and an expertly curated menu of European fine-dining, this is the new top spot for lovers of a power business brunch.
Chef Guillaume Gillan mans the kitchen here with passion and pride. Starters hint tantalisingly at the experience to come; like the Crab & Honeymoon melon with marigold & jalapeno chimichurri, or lentils & Perugine sausage with Bokan's primavera.The main courses certainly don't disappoint. Try the steamed Gigha halibut with artichoke tapenade, date & seaweed jus, or the Hereford beef onglet & brisket with Borlotti beans and tomato marmalade. A board of expertly chosen cheeses makes for a great finish, or desserts of homemade ice cream & sorbets.
BOOK Bokan 37 Restaurant, Canary Wharf
Situated on the beautiful Regent's Canal, near Haggerston, is this adventurous and vibrant restaurant, Arepa & Co. Showcasing flavourful Latin American food, with a focus on the beautiful country of Venezuela, prepare to taste zesty, passionate cooking.
With fun, family and friends at the front of mind, many of the dishes here are made for sharing. Small plates provide wave after wave of tasty treats.The Buñuelos are balls of Cassava dough on a bed of whipped feta cheese, topped with sugar cane syrup and chilli flakes. The Canoa de Maiz is a delicious corn dough with herbs, spices, chilli and goat cheese, wrapped in corn husk and then steamed. Fresh Ice Cream and Sorbets for dessert leave no taste bud unsatisfied.
Iberica, Canary Wharf
Named for the world-famous type of Spanish ham, specialist restaurant Iberica takes pride in serving the best cured regional meats. Dishes here will give you an authentic taste of the Iberian Peninsula, which spans its border with neighbouring Portugal.
From the Cecina, an air cured beef with an intense smokey flavour, to the Sobrasada, served succulently with honey and toasted bread, the meats here are mouth-watering. Treat yourself to the Trío of chorizos; one smokey, one spicy, one 100% Ibérico pork, or a selection of cured meats that includes spicy chorizo, Andoya and wild boar. If you want to go the whole-hog, try the Jamon Iberico, with joints of Juan Pedro Domecq, awarded 3 Gold Stars, or the COVAP Alta Expresión or BEHER Bernardo Hernández, both cured in the traditional way, for 36 months and 26 months respectively.
BOOK Iberica, Canary Wharf
Ark Fish Restaurant, South Woodford
In the northern part of East London is a neighbourhood favourite that is definitely worth the journey, Ark Fish. Specialising, of course, in seafood, expect some of the freshest and most flavourful fish dishes in London.
Course after course of incredible ocean catch makes for a supreme tasting experience. Appetisers of peeled prawns, winkles, whelks and Venus clams will prime your palette, before starters of breaded Whitebait, seared Scallops with garlic butter, and baked Crab with light cheese crust satisfy you further. If that hasn't sated your hunger, move onto mains of fillets of Cod, Salmon and Plaice, Skate, and deep-fried Calamari with aioli. Wash this down with a selection of the finest wines from their expertly sourced cellar.
BOOK Ark Fish Restaurant, South Woodford
Next, to a famous landmark of East London, Brick Lane, where revered Indian restaurant Sheba serves fantastic food to satisfied groups of families and friends. Established in 1974, this pillar of the local community has drawn visitors since they opened, by cooking food with love and passion.
Expect a menu packed full of classics of Southern Asian cuisine, fused with British culinary tradition. Starters contain family favourites, like Bhaji, Samosas, and Kebabs of ground lamb with herbs and succulent grilled chicken. For your main course, try Chitol Kofta Bangla curry; Chitol fish spiced fish balls cooked in a rich Bangladeshi sauce. Don't overlook the Vindaloo, the Dansak and the Korma, which are all classics for a reason!
If you feel the Greek Isles calling you, then you might want to pay a visit to The Real Greek in East London's Spitalfields Market. This welcoming and inviting taverna style eatery provides an authentic take on classic Greek cooking, served up with soul right in the heart of East London.
Tee things off with an array of meze, hot and cold. From Taramasalata, to Tzatziki. Hummus and Fava beans served Santorini style, all served with tasty home-made Greek flatbread. To the Spinach Tiropitakia, filo pastry parcels with creamy leek, spinach and feta filling - that are handmade daily - and freshly rolled Falafel. Fried Kalamari served with lemon mayonnaise gives a taste of the ocean, as does the grilled Octopus. The traditional Greek Moussaka is a classic dish of lamb mince, and the traditional lamb Kofte Kebabs need no introduction.
BOOK The Real Greek, Spitalfields
Let's return to the financial centre of East London next, to the famous Canary Wharf, where the equally famous steakhouse, Gaucho, occupies a prime location. For lovers of high-grade cuts of meat, enjoyed in an exclusive locale, an evening at this Argentinian steak specialist should be high on your to-do list.
Succulent meat dishes are laid out to impress even the most discerning diners. The Argentinian beef burger is a top pick for a casual lunch, served with bacon, Monterey Jack cheese and fries with a peppered Mayo. For an opulent evening, opt for the full rack of marinated lamb ribs. If red meat isn't your thing, kick things off with a fresh Tuna Ceviche, then move onto the Atlantic Cod served with quinoa, edamame and blood orange dressing. An impressive range of steaks, from the spiral cut Tira De Ancho, to the Lomo fillet or Ancho ribeye, make for a satisfying tasting experience.
Staying in the East London peninsula and the impressive metropolis of Canary Wharf, this next restaurant will suit the discerning food-lover with good taste. Plateau is perched high up in Canada Place, and has views over the financial district, where you can enjoy fine-dining in this modern European kitchen, terrace and cocktail bar.
Starters showcase elevated cuisine; mushroom Velouté with Winter Truffle Pangritata, seared Orkney Scallop with sand carrot Escabeche and lemongrass Bisque, and seared Duck liver with a caramelised Apple Purée, hazelnut and Port. Decadent mains up the ante further, like Vadouvan-crusted Venison loin with Beetroot Chrain, blackberries & Sloe Gin, or the Harissa-Roasted Cauliflower with a coconut Dhal, caper raisin Purée and spiced Dukkha. Sides of pommes frites and tabbouleh of courgette and radish provide tantalising sides.
Last on our list is a spot to see and be seen in East London hot-spot Shoreditch, a stylish Italian joint called Bottega Prelibato. With a decor theme that fuses post-industrial hip with Italian rustic charm, they provide the perfect backdrop for a romp through passionate Italian food. Although on the expensive side, you get what you pay for, with excellence and expertise to taste in every dish.
Antipasti treats welcome you onboard this tasting journey through the finest flavours in the Mediterranean. Try the parmigiana, served atop aubergine or courgette, with smoked scamorza. Or, the grilled goat's cheese with beetroot and a cashew and honey dressing. Pasta dishes follow up, inventive pairings like the tagliatelle with chicken liver ragù and porto, celeriac and baby spinach, or the paccheri with sea scallops, cherry tomato, lemon, ginger and rocket. Follow that with classic Italian Tiramisu for the perfect ending.