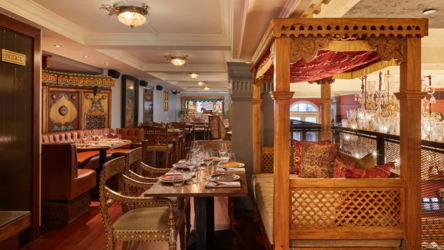 The Dominion Theatre is an icon of London's West End. The Art-Deco style playhouse opened all the way back in 1929, and has been faithfully entertaining visitors and patrons ever since. If you're thinking of making a trip to these hallowed halls to see your favourite play, be sure to stop by at one of the area's famous eateries. There are some of the city's best restaurants and cafes within an arm's reach of the theatre district. Read on for TheFork's roundup of the best restaurants near the Dominion.
The famous Colonel Saab is a regal Indian Restaurant serving an expertly crafted modern take on their traditional cuisine. Located in the former Town Hall of Holborn and with a focus on unique flavours and fantastically fresh vegetarian and vegan dishes. To eat at Colonel Saab is to experience the cutting edge of Indian dining, through a lens of years of celebrated cultural exchange.
Breakfast is served here from 8AM until Midday, and it's well worth the early start to catch it. Healthy Muelsi Bowls are served alongside French Toast with compote and crème fraiche, as well as special Banana Panyaram, crispy rice rissoles from South India served with salted caramel coconut sauce. The Eggs Benedict arrives with a twist of creamy korma sauce and toasted pau. After that, lunch service takes over until 3PM, and is defined by classic Khaati Rolls, paratha with fillings of paneer, butter chicken and Rajasthani Lamb that give an authentic and elevated street-food flavour. The Dosa curry come with a crispy 'lion-sized' pancake, and come in delicious vegetarian variants.
From 6PM, dinner service provides a fitting end to the story, with dishes like the Noor Mahal Chicken Tikka and the Jaipur Baby Aloo earning Colonel Saab a commendable 9.3 rating on TheFork.
BOOK Colonel Saab, High Holborn
Cunzato Pizza, Tottenham Court Road
Sometimes nothing hits like a nice slice of pizza, and the team at Cunzanto Pizza on Tottenham Court Road are experts at making the perfect pie. Situated a short stroll away from the theatre, this slice of Italy is the perfect casual bite to enjoy before you take your seats. With an array of hand-made, oven-baked pizzas and a series of delicate Italian small-plates to sample, it's no surprise to see why Cunzato Pizza has earned a solid 9.1 from TheFork's community.
Classic starters give you a taste of the best regional produce. From your choice of Bruschetta - ranging from the Salmone E Avocado, to the Burrata E Alici with Burrata and anchovies, to the classic Bruschetta Pomodoro E Aglio. Light bites like the Aubergine Caponata or the Caprese salad make great accompaniments to the signature pizzas. From the Calzone to the Quattro Formaggi, the pizzas come hot and flavourful. Prepare for rich, vivid dishes to follow for your main course, with tasty, traditional takes on Pecorino E Noci, Calamari, Arancini balls, and a special Parmigiana Di Melanzane recipe handed down from Mamma.
BOOK Cunzato Pizza, Tottenham Court Road
Bloomsbury Street Kitchen, Bloomsbury Street
This new restaurant concept on Bloomsbury Street blends the best of Mediterranean cooking with the delicate minimalism of Japanese cuisine. Bloomsbury Street Kitchen, situated in the luxurious Radisson Bleu Hotel, is like an oasis in the middle of the bustling streets of London's theatre district. Their refreshing approach to fine-dining has earned them a respectable 8.8 from TheFork's community, and we predict that will climb as more people discover this gem.
Starters here take the best elements of these two cuisines and clash them together in an inimitable style. Try the Zucchini and Eggplant Chips, that are satisfyingly crunchy with a tangy Kimchi dip, or the Seared Beef Tataki with rich truffle ponzu. Expect to see some showmanship if you order the Bincho Grill, a Chilli-and-lemon-roasted baby chicken that arrives atop a Japanese box containing hot coals that cook the dish to perfection. Discerning diners can opt for The Kitchen Table experience, a full journey through the Japanese or Mediterranean side of this food fusion and yours for only £75.
BOOK Bloomsbury Street Kitchen, Bloomsbury Street
Hudson's House is a welcoming Bar and Restaurant that serves great gastronomic grub alongside a fully-stocked drinks list. With a menu of classic British and modern European fare, chef Michael O'Neil specialises in delivering delicious dishes using only the finest seasonal produce. This formula has proven popular, earning him and his team a competitive 8.8 from patrons on TheFork.
Hudson's House opens at 4PM throughout the week and on Sundays, and Midday on weekends, and serves up sizzling hot food until a late close of 2AM on weekends. There's a dish to suit your needs, any time of day. From starters of tomato Bruschetta, Courgette Fritta with Greek dip, Calamari and Chicken Liver Pate, every dish is served with pride and passion. For something rich and hearty, go for a succulent steak from the hot grill, in 8oz Sirloin and Rib Eye cuts. The signature Hudson's Burger comes topped with crispy bacon, cheese and an in-house battered onion ring, and is served on a brioche bun with classic relish and fries.
BOOK Hudson House, Bedford Ave
On Endell Street, in London's theatre district, is a well-loved gem of a restaurant that brings the flavours and flair of Moroccan cuisine to London's lucky diners. Bab Mansour serves authentic regional cuisine in the traditional style, and it is an experience that you can't miss if you're seeking some theatre of your own at dinner.
Sensational starters are sure to delight, from the Zaalouk aubergine marinated in charmoula, to White Beans stewed in Moroccan spices with warm bread, to the signature Salad Bab Mansour of beetroot marinated with onion, coriander and olive oil. The Lentils are cooked with Moroccan spices in fresh tomato sauce and arrive with bread to dip. The main event at Bab Mansour is undoubtedly the authentic Moroccan Tajines. Hot clay-pots containing delicious rich braised meat, fish lentils and spices. Try the Chicken with spiced olives and lemon, the Lamb with spiced prunes, Beef Kafte in tomato sauce or the seasonal vegetables.
Naroon, Great Titchfield Street
Contemporary Persian cuisine draws a crowd at this modern restaurant in London's Theatre District. Naroon, on Great Titchfield Street, is a great choice if looking for some fine-dining to complement your day out to The Dominion Theatre. With a hard-earned rating on TheFork of 9.3, this flavourful experience is not to be missed!
The drama begins with the starters; homemade Sangak bread to dip into the House Hummus and homemade yoghurt with finely grated cucumber and dried mint, and a Soup of The Day that rotates through fresh seasonal ingredients. Entrées of Minced Lamb shoulder and onion, and Chicken and Salmon marinated in Saffron are served with freshly picked tomato from the grill, and piles of decadent Saffron Rice.
BOOK Naroon, Great Titchfield Street
Fitzroy Wine Cellar & Kitchen, Cleveland Street
One of the best bites to eat on your trip to London's The Dominion Theatre comes from the mind of Chef Sylvain Pradella, man in charge at the Fitzroy Wine Cellar & Kitchen, on Cleveland Street. Specialising in fantastic Italian small plates and sharing platters, this friendly team will have you and your party well looked after, scoring a strong 9 from TheFork's community.
With so many fantastic plates on this extensive menu, you are fortunate to be able to get a lot for your money. Choose a handful to try from Olive Marinate to the Cestino Pane Misto, to puffy Gnocco Fritto bread, or Burrata served with traditional sicilian aubergine caponata. Bruschetta come with anchovy and Burrata, Funghi and Truffle, and the classic variety. The Pancetta di Maiale Croccante are crispy pork belly bites served with tomato chutney dip, or opt for something more fresh with the Caprese di Bufala mozzarella with tomato and basil salad. Hearty pasta dishes make for a sumptuous main course, from the Lasagne al Pesto with Goat's Cheese and Basil, or battered Calamari and Prawns "fritto misto" style.