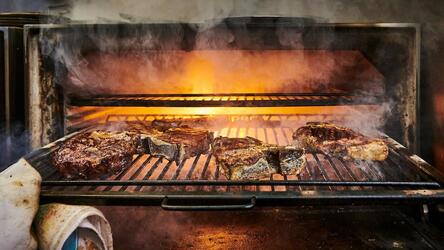 Selection of the best steaks in London
Cows of dreams
It's the one dish you're almost certain to find on restaurant menus regardless of the season, and whether you live on the edge with a blue fillet or play it safe with a medium-well sirloin, a juicy steak is a failsafe choice when eating out in London. The fact we hold these humble slabs so close to our hearts means we're a discerning bunch, and only the most pampered cows and meticulously hung, aged and prepared steaks will do. Whether it's lathered with sauce and a side of fries or served straight up, check out some of our favourite steaks in London for dining that's a cut above the competition.
Hawksmoor BOOK HAWKSMOOR
Hawksmoor
Whispers of 'best steak in London' have been bandied about ever since Hawksmoor opened the doors of its flagship Spitalfields restaurant in 2007. A worldwide search for the finest meat for their menu led owners Will Beckett and Huw Gott to the conclusion that British was best, and a home-grown menu features cherry-picked porterhouses, chateaubriands and t-bones, all bought by weight and ideal for sharing… or likewise consuming entirely. Pimp your meat with sides like fried eggs, bone marrow, or garlic butter-doused lobster, and wash it all down with quirky signature cocktails, with the list described as a 'purist's delight' by The Times newspaper.
New Street Grill BOOK NEW STREET GRILL
New Street Grill
New Street Grill is a plush, sultry spot just a stone's throw from Liverpool Street Station. Set within a lovingly-restored 18th-century warehouse that formerly housed the East India Company, this history-bursting site is now decked out in aubergine leather, spruced-up parquet flooring and imposing glass wine vaults (that hold over 350 bottles). The menu is vast, with a famed josper grill section serving up faves like Heron's Farm beef fillet (in various weights), chateaubriand or Black Angus New York strip. A walled courtyard area complete with canopy shelter and toasty fleecy blankets means guests can dine al fresco even when there's a chill in the air.
Heliot Steakhouse at Hippodrome Casino BOOK HELIOT STEAKHOUSE
Heliot Steakhouse
Place your bets! The flagship restaurant of the ultra-glam Hippodrome Casino in Leicester Square is a beefy haven overlooking the Vegas-style bustle of the gaming floor. Steak is serious biz at Heliot: USDA Prime  cuts are sourced from across the pond, and with less than 2% of US beef making the grade, you're sure to be feasting on a rare breed. Cocktails are similarly tempting: sip them during a break from the exhilarating gaming tables.
Goodman BOOK GOODMAN, CANARY WHARF
Cooking steak is something of an art form at Goodman restaurants in London. Meats are sourced from as far and wide as Nebraska and Italy, dry-aged on site in a temperature-controlled, dehumidified lair, and cooked in a charcoal oven permanently maintained at 375-400 degrees. Ever sticklers for the finest produce available, Goodman also scout out their wine list from 30 different suppliers.
Gaucho various locations BOOK GAUCHO RESTAURANTS
The Gaucho first opened in London in 1994,with a vision of bringing the world's best steak to London. And they've certainly made waves on the London restaurant scene with their Argentinian-influenced menus. Think Argentinian meat cuts from cattle that graze exclusively on the lush Pampas, with sirloin, rump, fillet and rib eye cut to masterful precision and served a variety of ways.
M Victoria Street BOOK M VICTORIA STREET
Part of the Gaucho family, and from renowned chef Mike Reid, M Restaurants certainly know a thing or 2 about cooking steak. Home to striking Himalayan salt chambers for ageing meat, M Victoria serves up a selection of cuts from around the world – from Australian wagyu to Botswanan hanger via American T-bone.
STK London BOOK STK LONDON
A pulsating NYC-style steakhouse in the heart of the West End, STK London is a hive of glamour, with a perpetually clubby vibe felt regardless of the day of the week. The brainchild of acclaimed New York designers, Foster + Partners, the dining room features violet lighting, white leather and ethereal flower arrangements, and bass-heavy background music. Sourced from a cherry-picked fleet of British farmers, prime steak cuts fall into Small, Medium and Large categories, while a 'speciality' selection includes a much-lauded 'Wagyu' range.
JW Steakhouse BOOK JW STEAKHOUSE
Smack bang in the heart of well-heeled Mayfair, JW Steakhouse prides itself on offering some of the best available beef on Earth: namely dry-aged USDA cuts. Boasting an encyclopedia of meat cuts and complementing wines, the JW menu features failsafes like rib eye and porterhouse, as well as the lesser-known Kansas City strip, and the signature tomahawk: served in dramatic style with the huge rib bone. An on-site bourbon bar takes JW from distinguished, to fully-fledged gentleman's-club sleek.