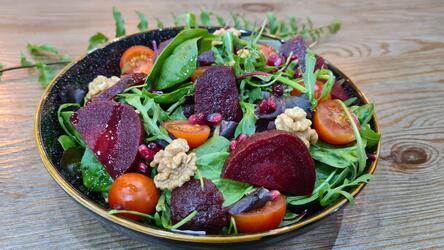 A Selection of the best Thai Restaurants in London & the U.K.
Torthai in London's Chiswick considers itself the original Thai bistro, and they've been serving up delicious food in the West London borough since 1994. Delicious dishes like the Panang beef and garlic and pepper chicken give a hit of fragrance, and there are Thai curries, in delicious varieties of red and green. Combining imported exotic spices and condiments from Thailand with the freshest locally sourced British ingredients, you can enjoy elevated cuisine at Torthai, now available as part of TheFork festival.
Asiatique Thai Restaurant in East Sheen is inspired by the iconic open air markets of Bangkok, and brings that spirit to the streets of South West London. Passionate about the flavours of their homeland, the team of expert Thai chefs bring a faithfully authentic menu to their lucky diners. Now that they're taking part in TheFork festival, you can explore this fragrant feast of a menu for less. Enjoy Tom Yum soup or kanom jeeb dumplings, before moving onto delicious aromatic duck and chu chi spare ribs. Lovers of Thai curry can try delicious variants with duck, lamb or seafood.
Pandan Leaf is named after the ingredient that's native to Thailand, a magical herb that has ancient healing properties and a pleasant taste that lies somewhere between vanilla and coconut. It is no surprise then that this sweet restaurant in Crouch End names itself after the leafy delicacy. With a downsized menu to match the cute little spot, the focus here is all about freshness. Mains are kept classic, like the chicken in peanut sauce, and the delicious pla sam rod sea bass. The red curry can be enjoyed over either duck or prawn, and comes with fresh bamboo shoots and leaves of lime and basil.
This cute little cafe brings delicious Thai food to West London's Latimer Road. With a warm and cosy interior of flowers, lampshades and cushioned benches, the neighbourhood spot is a perfect place to while away an hour or two over lunch or dinner with friends. Head chef Kay serves up faithful Thai street-food for starters, like wings in thai sauce, thai calamari, tom yung goong and, of course, satay chicken. Mains are kept refreshingly light, with a delicious Pad Thai and salads, with vegetarian options available. If you find yourself in the leafy suburbs of West London, a trip to Imm is well worth it, now part of TheFork festival.
Covent Garden in central London is blessed with this cool and casual little Thai spot that serves authentic regional cuisine. From hearty soups like the gang jerd gai chicken broth to delicious grilled meat dishes like the moo ping pork in coriander and chili sauce, or the goong paou prawn with lime juice. Lovers of healthy eating will be pleased to find a tempting list of salad dishes to try. The yam pla mueg is a squid salad bursting with citrus flavour. For vegetarians, the Som Tum Salad is a perfect pairing of papaya with peanuts, long beans, garlic tomato and carrot. Get acquainted with this refreshing menu for less, now proudly part of TheFork festival.
Thai Square Minories, Tower Bridge
The next place on our list is the extravagant Thai Square Minories near London's Tower Bridge, with an ornately decorated interior that will transport you to the tropics. In these luxurious surroundings, expect traditional Thai cuisine, elevated. With high-end dining come high-end prices, but this menu is yours to enjoy with 50% off during The Fork festival. Make the most of sumptuous sharing plates to start, like the aromatic duck, or a platter of chicken satay, prawn toast, dumplings, butterfly prawns and spring rolls. Specials include fried tilapia fish with garlic and chiang mai noodles in red curry. Or, keep things light with a tom kha gai chicken soup or a yum nua beef salad.
BOOK Thai Square Minories, Tower Bridge
Sticky Mango in Waterloo is named after the special treat they proudly serve here; a cool mango sorbet served over black rice with coconut cream. The restaurant itself is much like the dessert - chilled, refreshing, and with a hint of decadence. Sit down on high leather-backed chairs as you tuck into a decadent selection of dishes. Authentic Thai flavours are blended into fun servings like the Mamak BBQ Chicken and the spicy Thai slaw salad. Vegetarian diners aren't left out either, with delicious meat free treats like steamed bok choi with miso butter, hot tenderstem from the wok, and the delightful truffle egg fried rice.
The next spot on our list takes us to Lancaster Gate in West London, where the team at Nipa Thai serve up a unique menu of delicious and creative cuisine. Situated just off the famous Hyde Park, this opulent spot is the perfect stop-off after a stroll around the Serpentine Lake. The appetisers here are definitely worth experiencing, with rotating specials from head chef Sanguan Parr available on sharing platters for two or three. The kao krieb pak moh are a wrap of steamed rice, with chicken, peanuts and shallots. Lighter eaters can enjoy refreshing soups and salads. The classic Thai curries come hearty and heavy, and the list of crispy pan fried dishes could keep you coming back time after time. You can make the most of the menu at Nipa Thai for less during TheFork food festival.
BOOK Nipa Thai, Lancaster Gate
This beautifully decorated and immersive dining room near London's Trafalgar Square is worth a visit for any lover of fine Thai dining. An imposing and dramatically lit building, enter past the buddhist statues to find your seat under a calming canopy of tropical flowers. After a day out at London's best attractions, this wonderfully themed Thai restaurant will make your supper one to remember. The starters here are a fun introduction to the cuisine, with Thai street-food favorites served by the platter. Spring rolls and satay chicken, prawn toast dim sum and are great to share around, as is the crispy and aromatic roast duck. The house specials menu offers a selection of the finest Thai curries you can find, like ped palo duck and their royal green curry.
This next Thai fan-favorite is Kinkao Thai in Island Gardens, near London's Canary Wharf. Here you can enjoy riverside dining Thai-style, in the comfort of beautifully carved wooden chairs. With lauded service and an equally celebrated cocktail list, this cool Thai spot is a must-stop next time you're doing business in the wharf. Starters are familiar flavourful hits like the vegetable tempura, calamari, and kanom jeeb dumplings. Main courses are kept focussed on the classics, with a choice of sea bass, pad khing or thai green curry. The real gem here might just be the desserts. Thai pancakes are delightful, and even better when shared with freshly fried banana fritters and home-made ice cream. Book your trip to Kinkai Thai now, at TheFork festival of food.
BOOK Kinkao Thai, Island Gardens
Last on our list to Thai Orchid, who have been confidently delivering quality cuisine to Swindon's residents, thanks to the vision of head chef Mana. Serving honest dishes in an welcoming space decked modestly in traditional Thai paintings and murals, the team and the food here has become a neighbourhood point of pride. It's hard not to fill up on starters, with such delights as the prawn tempura and crispy duck envelopes with fresh cabbage, celery, spring onion and coriander, wrapped in heavenly light filo pastry and fried to perfection. For mains, the lamb massaman curry is served decadently with peanut and potato and boiled richly in coconut milk. The coconut and herb soup is a wonderfully fresh vegetarian dish, of lime leaves, lemongrass, mushrooms and chili. Treat yourself to a dessert to finish like coconut supreme, mocha coffee ice cream, and thiy khas tar custard. With 50% off all through TheFork festival, why not?