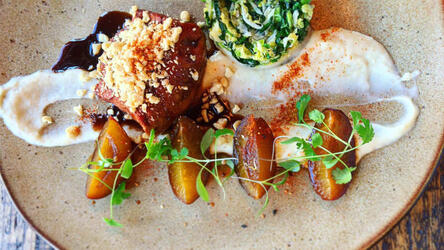 A Selection Of The Best Vegan and Vegetarian Restaurants in the UK
This light and airy dining room is a serene spot to sit amid the bustle of the London borough of Clapham. Serving modern European fare and brunch-spot favorites, this trendy eatery is well suited for group hangouts as it is for intimate evening escapes. Beautiful reclaimed leather seats recline amidst arrangements of tropical plants, like an oasis of calm in a popular part of town. The vegetarian options on the menu alone make 33 Abbeville Road worth visiting. Fresh burrata salad to start goes great with the wild garlic pesto linguine. The aubergine moussaka with goats cheese is served on a delicious bed of asparagus and heritage tomato salad. If you're nursing a hangover from the night before, try the vegetarian breakfast, a delicious take on the full-english that comes with delicious wilted spinach, wild picked mushroom and home-made baked beans.
BOOK 33 Abbeville Road, Clapham
This fun and endearing restaurant in London's Earl's Court is a true specialist in all things vegetarian and vegan, with not a meat dish to be found on the menu. Instead, expect fantastically fresh and colourful combinations of ingredients that coalesce to form tantalising dishes, from the mind of head chef Ahmad Elsaadi. Salads such as the Waldorf, or the rocket with red onion pair nicely with delicious meze-style dips like the beetroots and baby spinach or the fattouch. Lovers of hummus will be pleased to know that Jimmy serves it several ways - from spiced to pistachio blends - each more fluffy and moreish than the last. Main courses move into new culinary territory, with organic tofu cooked in beautiful sticky sauces of teriyaki and biryani
Terre a Terre, Brighton is a stylish and inviting restaurant in the South East seaside town of Brighton is a specialist in fusing Japanese and Chinese inspired dishes with a dash of South American heat. With a loud interior of burgundy, expect vibrant, maximalist flavours as you explore their proudly all-vegetarian menu. Tuck into their starters and you'll see why they've opted to pair these distant culinary cultures - the wasabi crusted cashews, for example, sizzle in the mouth delightfully over drinks, while Tamari seeds provide another moreish bar snack. The lavash bread served with aubergine zhuganoush and sprinkled with dukkah is a levantine dream. Many plates come tapas-style, and are perfect to be shared in small groups, like the cute puttanesca polenta plumps, and the Korean-style fried cauliflower.
Lovers of barbecue and smokehouse flavours will be pleased to know that Stoked is a specialist vegan restaurant in Westcliff-on-Sea has got it all on the menu. Name for the delicious smoked finish it gets on its delicious vegetarian dishes; all variants of classics that are usually reserved for the meat lovers among us. Gorge with a partner on a satisfyingly beefy brisket, made to taste meatily authentic out of seitan, a miracle of plant-based protein. For a lighter lunchtime bite, try one of the burgers, the plant-based chicken tastes as good as the original paired with candied jalapenos and coleslaw, while the bean patty beef burger towers supreme with its onion, iceberg, pickles and slice of cheese. Burgers are served with fluffy brioche buns and french fries, making this the truest all-vegetarian diner experience.
Mugs & Momos, Cardiff
Our final destination takes us even further afield in the culinary world. This specialist in authentic Tibetan cuisine, from the mountainous region near China, calls Cardiff, the cool and upcoming Welsh capital, its home. Most of the locals have taken every opportunity they can to enjoy the exotic and authentic vegetarian fare that comes out of the kitchen daily. One thing visitors often remark on is how great value a meal out at Mugs & Momos is. Modest prices shouldn't put one off, as excellence comes to the table with every order. Sharable starters of toasted teacake, flatbreads and twice cooked chips are perfect to soak up your drinks before moving onto a delicious range of vegan-friendly mains. The Buddha bowl is a godly mixture of greens sure to salivate lovers of freshness, while the humble lentil daal makes for a warm and filling main that's easy on the waistline and the wallet. Don't miss their inventive vegan reinventions of American classics like their hot dog and their 'Monster' burger - for a Tibetan's take on McDonalds.