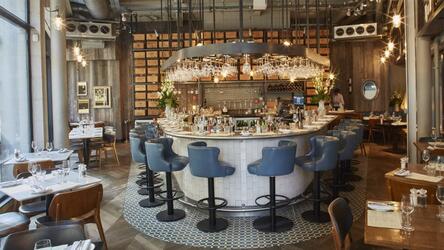 A Selection of Restaurants accepting YUMS in London
Michelin-starred Wild Honey restaurant in London's St James' can be relied on to deliver fancy and flair with its award-winning French cuisine. Elegant while staying informal enough to feel relaxed, it's no challenge to see why this restaurant has received consistently glowing reviews from a slew of satisfied customers. Eating here is a journey, and every dish here contains a new fact or flavour to learn. Finocchiona to start is a traditional Tuscan salami served with fennel seeds and pollen. The Coppa is a smoked meat with cinnamon, coriander, juniper and nutmeg. Vegetarians should look out for the calcot onions with romesco and the robata grilled beetroot.
Wandle Pirates steakhouse in Colliers Wood is a well-kept bit of local knowledge in this South West London neighbourhood, as the glowing reviews will tell you. Sitting in the shadow of the local Merton Abbey, this suburban steak specialist can be sampled for less now using those tasty YUMs points you've been saving up. Chef Marilu brings a South American flair to proceedings in the kitchen, and imbues each dish with Argentine steakhouse heritage, from the sirloin to the boneless prime rib. New to the menu is a seafood fiesta, a cornucopia that includes lobster, crab, langoustines, prawns, squid and more, an extravagant dish that must be ordered a week in advance.
BOOK Wandle Pirates, Colliers Wood
To SAGARDI next, an inventive restaurant showing off unique cuisine from the Basque region; spanning Northern Spain and Southwestern France. With a delicious menu of delicacies and a wine list to boast about, you can sample the sophisticated regional cuisine of the city San Sebastian for less, using your YUMS. Basque cooking uses hot coals to cook meat and fish, and is known for its delicious hearty lamb stews and tolosa bean dishes. Try these flavours in the Iberian ham croquettes, traditional txistorra basque sausage and the grilled morcilla black pudding when you start. For mains, try Basque-region classics like cod with biscay sauce or the octopus with seasonal vegetables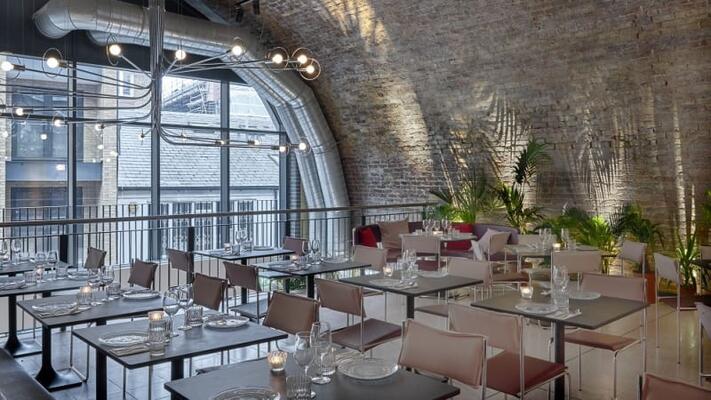 Bala Baya is an adventurous restaurant showcasing the finest cuisine from Tel Aviv in the Levant region. Set under the old railway arches of south Central London, this hip Middle-Eastern eatery is the perfect place to explore something new with friends or family. Head chef Eran runs the kitchen here with passion and pizzaz, and the menu he's curated is like a tasting trip around the region. Small plates of labneh, hummus and roasted aubergine ease you in, before more substantial offerings like the sea bass with fennel and the Tunisian tartar. An interesting fusion to try is the lamb kebab dumplings with a date jus.
Wok n Roll is a fun Thai restaurant based in Camden, and it is named after the heritage of rock and roll music that the London borough has historically been home to. With a casual vibe and accessible price points, you can sample some classic Thai street-style food for a little bite of Bangkok during your day out on the lock. Scrumptious sharing starters like the chicken satay, prawn crackers, crispy fried calamari and of course, spring rolls, ease you in with each satisfying bite. Traditional mains of pad thai and pad kee mao give an authentic taste of regional recipes and fragrances.
28-50 Wine Workshop & Kitchen, Marylebone
Chef Julien Baris at 28-50 Wine Workshop & Kitchen and his kitchen team are well worth writing about for their rotation of head-turning dishes and their immersive wine workshop and kitchen. With a staff renowned for being helpful, imaginative dishes and an atmosphere that's been described as cute but buzzy, spend your YUMS wisely at 28-50. Socialising is in mind at this hip eatery, with an impressive range of small bites and sharing platters to graze on during hang-outs with friends. Nocerella olives and chorizo provide a Mediterranean hit, while seafood platters and charcuterie and cheese boards provide ample conversation pieces. Vegan and vegetarian diners might just rejoice at the Jerusalem Artichoke soup.
BOOK 28-50 Wine Workshop & Kitchen, Marylebone
This beautiful Belgravia restaurant serves up delicacies from the southern Italian region of Sicily, that bring a taste of sun and sea to the London borough. Sicily da Scalzo is a perfect place to introduce yourself to London's Mediterranean food scene after stepping off the coach at the historic Victoria station, chef Milko's special menu is a real trip. Start with herbaceous focaccia bread with garlic and freshly picked rosemary as you select from a delightful range of meat, pasta and rice arancini. Those looking for a lighter bite will be pleased to peruse the fine selection of salads, from the classic caprese side to traditional Greek and Sicilian salad combinations.
BOOK Sicily da Scalzo, Belgravia
Come and enjoy Indian fine-dining from world-renowned chef Atul Kochhar, who brings a vision and passion like no other to his location near Central London's Carnaby Street. With it's wonderfully light and airily designed dining space, you can taste some of the famous creations that make up Atul's majestic menu at Kanishka. Now this fantastic menu is yours to explore in exchange for your YUMS points. Try decadent starters of octopus with black-eyed beans and a crispy fried crab salad with peanut. The vegetarian main of baby cauliflower head with beignets in an almond korma is heavenly, and the pescatarian offerings feel adequately rare and regional, like the pan-seared seafood in Keralan sauce, or grilled monkfish in coconut curry.
BOOK Kanishka Restaurant, Mayfair
Da Franco Restaurant, Friern Barnet
Da Franco is a well-loved neighbourhood Italian bistro and home to a tempting range of meat, fish, veal and vegetarian dishes that make it well worth the journey to London's North. Now taking part in a promotion with TheFork, you can enjoy their hearty European cuisine for less by redeeming your hard earned YUMS points. This is a very welcome deal, considering the quality of the food on offer. Starters such as the calamari fritti and the goat's cheese caprino give an authentic taste of the Mediterranean region. Main courses represent classic bistro fare; with favorites like the pollo da Franco and branzino al forno sea bass.
The last restaurant on our list is an unlikely mecca to visitors to the attractions of Central London. The Hard Rock Cafe Oxford Street has been a London institution since the 1970s and carries that same spirit today. With a space-age circular interior with a round bar in the middle serving drinks soft and hard, this is a fun stopover on your day in the city. The menu is a fun and social affair, and now yours for less with YUMS. Try out sharing platters aplenty, such as the jumbo combo of chicken tenders, wings and onion rings served with a healthy bruschetta and selection of dips, or the classic nacho bowl. The steak burgers here are legendary, so much that they are now a registered trademark. Served on brioche buns and with double helpings of cheese optional, you won't leave the Hard Rock Cafe hungry.
BOOK Hard Rock Cafe, Oxford Street