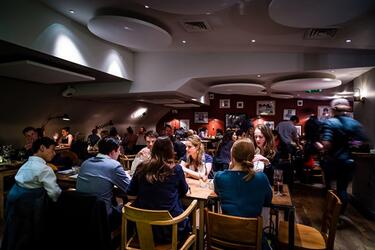 The 10 Best Restaurants near Gielgud Theatre
Immerse yourself in a sell-out show at the buzzing Gielgud Theatre on Shaftesbury Avenue, and follow up it with a sumptuous 3-course meal at a fine dining restaurant, or a quick snack before the curtain-raiser. Diversity and energy are the hallmarks of a typical time out at the West End. So indulge in a range of local and international dishes spanning from steaks and burgers to pasta, sushi and sake. Experience a fascinating range of plays, performing arts, music and food – a perfect recipe for an evening full of spectacle.Founded in 1906, the Gielgud Theatre was originally designed in Louis XVI style and seated close to 900 odd guests. Extensive refurbishment in the 80s ensured a redesign on the auditorium's gold leaf work in addition to the oval gallery and the elegant regency staircase. West End loves to entertain, and with an array of delicious food choices, theatre diners are truly spoilt for choice. Check out the list of exciting places to eat and discover it for yourself.
1.

Mele e Pere

 
Italian, 240m from Gielgud Theatre (3 min walk)
A pleasant buzz of diners enjoying an Italian meal and drink at Mele e Pere in Soho is a heartening sight. The daily-changing menu showcases the best of British produce and from the pre-theatre carte try the finocchiona salame with gnocchi fritti, and rabbit legs alla cacciatore. Wooden fittings and exposed stone walls create a stylishly rustic setting.
2.  
British, 150m from Gielgud Theatre (2 min walk)
A relaxing oasis for theatre diners in Soho, the  exudes a contemporary style. The menu showcases a passion for creative British food and the restaurant welcomes guests to tuck into a cheeseboard, dessert or a post-show nightcap. A setting of earthy tones and contemporary lighting is warm and welcoming.
3. MASH 
Steaks & Grills, 300m from Gielgud Theatre (4 min walk)
Housed in one of Regent Street's elegant art deco building, MASH brings an authentic American steakhouse experience with a whiff of Danish elements. The lively, open-plan setting filled with booth seats and ambient lighting create a pleasant setting for theatre diners who would like to embark on a fun-filled, theatrical culinary journey.
Japanese, 150m from Gielgud Theatre (2 min walk)
Perched in Central London, Shoryu Soho is a premier Japanese restaurant renowned for their sake, umeshu and shochu. Watch the chefs in action at the open kitchen before choosing from a selection of ramen noodles, jumbo yakitori skewers, sushi or sashimi. The drinks menu is brimming with inventive Japanese cocktails such as coconut fuyu and tiki passion.
5. Ma Plucker Soho 
American, 350m from Gielgud Theatre (4 min walk)
A thrilling fried chicken shop experience awaits diners at Ma Plucker Soho. The wood panelled interior with bench-style seating and soft lighting creates a delightful setting to enjoy feathered delights. Tuck into a hickory-spiced pulled slow and low version or a juicy buttermilk dipped chicken wrap.
6. XU 
Taiwanese, 65m from Gielgud Theatre (1 min walk)
Bringing Taiwanese cuisine to diners in Theatreland, XU presents an exquisite, theatrical setting with rich wooden panels and hand-painted murals. Kick back with dishes like cuttlefish toast, beef pancake, cast iron black pepper beef and steamed brown sugar sponge cake.
7. Babaji Pide 
Turkish, 80m from Gielgud Theatre (1 min walk)
Enjoy a Turkish pizza at Babaji Pide topped with beef, ground lamb or sausages, lashed with butter. Aromas of freshly baked pizzas, straight off the pizza oven, entice pre-theatre diners while grilled dishes such as oven braised lamb stew and rice, and char-grilled whole sea bream are perfect for hearty eaters.
8. Yauatcha 
Chinese, 300m from Gielgud Theatre (4 min walk)
Yauatcha sees theatre diners delve into exquisite Chinese cuisine while watching the chefs in action in the open kitchen. Feast on tantalising plates of dim sum, jasmine tea smoked ribs or pecan coffee delice as you unwind in the trendy interior done up with subtle lighting.
9. Bubba Gump Shrimp Company 
Fish & Seafood, 140m from Gielgud Theatre (2 min walk)
Housed in the time-honoured 'Trocadero' building, Bubba Gump Shrimp Company is the perfect haven for shrimp aficionados. Pre-theatre diners are served a menu filled with seafood hush pups, accidental chicken or mama's blue southern fried chicken.
10. The Rainforest Cafe 
World Fusion, 100m from Gielgud Theatre (2 min walk)
Celebrate the spirit of the Amazon rainforest at The Rainforest Café in Soho. Waterfalls, the occasional thunderstorm and tropical showers make this as close as it can get to a real forest. Choices on the menu are all-American with international touches as evident in the rack of ribs and steak burgers.