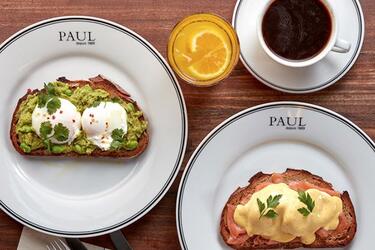 The 10 Best Restaurants near the Adelphi Theatre
Set right on the bustling Strand in London's West End, The Adelphi Theatre is a stunning venue specialising in comedy and musical theatre. Moments from Covent Garden and Trafalgar Square, there is a great selection of places to eat near the Adelphi Theatre.
From elegant London afternoon teas to exotic fusion cuisine, check out our roundup of the best restaurants near The Adelphi Theatre for that pre or post-theatre treat.
1. Le Restaurant de Paul 
French, 250m from the Adelphi Theatre (3 min walk)
A cafe, bakery and restaurant all rolled into one, Le Restaurant de Paul is filled with an unmistakable Parisian charm. Set just behind the beautiful St Paul's Church, this is an elegant setting to enjoy continental flavours all day, starting off with gourmet breakfasts and handmade pastries, through to pre-theatre menus of treats like moules marinière and duck confit.
Indian, 130m from the Adelphi Theatre (2 min walk)
Winner of a prestigious Michelin Bib Gourmand, Cinnamon Bazaar is a colourful, exotic hideaway for diners looking for something special close to The Adelphi Theatre. With pink silk awnings and flower baskets hanging from the ceilings, this is a stunning venue to relax and sample bold fusions of Eastern and Western flavours, including specialities like lamb rogan josh shepherd's pie. Be sure to try one of the signature cocktails too, like the Masala Coke Float made with masala ice cream.
3. Asia de Cuba
World Fusion, 450m from the Adelphi Theatre (5 min walk)
Featuring groundbreaking interior design paired with eclectic fusion dishes, Asia de Cuba is an acclaimed dining spot inside the the famous St Martin's Lane Hotel. Colourful Asian and Cuban recipes are creatively blended together in popular sharing menus, or enjoy signature ceviche and Havana-inspired rum cocktails up at the ceviche counter.
4. St. Luke's Kitchen
British, 400m from the Adelphi Theatre (5 min walk)
An intimate, imaginative venue inside the chic private members' club at Library, St Luke's Kitchen crafts a constantly updating selection of set menus and creative pop-ups based on recipes taken from various cookbooks. Settle down in the intimate candle-lit dining room for bold French and Italian flavours with dedicated wine pairings, with the entire experience featuring nods towards the design, literary and theatre worlds.
5. Rules
British, 120m from the Adelphi Theatre (1 min walk)
London's oldest restaurant, Rules dates all the way back to 1798, and has hosted famous figures like Charles Dickens and H.G. Wells. Filled with rich history and luxurious comfort, poet John Betjeman described it as 'unique and irreplaceable, and part of literary and theatrical London.' Enjoy wild game specialities of roast grouse and loin of venison, or sink back into the plush red seating in the upstairs cocktail bar to enjoy signature mixes and fine wines.
French, 350m from the Adelphi Theatre (4 min walk)
Frequented by theatre-goers and stage performers alike, Le Garrick brings a traditional slice of French dining to Covent Garden. With rustic brick walls and flickering candlelight, this is a beautifully intimate venue for pre-theatre dinners of time-honoured Gallic dishes, while the renowned wine cellar boasts celebrated vintages from all across France.
7. The Vaults at RSA House 
British, 130m from the Adelphi Theatre (2 min walk)
A stunning underground venue beside the River Thames, The Vaults at RSA House surrounds diners with 18th-century rustic brickwork while showcasing eclectic British menus that change fortnightly. Enjoy imaginative tastes of the UK, with dishes like wild spring nettle, celery and watercress risotto with bee pollen crisp, all just moments from The Adelphi Theatre.
8. Portrait Restaurant 
British, 400m from the Adelphi Theatre (6 min walk)
Boasting panoramic views of the London skyline, Portrait Restaurant is set 92-feet up on top of the National Portrait Gallery in Trafalgar Square. While looking out at Big Ben and other iconic landmarks, enjoy pre-theatre menus of bold European recipes and fine wines, or indulge in a traditional afternoon tea before a matinee performance at The Adelphi Theatre.
Japanese, 250m from the Adelphi Theatre 13 min walk)
Another celebrated fusion hotspot is Busaba Bangkok Thai. Right in the heart of Theatreland, enjoy beautifully presented sushi and sashimi alongside sizzling yakitori skewers, with colourful desserts like yuzu sorbets to finish. The extensive menu range is ideal for groups to share, while the intimately-lit interior is the perfect setting to enjoy post-theatre Japanese-inspired cocktails.
10. B Bakery 
Afternoon Tea, 190m from the Adelphi Theatre (2 min walk)
Styled like a chic French patisserie with all-white décor and lush climbing plants, B Bakery London is a whimsical spot to treat yourself to signature afternoon teas in Covent Garden. Beautiful hand-crafted cakes and pastries are served with fragrant teas from Betjeman & Barton and chilled flutes of champagne, or sample a selection of light continental bites like quiches and wood-fired pizzas for that perfect pre-theatre pitstop.