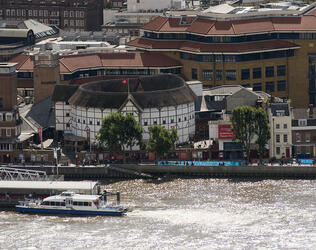 The 10 Best Restaurants Near The Globe Theatre
A stunning recreation of the legendary Elizabethan playhouse associated with William Shakespeare, The Globe is a London icon. Set on the banks of the Thames, there is a great selection of places to eat near The Globe Theatre, many with stunning river views.
Before heading to this world famous playhouse to see one of Shakespeare's great works in the open air, check out our pick of the best restaurants near The Globe.
1. Swan, Shakespeare's Globe 
British, 10m from The Globe Theatre (<1 min walk)
Attached to The Globe Theatre, Swan is a modern restaurant with stunning views out onto St Paul's Cathedral and the River Thames. Enjoy seasonal British dishes all day, with pre-theatre menus served before every performance at The Globe. Diners can also indulge in traditional afternoon teas, filled with handmade cakes and pastries, while the succulent Sunday roasts are a real crowd pleaser too.
2. Hawksmoor Borough
Steaks & Grills, 550m from The Globe Theatre (7 min walk)
Winner of widespread critical acclaim for its legendary steaks, Hawksmoor Borough is an effortlessly stylish restaurant inside a converted hops and fruit warehouse just beside Borough Market. As well as offering some of the best steaks in London, a selection of other gourmet British recipes are served alongside fine wines and signature cocktails. With its indulgent menu and intimate interior of dark woods and plush leather furnishings, Hawksmoor is perfect for theatre-goers looking to splash out before or after a performance at The Globe.

3. The Real Greek – Bankside 
Greek, 90m from The Globe Theatre (1 min walk)
A striking glass-fronted restaurant near The Globe, The Real Greek Bankside offers diners charming riverside views to go with the versatile menus of classic and modern Greek street food dishes. Hot and cold meze is ideal for theatre-goers looking for convivial group meals, while on Friday and Saturday evenings there are popular live Greek music performances.
4. OXBO Bankside 
British, 500m from The Globe Theatre (6 min walk)
Sporting eclectic William Morris-inspired interior design, OXBO Bankside is an effortlessly stylish neighbourhood eatery inside the Hilton London Bankside Hotel. Fresh produce from nearby Borough Market is used to craft modern British recipes with eclectic international tweaks, while the intimate Distillery Bar that was once a Victorian distillery itself is a great choice for a nightcap.
5. Union Street Café – Gordon Ramsay 
Italian, 700m from The Globe Theatre (9 min walk)
An edgy, modern opening from Gordon Ramsay, Union Street Café serves up rustic Italian recipes with a healthy dose of the celebrity chef's signature flair. Styled like a chic New York-style loft, this popular London eatery features a buzzing theatre-style kitchen, and also has a basement bar dotted with eclectic soft furnishings and bold modern art, making it a popular hangout for post-theatre drinks.
6. Northbank Restaurant 
British, 550m from The Globe Theatre (7 min walk)
Underneath the iconic Millennium Bridge, Northbank Restaurant serves modern British flavours with signature Cornish influences. The sleek bar offers silky Cornish ales alongside fashionable New York-style cocktails, while the private outdoor terrace boasts spectacular views of the Tate Modern and The Globe Theatre.
7. Tate Modern Restaurant 
British, 180m from The Globe Theatre (2 min walk)
Filled with stunning contemporary design, Tate Modern Restaurant at The Blavatnik Building pairs its modern international menu with panoramic views of the London skyline. Creative dishes on the menu use the best seasonal British produce, while the wine list features premium vintages sourced from the Tate's award-winning cellar. Set in a prime riverside location, diners can also enjoy a picturesque walk along the South Bank to The Globe Theatre after a meal here.
8. Menier Chocolate Factory 
European, 500m from The Globe Theatre (6 min walk)
Combining a theatre, restaurant and bar all under the roof of a converted former factory filled with edgy industrial style, Menier Chocolate Factory is a unique addition to London's theatre and dining scenes. From home-style classics like hot smoked Londoner sausages with mash, through to delicate Mediterranean pasta recipes, the menus offer up a versatile selection of recipes for every appetite. Be sure to save room for pudding, with decadent chocolate desserts paying homage to the venue's cocoa-based past.
9. El Vino Blackfriars 
Tapas, 1km from The Globe Theatre (12 min walk)
Boasting one of London's best wine lists, El Vino Blackfriars is a simple, classic setting to enjoy rare vintages alongside mouthwatering Spanish tapas. Spread over two floors, the interior features plenty of plush leather seating and antique knick knacks, while outside there is a grand terrace to enjoy relaxed drinks in the sunshine.
10. Boot and Flogger 
British, 650m from The Globe Theatre (8 min walk)
Opened as London's first proper wine bar back in 1964, Boot and Flogger is an intimate labyrinth of dining rooms and wood-panelled bars, serving a great selection of affordable and rare vintages. Sink back into Chesterfield armchairs and tuck into gourmet British recipes such as roasted Scottish salmon and succulent steaks from the grill, with classic home-style puddings like sweet and sticky treacle tart. With its rich history and intimate gentleman's club feel, Boot and Flogger is a timeless slice of London dining close to The Globe.