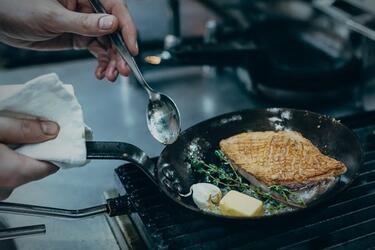 The 10 Best Restaurants near Theatre Royal Haymarket
Dating all the way back to 1720, The Theatre Royal Haymarket has a rich history of entertaining London with world-famous performances. Its location between Trafalgar Square and Piccadilly Circus means that there is a tremendous choice of award-winning restaurants just moments away too.From classical French recipes through to bold modern North Indian flavours, our pick of the best restaurants near The Theatre Royal Haymarket showcase the very best that the area has to offer for hungry theatregoers.
Nordic, 150m from Theatre Royal Haymarket (2 min walk)
With a Michelin star and a famed sister restaurant in New York preceding it, Aquavit London is a stunning Theatre Royal Haymarket restaurant, featuring spectacular interior design from Martin Brudnizki. High-end Nordic recipes bursting with creativity include duck with cauliflower, blackberries, hazelnut and liquorice, with signature Nordic-style afternoon teas also being a popular draw.
2. Ikoyi 
African, 200m from Theatre Royal Haymarket (3 min walk)
Bringing dynamic West African cuisine to London, Ikoyi is a chic place to eat near the Theatre Royal Haymarket. Eclectic dishes like monkfish with banga and citrus asaro are served with breathtaking presentation and attention to detail, while the dining space features traditional African design touches that are stylishly applied without feeling kitsch.
3. Villandry – St James's 
French, 160m from Theatre Royal Haymarket (2 min walk)
Inside a grand Edwardian building, Villandry St James's is a stunning French Mediterranean restaurant filled with elegant French style. Dine under the grand central skylight, with pre-theatre menus boasting dishes like duck confit, or move to the less formal Viennese-style café space with its irresistible cake counter.
4. Savini at Criterion
Italian, 270m from Theatre Royal Haymarket (4 min walk)
Recognised as one of the world's most spectacular restaurants, Criterion now hosts the Italian Savini restaurant from Milan, and has become a firm Theatreland favourite. The finest Italian cuisine is served, including pre and post-theatre menus, all to live piano music and a celebrated wine list served from the Iconic Long Bar. With opulent neo-Byzantine décor, including a golden ceiling and sparking chandeliers, Savini at Criterion is hailed by many as one of the best West End restaurants.
5. The Balcon 
French, 180m from Theatre Royal Haymarket (2 min walk)
Another example of pure dining splendour, The Balcon is a stunning grand brasserie with an elegant champagne balcony, and a beautifully crafted French menu filled with British influences. Traditional beef tartare is made at the table, there are sharing plates of Parisian pastries for dessert, while the elegant St James Bar showcases inventive cocktails like a Negroni made with popcorn-infused bourbon.
6.

Brumus
British, 80m from Theatre Royal Haymarket (1 min walk)
Ornate patterned walls, eclectic artwork and time-honoured British grandeur all combine to make Brumus a stunning place to eat near the Theatre Royal London. Inside the stylish Haymarket Hotel, diners can enjoy gourmet brunches through to pre and post-theatre menus, with afternoon teas served in the beautiful hotel conservatory all day.
7. Ten Room at Hotel Café Royal
British, 400m from Theatre Royal Haymarket (6 min walk)
An historic venue right on Regent Street, Ten Room at Hotel Café Royal is one of London's most famous dining rooms. Luxurious pre-theatre menus boast dishes such as Roast Kentish rump of Lamb with pomme mousseline and grelot onions, all served in a grand setting that's just a short stroll from London's Theatreland.
8. Farzi Cafe
Indian, 60m from Theatre Royal Haymarket (1 min walk)
Quirky and chic, Farzi Café London is a modern restaurant serving cutting edge, avant-garde Indian cuisine worthy of a Michelin Plate. Expect a wide range of small plates, roasts and grills, mains, biryanis and Farzified British classics, all served in sleek contemporary setting.
Steaks & Grills, 450m from Theatre Royal Haymarket (6 min walk)
Widely regarded as serving some of the best steaks in London, Hawksmoor Air Street is a stunning setting to enjoy seasonal British flavours in London's Theatreland. As well as award-winning steaks, there is fresh seafood direct from Brixham fish market, and a delightful speakeasy-style bar serving up creative cocktails, fine single malts, and a diverse wine list.
10.

Planet Hollywood London

 
International, 90m from Theatre Royal Haymarket (1 min walk)
Moments from the bustle of Piccadilly Circus, Planet Hollywood London is an iconic eatery that won the Bookatable award for Best Child-Friendly Restaurant in London. In a setting filled with movie memorabilia and theatrical fun, all kinds of home-style American dishes are served, along with gourmet international favourites and popular pre-theatre menus too.