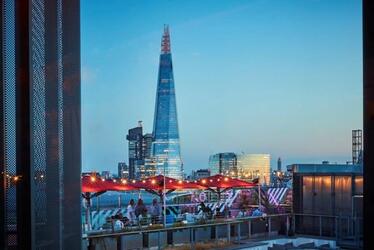 The 10 Best Rooftop Restaurants in London
The season of alfresco is upon us once more, and though we all enjoy basking on outdoor tables on cobbled backstreets, there's nothing quite like heading skywards for views, sunshine, and a blast of fresh air. From high-rise bohemian hangouts to elegant elevated gardens, check out our picks for rooftop imbibing in London.
1. Afternoon tea at Savage Garden
The City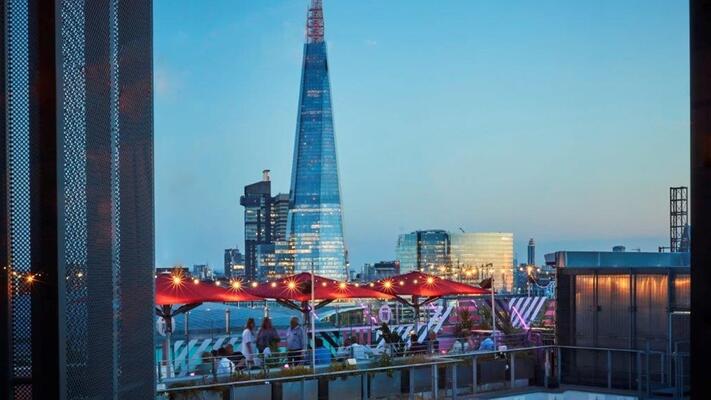 Savage Garden bar and restaurant boasts a rooftop location, with 360-degree views of the Tower of London, The Shard, The Gherkin and St Paul's Cathedral. Featuring the likes of smoked chicken tacos and sweet potato sliders, decadent afternoon tea is served against a backdrop of panoramic views and bold decor.
2. Aqua Kyoto
Regent Street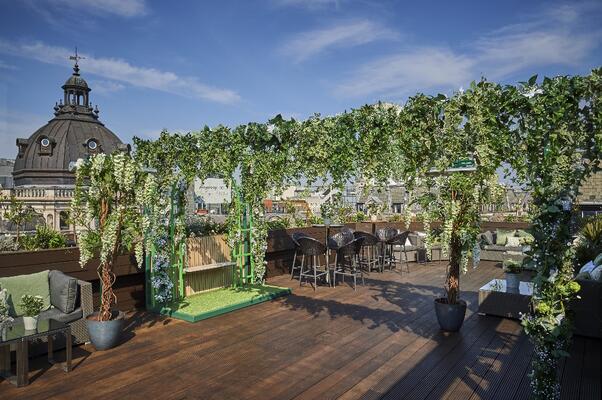 Atop the former Dickens & Jones building, Japanese restaurant aqua kyoto is the sister restaurant of the much-lauded Aqua Shard. Though it's slightly closer to the ground than its sibling, this spacious sun trap commands views over the shoppers' bustle of Regent Street. Indoors, celebrated chefs craft supremely fresh dishes bursting with colour and natural flavours: bask out on the terrace with a platter of expertly-rolled sushi, cleansing Japanese teas and exotic cocktails.
3. Coq d'Argent
St Paul's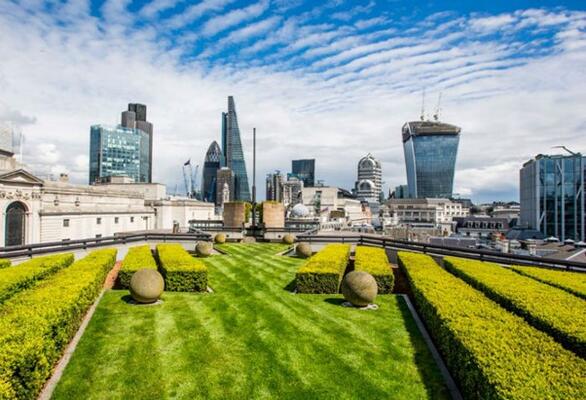 Coq d'Argent's lush preened lawn and manicured hedgerows are a stark contrast from the imposing angles and curves of The Shard, The Gherkin, and the car-melting 'Walkie Talkie' building that can be spotted from this fantastic London viewpoint. An oasis of calm above the bustle of St Paul's, enjoy flawless French menus served from breakfast through 'til late: meaning you can catch views of London in any light.
Smiths of Smithfield
Farringdon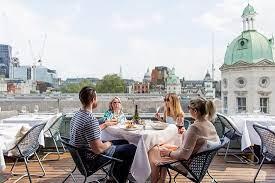 No 3 at Smiths of Smithfield
Paying homage to the finest available British meats, No 3 at Smiths of Smithfield sits next to London's only still-working meat market, Smithfield. The open-fronted dining room becomes fully exposed to the elements in warmer weather, meaning uninterrupted views all round…
5. OXO Tower Brasserie
South Bank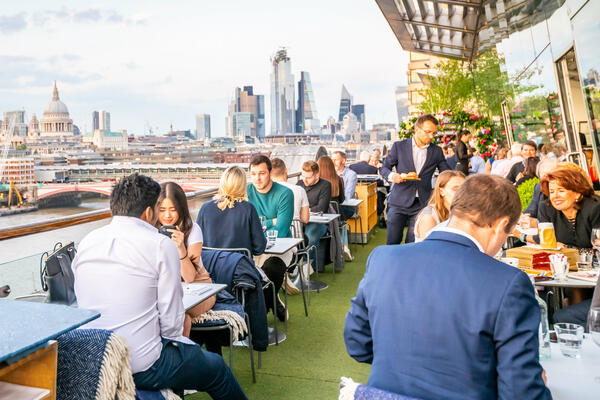 With its iconic beef stock logo an ever-present twinkle on the South Bank skyline, the OXO Tower is a London restaurant requiring no introduction. The glass-fronted dining room faces the Thames: a clean-cut cocoon for enjoying stunning panoramas, while the grassed terrace looks right down onto the South Bank. Luscious, fruit-filled cocktails are almost a foregone requirement here, and seasonal menus offer playful twists on tradition.
6. Madison
St Paul's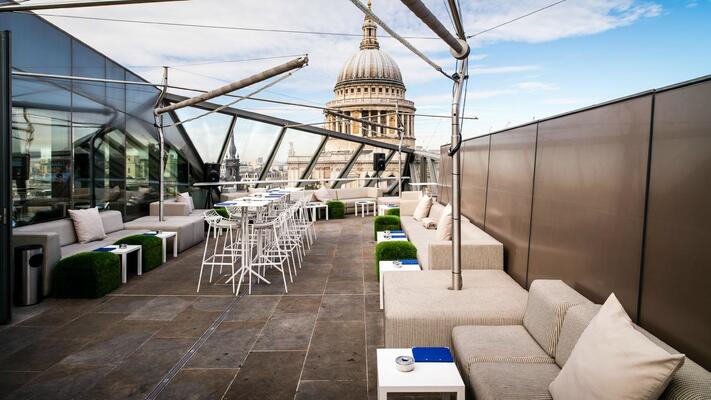 Another restaurant at the top of One New Change in St Paul's, Madison offers a modern British menu with the world-famous cathedral right in diners' eyelines. This Manhattan-style space keeps things on-trend with resident DJs and regular live music sessions: soak it all up out on the sought-after sun trap terrace.
7. Orrery 
Marylebone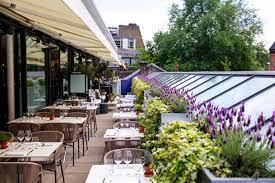 A perfectly poised dining spot from veteran restaurant group D&D, Orrery serves delicate French-themed dishes, as well as door wedge-thick cheeses from its famous fromage trolley. You could easily be in south-west France if you didn't know you were metres above Marylebone, with this tranquil spot lined with olive trees and fragrant lavender, and sheltered by a sunshine-yellow awning.
8. Lyric
Hammersmith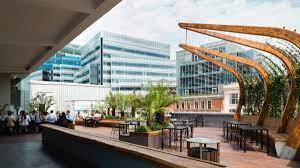 Set in leafy Hammersmith, Lyric takes its name from the famed West London theatre, serving a barbecue-style menu on its suntrap roof terrace. Whether for a pre-theatre feast or simply to soak up some rays, try street food favourites served with a refined flourish, like blackened sea bass with chilli pickle, or cumin-roasted cauliflower and pomegranate casserole. Though you'll be in W6, the vibe is very continental-rooftop, with tonnes of palm-filled troughs and minimalist furniture filling the space.
9. Sushisamba
Liverpool Street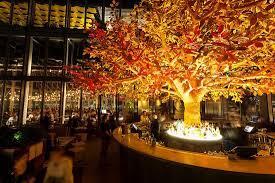 Famed for the Great Glass Elevator-style lift taken to get to its dizzying altitude, Sushisamba spans the 38th & 39th floors of the glittering Heron Tower. Serving up an eclectic mix of Japanese, Brazilian and Peruvian sushi, Sushisamba's interior is spectacular: an ethereal Magic Faraway-style tree twists upwards from the glowing island bar and arching bamboo curves across the ceiling. But, it's the terrace that Sushisamba has become famous for: it's one of London's highest, and the peak of The Gherkin feels as if it's within touching distance.
10. The Boundary 
Shoreditch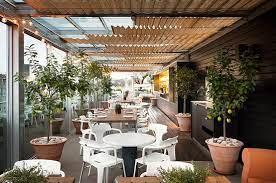 Proudly showcasing a vine-covered pergola, The Boundary is one of the few rooftop bars in London that's open for business whatever the weather. Horticulture is a big deal here, with herbs picked from the working kitchen garden, and grapes produced on those sprawling vines. Mediterranean-influenced food showcases clean, simple flavours, with guests able to enjoy views down onto the edgy east London bustle as they dine.