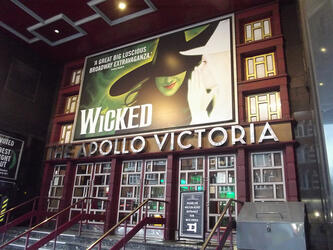 The 15 Best Restaurants near Apollo Victoria Theatre
Got the ticket, now just need to find some accompanying food and drink? We've rounded up our favourite restaurants near Apollo Victoria Theatre, with menus spanning from classic European to pond-crossing American. So whether you're after speedy express courses, or a slow-paced savouring of multiple dishes, we've got the perfect restaurant-ticket for visit to Victoria.
Recently revamped and located a stone's throw from Victoria Station, the Apollo Victoria Theatre is housed in a stunning Grade II-listed building. The venue is fit out in a 1920s-harking Art Deco style, with subdued lighting and majestic columns adding a sense of grandeur. Restaurants near the Apollo Victoria Theatre are as diverse as they are unique, so let's explore them below…
1. M Victoria
International, 300m from Apollo Victoria Theatre (4 min walk)
A James Bond-style hideaway, M Victoria is headed up by the former director of steak empire Gaucho, and head chef Mike Reid has appeared on the likes of Great British Menu, and MasterChef. One of the most unique places to eat near Apollo Victoria Theatre, M offers a split-down-the-middle concept, with the RAW bar offering nutritious sashimi and tartare creations, and the GRILL showcasing the most luxurious meat cuts from across the globe.
2. Hai Cenato
American, 220m from Apollo Victoria Theatre (3 min walk)
*NO LONGER WORKING WITH THE FORK*
3. Iberica Victoria
Spanish, 400m from Apollo Victoria Theatre (5 min walk)
Artisan Spanish dishes and a charming and buzzy tapas-bar interior draw pre and post-theatre diners to Iberica Victoria. Take a seat at this spacious 2-floor restaurant before choosing from a selection of cured meats, tapas, customised paellas and mixed grill of finest cuts of pork.
4. Boisdale of Belgravia
British, 600m from Apollo Victoria Theatre (8 min walk)
Perched on the edge of well-heeled Eaton Square, Boisdale of Belgravia is a cosy hideaway, perfect for pre-theatre dining near to Apollo Victoria Theatre. Decked out in the trademark Boisdale tartan, the dining room boasts a buzzy members club-style vibe, and there is a secret courtyard garden with a retractable roof, perfect for summertime dining. The Boisdale menu is predominantly Scottish, with juicy steaks and fresh seafood leading the menu.
5. Aster Restaurant
Scandinavian, 210m from Apollo Victoria Theatre (3 min walk)
Aster Restaurant is a local favourite showcasing exotic Nordic and French styles of cooking to bring out pleasant flavours. The pre-theatre menu features delights like slow-cooked partridge with tender Swede, pan-fried bream fillet with pickled fennel and Skyr parfait with quinoa and lemon meringue.
6. Bistro
International, 600m from Apollo Victoria Theatre (8 min walk)
Using local produce to offer an array of international favourites, Bistro sits a short walk from Buckingham Palace and St James's Park as well as Apollo Victoria Theatre. Served in a sophisticated dining room, favourites on the pre-theatre menu include chicken tikka masala, wild mushroom risotto and the deconstructed Black Forest gateau with chocolate sponge, cherry foam and cherry gel.
7. The English Grill
British, 400m from Apollo Victoria Theatre (5 min walk)
Neighbouring Buckingham Palace, The Rubens presents its flagship restaurant, The English Grill. This grand dining room specialises in tried and tested classics, from hearty breakfasts featuring all the failsafe items, to succulent Aberdeen Angus steaks, and there's an open kitchen so you can watch the chefs in action, too. This quintessential British restaurant offers a perfectly 'London' dining experience near the Apollo Victoria Theatre.
8. The Goring Dining Room
British, 450m from Apollo Victoria Theatre (6 min walk)
Awarded a Michelin star in 2015, The Goring Dining Room is the jewel in the crown of this Royal Warrant-holding hotel. This restaurant near Apollo Victoria Theatre would make for a suitably luxurious prelude to any performance, with dishes coming courtesy of acclaimed executive chef Shay Cooper. The pristine dining room is the work of designer David Linley, with Swarovski crystals offset by rich gold-hued upholstery.
9. bbar 
South African, 400m from Apollo Victoria Theatre (5 min walk)
A much-sought after London dining destination for cocktails and pre-theatre bites, bbar boasts an array of international menu choices. The interior draws inspiration from South Africa, adorned in mirrors, photographs and customised wall lamps. Enjoy a salad of bobotie spring rolls, parmesan crumbed chicken schnitzel and Bea Tollman's cheesecake and berry compote.
10. Mango Tree
Thai, 550m from Apollo Victoria Theatre (7 min walk)
Treat your tastebuds to exotic Thai cooking at the Mango Tree in Belgravia. The elegant dining space is decorated with warm glowing lights offset by dark wooden furnishings. Discover deep flavours in a hot and sour prawn salad or the signature weeping tiger or marinated wagyu beef steak.
11. Sicily da Scalzo
Italian, 750m from Apollo Victoria Theatre (9 min walk)
Sicily da Scalzo is a vibrant Italian restaurant spread over 2 floors and offers up to 4 dining spaces. Sicilian specials feature prominently on the pre-theatre express menu with dishes like beef meatballs, grilled marinated chicken breast and cheesecake with mixed berries. Soak up with sun while dining al fresco or head indoor and sip on a drink while listening to live jazz.
12. Café Rouge – Victoria
French, 400m from Apollo Victoria Theatre (6 min walk)
In a vibrant and casual setting at the Victoria Place Shopping Centre, Café Rouge invites theatre diners to a contemporary French culinary experience. Delve into a selection of steak frites, salads and main courses such as coq au vin, poulet Breton and pulled beef burger.
13. St. Georges Tavern
British Pub, 400m from Apollo Victoria Theatre (5 min walk)
Dine in cosy surrounds at St. Georges Tavern, housed in a historic building that was a former entertainment saloon. The pub's classic British cuisine showcases a selection of dishes such as slow-cooked steak, amber ale and mushroom pie, the classic burger and black forest chocolate roulade. Guests can also opt for speciality sausages and chops served with a range of accompaniments.
14. Grosvenor Arms
British Pub, 350m from Apollo Victoria Theatre (5 min walk)
Immerse yourself in the serenity of the Grosvenor Arms and sample classic pub favourites with a pint of beer. The dining space oozes a grand feel with wood panelling, candelabra chandeliers and vaulted windows. Tuck into a Tex-Mex sharing platter of BBQ chicken wings, nachos, pulled pork, guacamole, tomato salsa, sour cream, cheese stuffed jalapeño and chunky chips.
15. All Bar One Victoria
British, 500m from Apollo Victoria Theatre (6 min walk)
Located close to St. James's Park, All Bar One Victoria offers an exciting array of British and European fare. Watch the bartenders in action at the bar, presenting freshly stirred classic and contemporary cocktails. Try the peri-peri half chicken or the smoked haddock and mustard fishcakes from the menu.