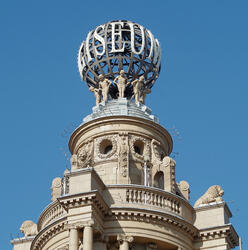 The Top 10 Best Restaurants near London Coliseum
Enjoy a memorable evening in Westminster, London within the luxurious surrounds of a world-class theatre followed by a leisurely dinner. Whether it is Italian, French or a 3-course British meal, our well-curated list of restaurants near the London Coliseum ensures that there is never a dull moment in your culinary sojourn before or after the show. Take your pick among a wide range of choices, from rustic pubs and buzzing cafes to elegant fine-dining restaurants, and turn this into an impressive evening of fun into the world of theatre and dining.
Oozing elegance and grandeur, the London Coliseum has been a grand landmark at St. Martin's Lane, Westminster for over a century now. The interior is replete with much classical detailing such as the Borrominesque spire and the 2-storey archway – a perfect combination of a musical hall and theatre, rolled into one. Enjoy visiting restaurants and cafes in the area listed below and experience a celebration of unique flavour combinations and textures.
Steaks & Grills, 260m from London Coliseum (3 min walk)
At Heliot Steak House guests are welcomed into a buzzing ambience with views over The Hippodrome gaming floor. Expect an exciting steakhouse experience with succulent USDA prime steaks, millionaire's mac & cheese and grilled swordfish. There is a pre-theatre carte for those who'd like a quick bite before the show and a theatre menu after catching up on a play.
2. Portrait Restaurant 
Asian, 140m from London Coliseum (2 min walk)
When in London's Theatreland and looking to relish classic European food with stunning views, the Portrait Restaurant is the place to go. Kick things off from the pre-theatre carte with an aperitif followed by herbed fishcake, pork chop, and plum and almond crumble with clotted cream.
3. Petit Bistro 
French, 300m from London Coliseum (4 min walk)
Located amid the buzzing vibe of Leicester Square, Petit Bistro welcomes theatre diners to enjoy rustic French cuisine with modern twists. Unwind in the cosy dining area or at the spacious outdoor terrace. Choose from an array of dishes including the classic confit de canard or the indulgent Black Angus steak hache burger.
4. St. Luke's Kitchen 
British, 55m from London Coliseum (1 min walk)
The ethos of St. Luke's Kitchen is influenced by cookbooks, literature, theatre and artists. The kitchen team take this forward by presenting dishes with a multi-cultural touch. The food also showcases influences from France and Italy with dishes like chicken liver parfait, glazed beef short ribs and praline éclair.
5. Maison Du Mezze 
Lebanese, 300m from London Coliseum (4 min walk)
Carrying a Lebanese soul and an Arabian feel, Maison Du Mezze brings a colourful and creative dining experience to diners in Theatreland. The cosy setup of Arabian carpets, artwork and vaulted ceilings ring in a warm atmosphere while the outdoor dining space is perfect for a drink during summer.
6. Asia de Cuba 
World Fusion, 49m from London Coliseum (1 min walk)
Asia de Cuba tempts diners with its signature world fusion cuisine and a quirky yet stylish interior design. Tuck into a ceviche at the ceviche counter accompanied by a rum cocktail. The pre and post-theatre menu highlights unique flavour combinations – think tamarind-glazed salmon and guava-whipped layered cheesecake.
7. Ruby Blue 
Asian, 350m from London Coliseum (4 min walk)
Ruby Blue is a favourite place to hang out before or after the show or just to sip on a drink in the outdoor terrace. An exclusive pre-theatre carte is sheer delight with dishes like Bloody Mary meatballs, BBQ chicken melt and chocolate fudge cake with custard.
8. FuluShou 
Chinese, 350m from London Coliseum (4 min walk)
Tucked away from the West End buzz is FuluShou, a sought-after destination for theatre-goers looking for Asian food. The open-plan kitchen and the Icon Balcony Bar add to the vibrant atmosphere. An extensive range of dishes feature lobster specials, soups, hot pots, noodles and rice.
9. Rosetta Farm 
Italian, 130m from London Coliseum (2 min walk)
Rosetta Farm draws focus on Italian farm food and flavours influenced by Italy's Cremona countryside. The menu features some of the best panini and piadine served in the area as well as soups, lasagne, crespelle and desserts prepared from scratch.
10.  
Pub, 210m from London Coliseum (3 min walk)
For a little nibble and drink before or after the show, theatre-goers head to the  in Leicester Square. Sit among a group of lively diners enjoying classic pub dishes in a spacious and elegant setting. Choose your pick from a selection of carefully-chosen cask-conditioned beers and other drinks.