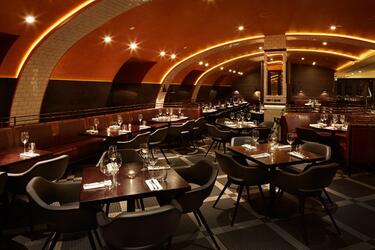 The Top 10 Best Restaurants near London Palladium
Arguably the most famous theatre in the UK, the London Palladium is the home of star-studded plays and musicals, as well as the Royal Variety Performance. Get ready for your visit to this West End icon by taking a look at our pick of the best London Palladium restaurants.
Set right in the heart of the West End, the London Palladium is surrounded by some of the most popular restaurants in Central London. Before seeing your favourite celebrities on stage, be sure to check out our list of the best restaurants for pre or post-theatre menus.
1. Aqua Nueva 
Spanish, 20m from London Palladium (1 min walk)
With one of London's best rooftop terraces, aqua nueva is a stunning contemporary restaurant opposite the London Palladium. Modern Spanish tapas dishes are presented with artistic flair in a lush venue of ornate mirrors, black and white mosaic floors, and a dramatic copper-coloured vaulted ceiling. Be sure to try one of the signature Spanish cocktails out on the terrace to enjoy dramatic views of the London skyline.
2. Little Social 
French, 250m from London Palladium (4 min walk)
Holding 3 AA Rosettes and a Michelin Plate award, Little Social is one of the finest West End restaurants. Filled with sultry 1920s Paris style, diners are treated to traditional French dishes from maestro chef Jason Atherton, including celebrated pre-theatre menus. An extensive wine list is served, while up at the restored elm bar there are eclectic signature cocktails made with speciality spirits.
3. Roux at The Landau
French, 500m from London Palladium (7 min walk)
Inside the famed 5-star Langham Hotel, Roux at The Landau is a celebrated venture by father and son team Albert and Michel Roux Jr. Diners enter through an impressive wine vault housing rare vintages available by the bottle or glass, before sitting down in the elegant dining room to enjoy acclaimed French gourmet dishes.
4. Aqua Kyoto 
Japanese, 20m from London Palladium (1 min walk)
Filled with sophisticated Oriental style, aqua kyoto is a luxurious setting to enjoy colourful Japanese delicacies opposite the London Palladium. Creative sushi specialities are presented with signature flair, while the infinity brunches draw diners from all across London. Step out onto the intimate terrace to enjoy cocktails or a glass of bubbles while enjoying views across London before a show.
5. Sketch – Gallery 
French, 270m from London Palladium (4 min walk)
A truly iconic London restaurant, Sketch is spread across 4 distinct spaces, each with their own unique feel. Gallery's interior was designed by Turner Prize nominee David Shrigley, and features whimsical styling along with a menu designed by French Master Chef Pierre Gagnaire. For visitors to the West End, this is truly one of the most unique places to eat near London Palladium Theatre.
6. Sketch – Lecture Room 
French, 270m from London Palladium (4 min walk)
With an incredible 5 AA Rosettes and 3 Michelin stars, sketch Lecture Room is an essential destination for an indulgent pre theatre dinner. Inventive French delicacies are served in luxurious, whimsical surroundings that sketch is famed for, while the wine list has won AA Guide's Best UK Wine List.
7. Silk Restaurant 
Asian, 120m from London Palladium (2 min walk)
Inside a former courtroom that saw the trials Oscar Wilde and John Lennon, Silk Restaurant is a uniquely historic dining venue. The original dock and witness stand remain, while a stunning glass ceiling lets light flood in. Sumptuous fusion cuisine with bold Asian and European flavours features throughout the menus, while upstairs, the Toy Roof is a hugely popular Soho rooftop bar to enjoy cocktails throughout the day.
8. Blades at Hush 
British, 450m from London Palladium (7 min walk)
Offering a luxurious private members' club setting without the membership costs, Blades at Hush is tucked away in a tranquil Mayfair courtyard. This exclusive restaurant and whisky bar offers traditional London dining indulgence, with whole Cornish lobster served alongside the finest Angus and USDA steaks. This timelessly refined venue also offers classic afternoon teas, while the celebrated courtyard space is perfect to enjoy a glass of whisky in the evening.
9. Ethos 
Vegetarian, 350m from London Palladium (5 min walk)
Perfect for vegetarians theatre goers, Ethos is an exciting self-service concept just round the corner from the London Palladium. A huge variety of international cuisines are showcased, including Mexican, Italian and Japanese, with healthy afternoon teas also on offer. The drinks menu is just as versatile, with everything from smoothies through to fine wines served.
10. Claw 
Seafood250m from London Palladium (3 min walk)
Claw
A casual seafood joint in the heart of Soho, Claw sources the best produce from across the UK. The seafood-focused menu at CLAW is filled with unique dishes, such as the crab roll, fish tacos, crab mac 'n' cheese, chicken wings and salmon poké. At the weekend, a seafood-themed brunch is served, whilst from the bar, beers, wine and cocktails are all sourced from local small producers.