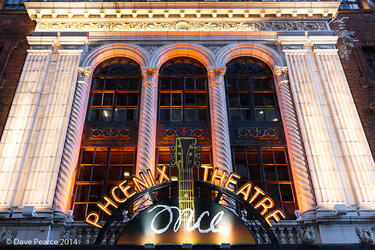 The Top 10 Best Restaurants near the Phoenix Theatre
With previous shows by iconic performers such as Noël Coward and Lawrence Olivier, The Phoenix Theatre is an historic setting to enjoy the magic of London's West End. Set on the bustling Charing Cross Road between Soho and Covent Garden, there is a tremendous selection of places to eat near The Phoenix Theatre.
With all kinds of pre-theatre menus, intimate eateries and stylish bars in the area, we've rounded up our choices for the best restaurants near The Phoenix Theatre.
1.

Social Eating House

 
British, 750m from The Phoenix Theatre (9 min walk)
From Gordon Ramsay protégé Jason Atherton, Social Eating House holds a coveted Michelin star for its modern British menus served in a creative, chic setting. Diners can sink back into leather banquettes to enjoy creative British recipes, or enjoy signature counter dining while watching the talented chefs at work. Upstairs, the Blind Pig speakeasy-style bar is an intimate space to enjoy a post-theatre nightcap.
2.

Mele e Pere

 
Italian, 600m from The Phoenix Theatre (7 min walk)
One of Soho's most popular restaurants, Mele e Pere blends Italian trattoria tradition with quirky retro styling. Artisan sharing plates make for perfect light bites, or sample signature mains like the potato gnocchi with Umbrian black truffle. Downstairs, the lively bar area serves a great selection of Italian wines, along with the restaurant's homemade vermouth.
3. Talli Joe
Indian, 250m from The Phoenix Theatre (3 min walk)
Offering pre and post-theatres menus in the heart of London's West End, Talli Joe serves up a range of authentic Indian small plates alongside an impressive selection of cocktails, wines and spirits. All served against a backdrop of vibrant, modern décor, standout dishes include the spiced Goan chorizo served with apple and walnut salad, tandoori lamb chop with mustard dressing, and naan stuffed with cottage cheese and brushed with truffle ghee.
4. Yauatcha 
Chinese, 650m from The Phoenix Theatre (8 min walk)
The intimate Chinese Yauatcha is a chic Soho institution. This restaurant boasts an interior by acclaimed designer Christian Liaigre, and specialises in beautifully presented dim sum, along with colourful bespoke cocktails. Be sure to check out their hand-crafted cakes and sweet treats too from the Yauatcha Patisserie.
5. Quo Vadis 
British, 400m from The Phoenix Theatre (5 min walk)
A beautiful restaurant and members' club with stained glass windows and a colourful history as a former brothel, Quo Vadis has been a Soho institution for almost 100 years. Enjoy time-honoured London favourites like pheasant pie and fresh oysters, along with pre-theatre menus and elegant cocktails served in bespoke silver cocktail shakers.
6.

Refuel
British, 500m from The Phoenix Theatre (6 min walk)
Tucked away inside the chic Soho Hotel, Refuel is a quintessentially British setting that pairs traditional indulgence with quirky charm. Modern European dishes are served on the pre and post-theatre menus, while a selection of signature afternoon teas can be enjoyed while relaxing on the plush tartan and floral print couches. The elegant cocktail bar also makes an ideal setting for a nightcap after a show at The Phoenix Theatre.
7. Hakkasan – Hanway Place 
Chinese, 400m from The Phoenix Theatre (5 min walk)
The original Hakkasan restaurant, Hakkasan Hanway Place still sets the standard for Cantonese cuisine. This iconic Michelin-starred restaurant in China Town boasts a seductive dark wood-filled interior, with a 16-metre long bar serving up Asian-inspired cocktails which can be enjoyed at the Ling Ling late lounge after a show at The Phoenix Theatre. The exotic a la carte menu includes a selection of dim sum sharers, as well as luxurious signature specialities, such as Peking duck with beluga caviar.
Modern European, 500m from The Phoenix Theatre (6 min walk)
Once the site of the iconic Marquee Club which hosted The Rolling Stones and David Bowie, 100 Wardour St Restaurant & Club keeps the spirit of Soho performing arts alive with its packed roster of live music. Enjoy luxurious dishes from across Europe, including a selection of specialities from the Josper grill, or just take your ease at the glitzy bar for cocktails and people-watching.
9. Rustiko Soho 
Italian, 260m from The Phoenix Theatre (3 min walk)
An intimate little boutique eatery in the West End, Rustiko Soho is the perfect choice for a romantic meal in London. Its candlelit interior is filled with cosy nooks, there are cocktails mixed up at the bar, and pavement seating outside for that Mediterranean feel. There are also pre and post-theatre menus on offer, filled with classic Italian dishes, including homemade desserts like tiramisu.
10. Delhi Brasserie
Indian, 230m from The Phoenix Theatre (3 min walk)
Called 'the best restaurant in Soho' by the Evening Standard, Delhi Brasserie Soho sits right at the heart of London's West End. A superb selection of aromatic curries are served alongside tandoori specialities like charcoal-grilled trout. Its bustling Soho location and celebrated exotic menus make this an essential Novello Theatre restaurant for lovers of Indian cuisine.