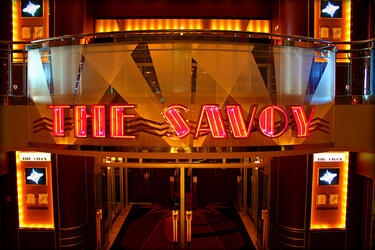 The Top 10 Best Restaurants near The Savoy Theatre
You've managed to bag the season's hottest West End ticket, but haven't given a thought to where you'll eat before or after the show? We've rounded up our favourite restaurants near Savoy Theatre, with menus spanning from Japanese to Italian. Whether you're after a speedy bite before the show or a few laidback courses after the curtain's gone up, we've got your perfect restaurant ticket.
For more than a century, The Savoy Theatre has been a hub of activity, showcasing opera, musicals and dramas. Housed in a Grade II listed building, the venue is renowned as one of the first buildings in the world to be lit by electricity. So if you're looking for somewhere a mere hop, skip and a jump away, we've got some top notch suggestions for you…
1. Mabel's Covent Garden 
British, 250m from Savoy Theatre (4 min walk)
For a memorable British dining experience before or after a show, head to Mabel's in Covent Garden. The venue boasts a charming interior with Chesterfield sofas, mirrors and vintage photographs. The menu presents a full range of home favourites like sirloin steak and BBQ chicken melt, sandwiches and classic platters.
2. Asia de Cuba 
World Fusion, 600m from Savoy Theatre (8 min walk)
Asia de Cuba delights Savoy Theatre diners with an eclectic selection of world dishes served in a smart casual setting. The pre/post-theatre menu features a well-crafted salmon ceviche, cumin-dusted tuna and Thai coconut and lemongrass flan among others.
3. Le Restaurant de Paul 
French, 400m from Savoy Theatre (6 min walk)
Enticing theatre enthusiasts with its classy charm and character, Le Restaurant de Paul echoes the ethos of a quaint French brasserie. Industrial lamps, large murals, stone tiles and soft grey and teal furnishings add to the venue's appeal while the pre-theatre set supper is great for a quick bite before the curtain-raiser.
Indian, 270m from Savoy Theatre (4 min walk)
Taking on a name inspired by the colourful and vibrant Indian spice markets, the Cinnamon Bazaar pays tribute to the flavours that are synonymous with the popular trading route between India and Pakistan. Following a show at the Savoy Theatre, diners can unwind in the cosy interior surrounded by colourful lanterns, bright hues and eclectic knickknacks.
5. POLPO Covent Garden 
Italian, 200m from Savoy Theatre (3 min walk)
A buzzing and welcoming ambience reflects POLPO's cheery personality as a popular bàcaro in Covent Garden. Kick-start your meal with cicchetti plates of beef shin arancini or Venetian marinated sweet & sour sardines. Then choose from a selection of meatballs, pizzettes or dishes like Milan style chicken and sliced rump steak.
6. Sticks'n'Sushi – Covent Garden 
Japanese, 300m from Savoy Theatre (4 min walk)
Sticks'n'Sushi is a top-notch sushi and yakitori destination, inviting theatre diners to unwind within its chic and minimalist interior. Pick from an array of maki, nigiri, salads and greens among others. The drinks list features sake, sparkling cocktails, spirits, champagne and matcha.
7. Lupita – Central 
Mexican, 450m from Savoy Theatre (6 min walk)
Soak up the Mexican vibe at Lupita Central with its bright and colourful decor and a buzzing island kitchen. A selection of eclectic dishes from the menu is complemented by cervezas, margaritas, wines and sangria. Delve into tasty burritos, tacos, quesadillas and specialities like torta Milanese and gringa.
8. Roadhouse 
American, 250m from Savoy Theatre (4 min walk)
Roadhouse is a stylish American-inspired diner that morphs into a bar and nightclub in the evening. Friends can catch up over plates of marinated rib stacks, lime and tequila-infused chicken and sticky BBQ wings. The contemporary and buzzing interior is highlighted by glitzy lights, cosy booths and quirky trinkets.
9. Covent Garden Fire & Stone 
Pizza, 240m from Savoy Theatre (4 min walk)
Showcasing fresh gourmet flavours from all over the world, Fire & Stone offers an impressive pizza and burger experience to theatre diners. Located right behind Covent Garden's piazza, the venue embodies elegance with its subtly-lit interior, an open kitchen and bright furnishings.
Tapas, 230m from Savoy Theatre (3 min walk)
Perched in the buzzing Covent Garden area, Condesa presents an eclectic selection of Mexican and Spanish dishes. Take a seat in the open plan dining space done up in a minimalist style with cosy ceiling lamps and high stools. Choose a beef cheek barbacoa taco before delving into main courses such as pork belly with chipotle or octopus ceviche.