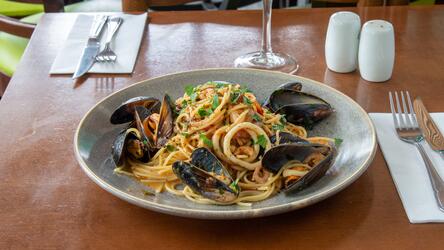 TheFork Festival's best pasta restaurants
Luca Restaurant, St John Street
St John Street is known for its great restaurants, due in part to the presence of the wonderfully modern pasta small-plates restaurant, Luca. The smaller sister to the Michelin-starred Clove Club, Luca specialises in lighter, delicate dishes of pasta and sides that are perfect for sharing. Now joining TheFork Festival, you can enjoy this tasty high-end Italian dining experience for less. Visitors to Luca Restaurant can enjoy their food in the beautiful garden courtyard, with a mosaicked floor and giant urns of fired-earth that give Mediterranean elegance. Dishes like the deliciously dark squid-ink bucatini, or the autumn truffle tagliatelle, give a taste of some of the region's most extravagant ingredients.
The team at the family-owned Bella Pasta in South London's Lewisham have a modest but noble mission: to make you feel as though you're eating traditional food in an Italian village. Their delicious, hearty menu is a wonderful display of that Italian folk heritage. Now you can sample all of its fare as part of TheFork festival. Starters arrive with a satisfying crunch, like the arancini rice balls with homemade ragu, or the salty, fried hit of bianchi fritti drizzled with lemon. Pasta classics like spaghetti bolognese and lasagne have the heavy stuff covered, while dainty dishes of gnocchi with mozzarella and cocktail di gamberi will delight lighter palettes
BOOK Bella Pasta
Restaurant L'Artigiano, Chelsea
This modern marvel of Italian cuisine will thrill lovers of creative, contemporary dishes. Restaurant L'Artigiano, in London's opulent borough of Kensington & Chelsea, is helmed by head chef Ignacio Ruggiero, and you can taste his signature passion and flair in every bite. You can experience his visionary approach to Mediterranean cuisine now at TheFork festival. Feast on an intriguing array of dishes, like the monkfish with lavender crust, or the mussel salad with cauliflower and coriander cream. The sirloin here is served with a purple potato foam puree and a thick n'duja sauce, and comes, of course, with potato fries. Staying true to the freshest ingredients, the delicious duck gnocchi is served with locally-grown portobello and oyster mushrooms.
Pane Cunzato is a cool and unpretentious spot in London's museum district is well worth making a visit to, sporting a selection of pasta and pizza dishes for Italian fine-dining any day of the week. With its charming frontage boasting a classic restaurant-style canopy, this little gem of a restaurant is the perfect pasta place to hit after a stint at the nearby national museums. The tantalising appetisers at Pane Cunzato are a real conversation piece. Enjoy arancini rice balls served decadently with ragu and mozzarella, or dip warm, homemade bread into a lightly melted pecorino with a walnut, honey and truffle oil top. The pastas here arrive fresh and hot in simple pairings; like pasta alla trapanese that bursts with almond and basil, or the salsiccia dei Nebrodi, a delicious sausage and aubergine pasta served with pecorino.
London's King's Cross is the home of the next restaurant on our list; the contemporary Italian restaurant Mediterraneo. Nestled in the backstreets behind the famous London station lies this authentic neighbourhood eatery, famed for its warm service and delicious selection of crispy bruschetta starters. Classics like caprese, carpaccio and calamari fritti fly out of the kitchen here, and are met by hungry customers with satisfied looks on their faces. The pasta list here is particularly impressive; authentic spaghetti, penne and gnocchi dishes, from pescatora to polpette, are made using only the finest fresh ingredients. With a vast and varied selection, there's something for every palette.
BOOK Mediterraneo, King's Cross
This next Italian restaurant calls East London's Brick Lane its home, and with its fine selection of tasty casual bites it sure stands out, even on this famous street. Nestled just off the main stretch, the welcoming little ristorante is visible by its luxurious frontage and a warm glow of pink from light installations inside. Fiore Dell'Amore is named for the Italian term, 'flower of love', a term they pay homage to through beautiful floral arrangements within. Being Brick Lane, dishes here take some cues from the local street-food, with nachos and fried chicken strips fired up alongside classics of caprese, mozzarella sticks and sourdough bruschetta. Italian lunch-time sandwiches like the mozzarella or chicken escalope focaccia are served up chicken tacos and prawn quesadillas - a truly modern fusion for this cosmopolitan corner of the city.
BOOK Fiore Dell'Amore, Brick Lane
Closing off our list, L'Invidia is putting the coastal town Teignmouth, near Torquay, on the culinary map. This family-run ristorante, helmed by Antonio Disanzo, have made this pretty town their home, to the delight of the area's residents. Now, you can enjoy their hearty brand of Italian fine-dining for less after a long walk on nearby Ness Cove Beach, proudly part of TheFork festival of food. When you sit down for starters, things are kept classic; parmesan baskets, bruschetta alla scapece and a selection of italian cold-cuts. The list of mains, however, is a who's-who of authentic pasta and risotto dishes. The penne al baffo is a creamy hit of ham, mushroom and truffle. The tagliatelle with black tiger prawns and the risotto alla pescatora offer a satisfying taste of the sea. With views of the water to enjoy as you dine, L'Invidia is worth going the extra mile.