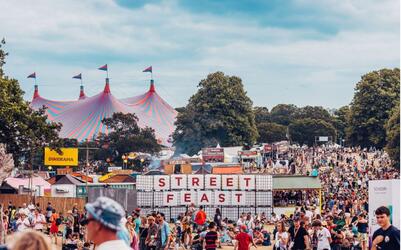 TheFork's guide to the best food festivals in Europe & the British Isles
Europe's people share a common love of food - with unique goods and delicacies that make each region worth visiting. Fortunately for us, these wonderful national cuisines are showcased at a series of yearly food festivals and events that are well worth marking on your culinary maps. TheFork has selected some of the best food festivals in the United Kingdom and Europe, to highlight the bounty of goods on offer throughout and help you decide which taste sensations to seek out on your travels next year.
St Ives' Food & Drink Festival, Cornwall
Photo credit: DailyAdvent.com
This year the much-loved St Ives' Food & Drink Festival made its triumphant return. Taking place in September in the picturesque Cornwall town of St Ives, this festival of food celebrates all of the region's finest local produce. Spectate and sample the fresh catch as it is pulled from the Atlantic Ocean, whose waves spray the shore of Porthminster Beach; the festival's idyllic location. Local music, comedy, and entertainment take the stage as you dine on Cornish foodie fare; the perfect entertainment to enjoy as you tuck in.
Eastival, Hackney Wick, London
Photo credit: Skyscanner.net
Taking place in London's hip Hackney Wick, one-day food and festive extravaganza Eastival is a digest of the city's best street food and pop-ups in one happening place. With a range of mouth-watering menus on display from cuisines around the world, expect to see Latin fried chicken at one stand, and lobster rolls at another. Vegetarians and vegans will have to try innovative meat-free creations, like vegan chicken wings. When the eating's done, expect music sets from some of the capital's favorite DJ collectives.
Ludlow Food Festival, Shropshire
Photo credit: Shropshirestar.com
Ludlow Food Festival, a classic event in Britain's culinary calendar bills itself as the original U.K. food festival and its heritage credentials are hard to deny. With much of the food and entertainment acts chosen from the finest of Ludlow and the Welsh Marches, this event celebrates the region's cuisine in all of its glory. Sip from beers and gins made by local breweries as you sample the best delicacies from top traders from Shropshire and beyond. Wash it down with a long drink of the local mineral water, from the Wenlock Spring, that runs freely through the town.
Blenheim Palace Food Festival, Oxfordshire
Photo credit: Oxfordshireguardian.co.uk 
Keep an eye out for the announcement of the Blenheim Palace Food Festival, happening next in 2022. Set in the picture-perfect grounds of Blenheim Palace in Oxfordshire, this yearly event brings together some of the best growers and traders to sell some of the finest foodstuffs in the country. Sample delights from local farms and smoke-houses as you sip craft beer, and browse wares of condiments and cookbooks galore.
Abergavenny Food Festival, Wales
Photo credit: Walesonline.co.uk
One for the more discerning foodie, Abergavenny Food Festival in Wales returns in 2022, to showcase some of the best culinary talent in the British Isles. The jubilant event in this beautiful Welsh town brings together some of the most visionary cooks, farmers, and producers in the British food scene, for a showcase of the best of the nation's harvest. Expect fun experiences like tutoring from top chefs and growers, to delicate tasting menus to group forages in the Welsh wilds. This high-end food festival promises fun and discovery for all members of the family.
Edinburgh Food Festival, Edinburgh
Photo credit: Edinburghlive.co.uk 
Another big event in the culinary calendar making a comeback in 2022, the Edinburgh Food Festival is Scotland's premier celebration of all things food and drink. Running for 5 days next July, this is your chance to taste the finest scran in Scotland, from cooks, growers and traders from all over to showcasing their wares. Some of Scotland's best chefs, from Carina Contini to Masterchef The Professionals champion Derek Johnstone have cooked at the festival in recent years.
Museum Embankment Culture Festival, Frankfurt
Photo credit: Frankfurt-tourismus.de
Marking its return in August 2022, Frankfurt's MuseumsuferFest marks their annual festivities, held each year on the banks of the River Main. While it was started as a tribute to the German city's museums and cultural institutions, the festival now acts more as a celebration of the best food, drink, culture and theatre. A heady atmosphere takes over the city, with local delicacies being enjoyed out on the streets and museums staying open long into the night. Enjoy a classic German currywurst as you get acquainted with Frankfurt's diverse culture and history.
Kenako Africa Festival, Berlin
Berlin's Kenako Africa Festival is a congregation of cuisine and culture from the city's African diaspora. Taking place at the city's famous Alexanderplatz every July, this festival of music, crafts and clothing has some of the world's finest African food on offer, too. Sample dishes from Ethiopia to Eritrea; think thick, delicious curries and fluffy couscous dishes, and fragrant spices and a whole continent of rich, exotic flavours.
Taste of Amsterdam, Amsterdam
Photo credit: Tasteofamsterdam.com
There are many reasons to visit the Dam, and not least for its luxurious culinary culture. The people here are fond of treats that are full and rich; like sweet stroopwafels, or delicious crispy bitterballen served with mustard. Now you can tour the best restaurants from around The Netherlands at Taste of Amsterdam, with over 100 independent chefs and their teams taking part in this 3 day event in Amstelpark in 2022. Enjoy comforting regional dishes like Kibbeling, and raw Herring. The chips in Amsterdam are famed and come served exclusively with dutch mayonnaise; known to the locals as chip sauce, unsurprisingly.
Fete de la Gastronomie, France
Photo credit: lavieamulhouse.com
A celebration of the finest in French cuisine, this grand food festival happens at locations all over the country. The historic fete starts, traditionally, on the first day of Autumn, so don't be surprised to find seasonal delicacies aplenty. Any visitor to France knows that its people take their fine dining very seriously. At la fete de la Gastronomie, you can taste this culinary legacy straight from the source. From the best in French cheeses, decided in a heated competition, to fantastic produce from France's famous fields, this festival is a must-see for lovers of great food.