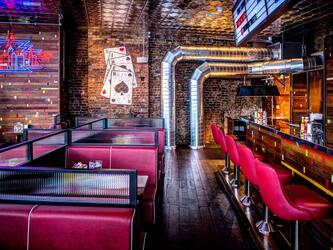 Top 10 American Diners in London
Who doesn't love a good juicy burger, salty fries and creamy cold milkshake? Or a tasty hot dog and extravagant ice cream sundae, perhaps? These delicious and comforting foods are even better enjoyed in the atmosphere of a real American-style diner, and you don't have to travel across the world to experience the quintessential bar stools, neon signs and juke boxes. If you're looking for some of the best USA-style dishes, check out 10 of the best American diners that are alive and kicking in London for us all to enjoy.
1. The Diner

This small chain of American diners can be found in various London locations, such as Islington, Shoreditch, Soho, Camden, Dalston, and Kensal Rise, decked out with all-American style red booths and bar stools. The food screams of The States – bacon and eggs sit on the breakfast menu alongside pancakes and waffles, and huge portions of fries and milkshakes accompany burgers topped with cheese, bacon, chilli and a variety of condiments. A great place to meet friends after work or at the weekend for simple, satisfying food and a fun atmosphere.
You may recognise the 40s-themed Fatboy's Diner in Orchard Place, as it has been used as the setting for various Vogue photoshoots as well as the film Sliding Doors. From chilli dogs and apple pies, to coke floats and extra thick shakes, the menu may not do much for your waistline, but will do an awful lot for your happiness.
3. Jamie Oliver's Diner
If you're looking for an American dining experience but want to watch what you eat too, this is the place to try. In line with his well-known healthy eating views, Jamie wanted a diner that focused on fresh, local and sustainable ingredients. With a coleslaw side that counts as one of your 5 a day, you can finally enjoy that burger guilt-free!
4. Joe's Southern Kitchen
For a meal reminiscent of the deep South, head to this Covent Garden gem. Alongside the crowd-pleasing burgers, you will find plenty of chicken, cornbread, soft shell crab and more Southern specialities to mix up your American dining experience. For all your cocktail needs, there's also a bar in the basement of the old converted warehouse where the restaurant is situated.
This is an American-style diner with a twist. If you're looking for more than just a meal out, then All Star Lanes is the place for you, and with branches in Brick Lane, Holborn and Bayswater you will find a location to suit. All Star Lanes offers both bowling and karaoke on top of fabulous food and cocktails, so you are guaranteed to have an entertaining, if not somewhat different, evening here.
6. Ed's Easy Dine
Boasting fun, nostalgic décor, Ed's Easy Diner brings 1950s American culture to numerous London locations. Serving traditional diner food and playing legendary music, including Elvis, Ed's Diner attracts celebrity guests, along with film and TV crews!
7. The Big Easy

Key to American cuisine and now making big waves in London is Barbeque food. Boasting 4 different 'Bar.B.Q' methods, you're in the hands of experts at the Big Easy when it comes to wood-smoked meats. The menu is huge enough to cater to all your American cravings, and with a different special running most days you can go every night and have something different; shrimp, steak, lobster, fajitas, you won't run out of options.
8. Tinseltown Dine
The Tinseltown Diner offers its diners a choice of 50 flavours of milkshakes, 60 different burgers, and an extensive menu besides. All products of the diner are Halal, including the 100% Halal brunch menu. The decor is funky and fun, featuring green leather booths around round tables, and coloured lights.
9. Roadhouse
The stand-out item on the menu at the Roadhouse involves 2 8oz sirloin steaks, 2 double chicken breasts, mushrooms, cheese, bacon, onions, sauce, served with fries, onion rings and salad. Now, that's a challenge! Other than the food, this diner has a huge bar scene. In fact, the Roadhouse in Covent Garden is the original flair bar/club, so order a few cocktails and marvel at the talented bartenders and their fantastic display. Open until 3am, you can have dinner, drinks and then party into the night all in this one location.
10. Electric Diner

Located on Portobello Road, Electric Diner serves up a French-American menu in a relaxed and friendly atmosphere; think cheese fondue, followed by a hot dog, finished up with a knickerbocker glory, all served by a smiling waitress as and when it's ready. Follow your meal with a trip to the luxurious Electric Cinema next door, where you can settle down in a leather armchair to let your food settle and take in a good film.