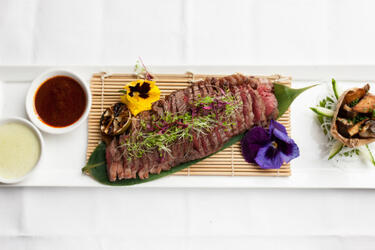 Top 10 Best Japanese Restaurants in London
London's Japanese restaurant scene continues to grow, so if you're a chopstick champion and know your ramen from your nigiri, there's many a restaurant to suit your needs. Whether you're after rustic and authentic or contemporary cocktail chic, with panoramic views, sleek sushi counters and centrepiece grills, we've got all bases covered. From Clapham to Soho via Fulham and Fitzrovia, join us on a tour of the capital's finest purveyors of this diverse and exciting cuisine. 
1. Tsunami
Clapham & Fitzrovia
Sister restaurant to Tsunami – West End, this suburban sushi sanctuary brings fine southeast Asian food to the fashionable residents of SW4. With its swish late-night cocktail bar and sultry furnishings, Tsunami – Clapham turns heads before you've even looked at the menu. But the food is the real draw, with premium produce like wagyu beef, and dishes like truffle rib-eye with exotic mushrooms and fresh truffle sauce that are every bit as good as they sound.
2. Rock Star Sushi Bar
Collier's Wood
Rock Star Sushi Bar
Bringing humdinger sushi south of the river, Rock Star Sushi Bar offers a spectacular array of Japanese delicacies. Chef Igor boasts 15 years of sushi restaurant experience, and alongside signature 'Rock'n'Roll' rolls, guests can build their own dishes: think duck, octopus & halibut, all combined with crisp fresh vegetables and pack-a-punch sauces.
3. Sake No Hana
St James's
Sake No Hana
From the team behind Hakkasan, Sake No Hana has firmly cemented its place on the London restaurant map in its own right. Residing in a beautiful bamboo-lined space in Mayfair, the blend of old and new in both the food and the decor is quite something: whilst bamboo intertwines with unique lighting and modern artwork, authentic sushi and sashimi are prepared to order at the sushi bar. Unique cocktails with Oriental twists complete the experience.
4. Koji
Parsons Green
Koji
Serving up cold and hot tapas, sushi, traditional robata grill dishes, sake, and elegant cocktails, Koji ticks just about every box. Tuck into tuna tartare with caviar umami jelly, pork and ginger dumplings, and duck wasabi, whilst sipping a Singapore sling and watching the theatrical open sushi counter, and it's quite clear they've got the formula spot on.
5. Nobu Berkeley ST.
Mayfair
Nobu
It's hard to talk about Japanese restaurants in London without mentioning Nobu, who have long been a favourite of celebs and foodies alike. Pioneers of the uber-chic trend of Japanese-Peruvian cuisine, Nobu is renowned as one of the world's most fashionable restaurant groups. There's far more here than just celebs and cocktail parties though – the signature sushi and sashimi at both Nobu – Old Park Lane and Nobu Berkeley ST. are the stuff of legend.
6. Aqua Kyoto
Regent Street
Aqua Kyoto
If sleek sushi counters, authentic cuisine and creative cocktails aren't enough for you, then Aqua Kyoto has another ace up its sleeve: breathtaking views over London from its expansive roof terrace. If there's a better place to sip on sake and nibble on nigiri you'd be hard pressed to find it.
7. Mei Ume
Tower Hill
Mei Ume
Mei Ume offers authentic yet modern Chinese and Japanese cuisine from 2 distinct kitchens. From the Japanese side of the menu, expect delicate, well-balanced sushi and sashimi, all served in an ornate but contemporary setting.
8. Shoryu
Carnaby
Shoryu
Situated in the buzzy Kingly Court off London's Carnaby Street, Shoryu pays homage to classic Japanese décor with its pared-down sophistication. Ramen specialists, thin, straight noodles are cooked for 12 hours in seasoned pork stock and seasoned with premier spices and soy from Japan to create fragrant and aromatic dishes.
You can also find Shoryu in Shoreditch, Soho, Regent Street, Covent Garden, New Oxford Street and Liverpool Street.
9. ROKA
Aldwych
ROKA Aldwych
Showcasing the best of Japanese barbecue-style food, the robata grill is never far from the action at ROKA, and sits in the centre of the restaurant in full view of the diners.This high-octane restaurant serves beautifully fresh sushi, rice dishes and tempura, as well as sizzling robata-grilled meats.
10. C&R IZAKAYA
Westbourne Grove
C&R IZAKAYA
An intimate neighbourhood restaurant in Bayswater, C&R IZAKAYA serves up colourful, beautifully presented sushi and other Japanese treats. Traditional Japanese cooking methods and the finest ingredients result in a menu of fine sushi and sashimi, charcoal grill delicacies, and popular bento boxes.