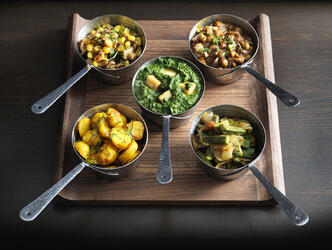 Top 10 halal restaurants in London
It's the city where it's pretty much possible to find any type of world cuisine and cooking method, and halal restaurants in London are in plentiful supply. We've rounded up 10 of the best, from Michelin-starred fine dining, to hip new openings and long-established London favourites.
Mayfair
Indian restaurant, Benares is a supremely elegant hideaway in Mayfair. All of the lamb and chicken on the Benares menu is halal, and recipes taking a journey through the Indian subcontinent: expect the likes of Delhi-style tandoori chicken with a fine dining twist, and smoked lamb cutlets with winter vegetables and rogan jus.
2. Tamarind 
Mayfair
Esteemed Michelin star-winning Tamarind's Indian fine dining dishes have been a Mayfair constant since 1995. The menu focuses on traditional tandoor-oven cooking, with this rustic Moghul method contrasting with the pristinely decorated dining room. Guests can enjoy dishes like lamb biryani with a pastry lid, and chicken thighs with a special spice blend.
3. Sidi Maarouf 
Edgware Road
Set amongst the throng of Middle Eastern restaurants on Edgware Road, Sidi Maarouf conjures the sights, sounds and aromas of Morocco. Offsetting the sprawling, lantern-filled dining room, guests can immerse themselves in the buzz of one of London's most famous roads while dining at al fresco tables. Signature halal dishes at this acclaimed London restaurant include slow-cooked lamb leg with saffron rice, and chicken tagine with potato and olives.
4. Souk Medina 
Covent Garden
Spread over 3 floors, Souk Medina is a longstanding hideaway in Covent Garden, serving a plethora of North African cuisine. The souk-style dining room is filled with rich fabrics, eclectic artefacts and chunky wood furnishings, while favourites from the menu include mixed grills, sizzling Merguez sausages and mixed shawarma.
Alternatively, try their sister restaurant Souk Bazaar near Covent Garden.
5. Zayane 
Notting Hill
A family-run restaurant in Notting Hill, Zayane blends Moroccan and British influences in its diverse halal menu. Awarded a Plate in the Michelin Guide, the creations are authentic and impressive, with dishes including poussin tagine with potato dumplings and pea custard, or Zayane's signature cous cous with lamb and mixed vegetables.
6. Aladin 
Brick Lane
Positioned on bustling Brick Lane, Aladin is a multi-award-winning restaurant that's delighted curry-hungry diners since opening in the 1990s. The menu cherry picks favourite Bangladeshi, Indian and Pakistani recipes, with particularly special karahi dishes served on a ceremonious sizzling platter.
7. Babaji Pide 
Shaftesbury Avenue
Taking its name from its speciality of Turkish-style pizzas, Babaji Pide brings authentic Mediterranean cuisine to the bright lights of Shaftesbury Avenue. A rustic brick oven acts as the restaurant's focal point, where the 10 different types of pide reach a bubbling conclusion. Halal brunch is also available, as well as sumptuous meze and grilled meats.
8. Dum Biryani House 
Soho
With its menu consisting of its namesake dish and a smattering of sides, Dum Biryani House's traditional pastry-topped curries are firmly cemented on London's culinary hit list. Accompanied by pickles, yoghurt and curries, the piping hot rice pots come in vegetarian, chicken and lamb shank varieties, with daily specials also on offer.
9. The Famous Curry Bazaar
Brick Lane
Another Brick Lane favourite, The Famous Curry Bazaar is a family-owned restaurant specialising in Indian and Bangladeshi recipes. Finished in the traditional clay oven, signature halal favourites include the much-lauded and endlessly succulent butter chicken, and lamb tikka.
10. The Great Chase 
Islington
The Great Chase
Image source: The Great Chase
The Great Chase serves flavour-packed, inventive dishes using the finest, freshest ingredients. Prime meats and seasonal game lead the menu, which includes dishes like 32-day dry-aged Angus steaks with beef dripping butter, and buttermilk chicken with pickled watermelon, seaweed and sesame.